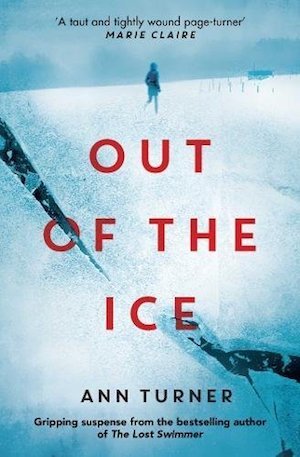 Written by Ann Turner — Crime fiction novels set in Antarctica are few and far between (although we did review LA Larkin's Devour in January). Australian author Ann Turner has chosen the coldest continent as the setting for her second book, following her widely praised debut The Lost Swimmer. Out of the Ice was published in the author's native land a year ago but only now reaches tUK shores.
Environmental scientist Laura Alvarado's area of expertise is whales, so when she's sent to a remote Antarctic island to report on an abandoned whaling station, she baulks at the idea. The place is her idea of hell, but once Laura arrives at Fredelighavn she begins to see another side to it. Although the village was abandoned in the late 1950s, due to weather conditions it is well preserved and some of the properties are still fully furnished and stocked, giving the unsettling appearance that the inhabitants have just gone out for a while. A ghost town, you could say.
Since the end of whaling, Fredelighavn has been a nature reserve, closed off to people. Laura's mission is to report back on the place and offer her views on whether it should be turned into a museum, something she is staunchly opposed to. So she's delighted to discover that the village is home to colonies of Adelie penguins, Weddell seals and countless other wildlife, but her suspicions are aroused when both the seals and penguins turn out to be uncharacteristically aggressive. Why are the creatures so defensive against humans, in a place where nobody's been in decades?
To complete her research, Laura goes to the Alliance Station, a British base on South Safety Island in the Southern Ocean. She is the only woman there, and like the Adelie penguins, the residents of Alliance seem to be acting strangely, with the station commander, Connaught, appearing almost hostile. This is a place with secrets, and Laura determines to find out just what those secrets are.
Her snooping is about to lead Laura into all kinds of trouble, in a story that certainly clocks up the air miles by taking us to Nantucket and Venice, as well as the aforementioned Antarctica. Ann Turner is a writer who excels in creating an overwhelming sense of place, and her descriptions of Antarctica in particular are so beautifully rendered you may feel the need to don a woolly hat and mittens to read them!
Laura is convinced that humans have been trespassing in Fredelighavn, but fleeting glimpses of ghost-like figures have her fearing for her sanity. Has she been out on the ice for too long? One particular sighting of a young man who mouths the word 'help' before disappearing, has her reliving the most traumatic moments of her life. She is a woman torn, driven by her determination to complete the task at hand but looking set to crumble when confronted with memories she'd rather not revisit.
This page-turner is about love, loss, family ties, friendship, global warming and greed, set against epic landscapes. It has been thoroughly research by an author who is best known for her award-winning work as a screen writer and film director. Ann Turner's screen work includes Hammers Over the Anvil, starring Russell Crowe and Charlotte Rampling, and Irresistible, starring Susan Sarandon and Sam Neill. She can certainly turn her hand to novel writing too, and the mix of almost documentary-style detail added to tantalising hints of the supernatural had me hooked from the first few chapters.
For more cold climate crime fiction, check out these books.
Simon & Schuster
Print/Kindle/iBook
£3.99
CFL Rating: 4 Stars