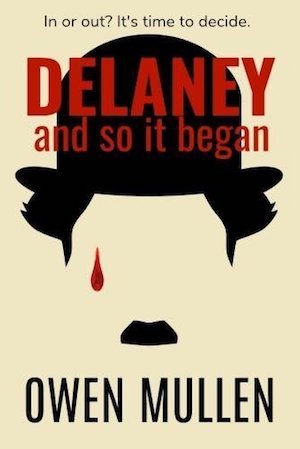 Written by Owen Mullen — It's brave of a resident of Scotland and the Greek Islands to write a police procedural set in one of America's most iconic cities, one with a strong and unique culture, history, and personality. Still, author Owen Mullen took the challenge and chose New Orleans for the first in his series featuring protagonist Vincent Delaney – former NOPD detective, now a private investigator.
For the most part, the character of the Big Easy comes through in the details Mullen chooses to provide, though the deep trauma of Hurricane Katrina receives only a single mention. There's maybe too little attention to food and the weather, but some nice references to music and, directly related to the story, a reopening of the old wounds of NOPD corruption that have helped poison race relations in the city.
Delaney has three – make that four – issues on his hands. First is a background hazard in the form of Julian Boutte, a mentally deranged African-American man whose brother Delaney killed a decade back when he was still an NOPD detective. Boutte has escaped from prison, and there's no question about his plans for revenge. The shooting of Boutte's brother looms large in Delaney's mind for several reasons, one being that his captain let him hang out to dry for it, prompting Delaney's departure from the department.
A group of mostly African-American small business owners from the North Le Moyne neighborhood seek Delaney's help, because they're being forced to pay protection money they can ill afford. They insist the authorities aren't brought in, and the lack of trust between community and police rings true. It's even more justified when Delaney's investigations reveal the extortionists are themselves a couple of rogue cops.
The third problem, and the one that takes up most of the book's plot, deals with that bizarre phenomenon of American life the child beauty/talent pageant. In a prologue set at the Little Louisiana Pageant in Baton Rouge, a five-year-old boy named Timmy McDonald wins with a memorable Charlie Chaplin imitation (the inspiration for the book's striking cover), only to end up dead a few minutes later. This case helps galvanise law enforcement's response.
Though it takes authorities a while to realise a serial killer is at work, once they do they are not averse to throwing plenty of resources at the issue, which is why good investigators like Delaney are asked to help. Delaney's niece Molly is a pageant participant, which gives him an ideal opportunity to meet organisers, participants, obsessed parents and, possibly, the killer.
Because the problem crosses state lines, the FBI leads the investigation. However, the number of such pageants is so great – some 5000 in the US every year – they cannot begin to cover them all. While the culprit in Mullen's tale is more obvious early on than the elusive true-life murderer of pageant participant JonBenet Ramsey, still at large after 21 years, the child beauty pageant racket is a plot line ripe for exploration. It's a venerable, but not necessarily pretty social phenomenon, and Mullen does a nice job highlighting the different motivations of several sets of parents and their young daughters.
It soon becomes apparent that the killer sees Delaney's participation in the investigation as a challenge, and the murders increasingly take place in Southern Louisiana in order to taunt him. In a few rambling passages narrated by the killer, the extra-added risk of continuing the murder spree with Delaney on the scene has become part of the thrill. These passages are the only break from the first-person narration by Delaney himself and are probably unnecessary.
If his work-related challenges weren't sufficient, Delaney also has woman troubles. He's worried Boutte may try to harm his girlfriend Stella, as he did Delaney's former fiancée Ellen before he was locked up. Preoccupied with the pageant case and the extortion victims, he pulls back without explanation. Stella doesn't like being shut out, and their relationship travels a rocky patch.
Meanwhile, Delaney has a mostly good relationship with his sister and brother-in-law, as well as several friends still on the force. Mullen describes the interaction between Delaney and his family and friends warmly, and they feel real. This is the first in a new series, so watch this space…
If you like stories set in the Big Easy, Casting Bones by Don Bruns delves more deeply into the city's tourism, voodoo, and Krewe cultures. There is James Lee Burke's award-winning The Neon Rain, and Ray Celestin's The Axeman's Jazz was one of the top crime books of 2014.
Bloodhound Books
Print/Kindle
£0.99
CFL Rating: 4 Stars