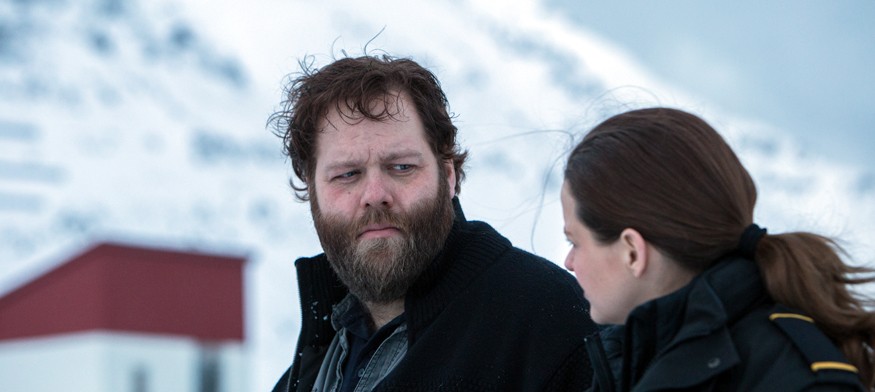 Yes, we review a lot of books here on Crime Fiction Lover. About 2000 of them so far, more or less. But when we're resting our eyes from page and computer screen, we're often caught enjoying our passion for crime fiction on television. Recent years have seen a boom in high quality crime dramas – in the wake of shows like The Killing and Breaking Bad – that take long format storytelling to a new level. In-depth characters, great acting, and a fair bit of investment from companies like Amazon, Netflix, the BBC, HBO and more, have made crime TV shows more exciting than going to the cinema.
Anyway, enough blab. Here are our picks for 2016. Tell us yours in the comments below.
10 – The Fall season 3
The first two episodes of this series were so slow it nearly didn't make the list. Suspected serial killer Paul Spector (Jamie Dornan) is in hospital recovering from life-threatening wounds sustained at the end of series two. Nearly having died in the operating theatre, he awakes with no memory of his crimes, surrounded by nurses that blink at him a bit too much considering he's accused of rape and murder. In the third show it gets moving as a hotshot legal team steps in to represent Spector, to the disgust of Detective Superintendent Stella Gibson (Gillian Anderson). Can he be tried for crimes he can't remember? Is he faking the amnesia? What will bring him out of it? He's sent to a secure mental institution where Dr Larsson (Wallander's Krister Henriksson) is to assess him. Meanwhile, Gibson's team make an array of discoveries when looking into Spector's past and the series becomes an exploration not just of his crimes but his mental state and what led him to become like this. It builds to a stunning, troubling, violent and totally gripping sixth episode.
Watch on Amazon
Get the DVD
9 – Beck season 6
BBC Four showed a mixture of episodes from across the five previous series of this Swedish drama this summer, but also aired the four brand new episodes that make up season six. Based on characters from Maj Sjöwall and Per Wahlöö's Martin Beck series, things have been updated a bit and the stories are set in the present day rather than the 1970s. Peter Haber is wonderful as the quiet and thoughtful detective, struggling with an overly ambitious but under-experienced new boss, and murder cases that require good detective work rather than media spin. There's a surprise for fans of Beck's no-nonsense fellow detective Gunvald Larsson (played by Mikael Persbrandt) and you'll see the introduction of Steinar Hovland, a Norwegian detective who joins the team and is played by Kristofer Hivju of Game of Thrones fame.
Get the DVD
8 – Hinterland season 2
The beautiful and moody setting of West Wales is used to great effect in this BBC production, made in Aberystwyth and its environs. In the second series, DCI Tom Mathias (Richard Harrington) finds himself under investigation by the IPCC and is doing all he can to avoid being crushed by past tragedies and his failing marriage. However, there are murders to solve, like the dead bus driver found on the mountainside, or the killing of a barrister respected throughout the community. Texture is the word that springs to mind when you watch this programme. Every detail is finely photographed, reflecting storytelling that feels as real and painful as the facts and crimes that are dealt with. The characters and communities are deeply rooted in the land, as Mathias and DI Mared Rhys, played by Mali Harries, work through four cases. Shot in Welsh and English, Hinterland has a dark and authentic Celtic spirit about it.
Watch on Amazon
Get the DVD
7 – Deutschland 83
Shown on Channel 4, and now available via More 4's Walter Presents range of downloadable box sets, Deutschland 83 was a surprise hit. East German border guard Martin Rauch, played by Jonas Nay, is chosen to infiltrate the West German high command at a time when the Americans are planning to place their Pershing II missiles in West Germany. He's plucked out of a highly regimented lifestyle in East Germany, and finds himself not only spying on NATO generals but enjoying the actual and metaphorical fruits of liberal democracy. Soon Martin realises that both sides are playing for keeps and he must make a series of difficult moral choices, thwarting counter-intelligence operations as well as using his good looks to gain access to decision makers in the West. The series shows that a license to kill isn't all it's cracked up to be. The good news is that Deutschland 86 and 89 are to follow.
Watch on Amazon
Get the DVD
6 – The Missing season 2
It wasn't going to be easy to live up to the high standards of the first series, but season two has arguably surpassed expectations. Same writing duo Harry and Jack Williams, same charismatic French investigator played by Tcheky Karyo, but this time it's directed by Ben Chanan and features David Morrissey and Keeley Hawes as the couple whose daughter has gone missing but then reappears a decade later. Told in multiple timelines, with many layers of complexity, and set across locations like Germany, Iraq and Switzerland, it would be very easy for this story of family secrets and high-level corruption to turn into a confusing mess. However, the storytelling risks ultimately pay off and we have a drama series as addictive as a crime novel that you have to stay up all night to finish.
Watch on Amazon
Get the DVD
5 – Mr Robot season 2
Elliot Alderson (Rami Malek) is the alienated vigilante hacker who sets off a revolution with the epic Five/Nine 'fsociety' hack of EvilCorp in this Amazon production. Elliot's mental health is fractured and the complex tangle of his hallucinatory psyche is teased out over the course of the second series of Mr Robot. Strong female leads follow their own stories: FBI agent Dominique DiPierro (Grace Gummer) hunting fsociety who epitomises loneliness in the interconnected world; Elliot's childhood friend Angela Moss (Portia Doubleday) embedded deep in EvilCorp; and Elliot's sister Darlene (Carly Chaikin) holding together the rebel hacker group. Mr Robot is immersive and convoluted with fully formed characters. It offers wildly ambitious long form storytelling, which pays off in sublime fashion. Labelling Elliot as an unreliable narrator understates the scope of narrative disruption but Malek holds it together and he won an Emmy for his mesmeric portrayal. Simply brilliant.
Watch on Amazon
Get the DVD
4 – Line of Duty season 3
Described as even more hard-hitting than the first two series, the story centres once again on AC-12, the anti-corruption squad within the police force. Martin Compston and Vicky McClure are our hardened yet flawed investigators and Adrian Dunbar is their seemingly trustworthy boss. The person under investigation this time is Armed Response Unit Sergeant Danny Waldron (Daniel Mays) who shoots a suspect on the run. Written by Jed Mercurio, this is one of the most consistent and innovative police dramas on British TV. You may have some doubts about the veracity of the final chase scenes, but no other drama would dare to bring you 20 minute interview scenes which manage to keep you on the edge of your seat.
Watch on Amazon
Get the DVD
3 – The Night Manager
If you want to plan a six-part TV mini-series, you'd be hard-pressed to get a better start than by mining the treasure trove of work by John le Carré, from which came this story of an uphill effort to thwart the deadly plans of an international arms mogul. If you want some star-power, it would be hard to outshine a cast led by urbanely wicked arms dealer Hugh Laurie, sexy would-be spy Tom Hiddleston, and his dogged and hugely pregnant handler Olivia Colman. And if all that isn't enough, set your story in a series of exotic destinations. If you have the directorial talent of Susanne Bier, you will have created an eminently watchable, intellectually engaging, nail-biting feat of programming, full of sly humour and dead-scary villains.
Watch on Amazon
Get the DVD
2 – The Night Of
The Night Of is a mini-series set in New York from writer Richard Price (Clockers and The Wire) based on the BBC series Criminal Justice. Nasir 'Naz' Khan is a Pakistani college student who lives in Jackson Heights, Queens with his family. Naz goes out one night to a party, borrowing his father's taxicab without permission, and ends up picking a young woman who assumes Naz is on shift. From there things go awry and Naz ends us charged with a crime he can't remember if he committed or not. The Night Of explores the intricacies and shortcoming of the criminal justice system while also showing how transformative it can be to those involved. The performance by John Turturro as a for hire lawyer is a standout, and the way Price build characters is not to be missed.
Watch on Amazon
Get the DVD
1 – Trapped
A cruel climate is usually cited as a hallmark of Scandinavian crime fiction, but never has it been so prominent as in Trapped, the 10-part Icelandic crime drama that had us gripped when it aired in the UK in February, March and April. A huge Danish ferry docks in a town not so different to Siglufjordur in northern Iceland, just as a huge blizzard hits. A torso is pulled from the water throwing suspicion onto the ferry's crew and passengers, and the story's red herrings lead us directly into bloody waters. Turns out there was a passenger aboard smuggling two teenage African girls into Iceland as sex slaves, and another man on the ferry was previously involved in an arson attack in the town. Head of police Andri (Olafur Darri Olafsson) and his deputies Hinrika (Ilmur Kristjánsdóttir) and Ásgeir (Ingvar Eggert Sigurðsson) have one or more killers to contend with. Nobody can come and help them, and nobody can leave. Several intriguing sub-plots emerge – one involving the teenage girl killed in the arson attack all those years ago; another relating to the African girls, who escape and try to hide from the people traffickers; and a third about corrupt local officials. It's beautifully filmed, and an involving and powerful story unfolds as the town is gripped by more than a cruel climate. Could it happen again? Apparently, it could… a second season is in the pipes.
Watch on Amazon
Get the DVD
Find out what our favourite crime shows of 2015 were by clicking here.