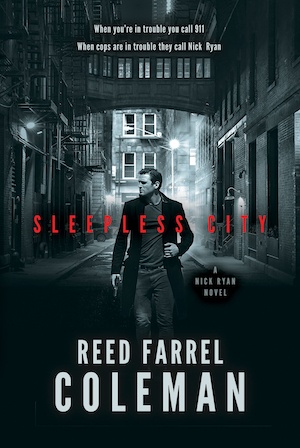 Reed Farrel Coleman's new crime thriller Sleepless City is for readers who like their noir black as ink and thick as pitch. You can't really call it a police procedural, simply because main character Nick Ryan doesn't follow law enforcement procedures in any way his superiors would publicly condone. But that's why he is there – to help New York solve its intractable problems by colouring outside the lines.
The NYPD Intelligence Bureau is beset by difficulties. The streets are a tinder-box waiting to ignite the next time a cop kills a civilian. A fraudster has got away with billions, including police union and pension funds, and won't reveal where he's hidden the money. And a reptilian right-wing podcaster and social media star is intent on sowing social discord and anti-police feeling with wacko conspiracy theories.
The authorities would like to clear up these matters through normal channels but can't, for various reasons. And so Nick is approached anonymously and asked to use creativity, initiative and fearlessness to resolve them. He will get whatever he needs in terms of weaponry and staff, access to files and security footage. Like a latter-day 007, he also has a licence to kill. In fact, the powers that be probably hope he will use it. Whether he can count on help from his colleagues is a little more uncertain. Some hold it against him that his father, a former NYPD cop himself, testified against fellow officers during anti-corruption hearings.
This set-up creates a no-holds-barred fantasy of vengeance, the kind of thing you might dream up when you hear about some awful crime where the perpetrator escapes seemingly scot-free, and your reaction is, 'Why can't they just . . . ?'
Although I say it's a fantasy, Coleman's writing is anchored in a gritty reality. Blood is shed. Bones are broken. Explosions dismember victims. Dirt is smeared. The story is further tethered to reality in the way Nick considers the moral aspects of his work. He doesn't simply march through the city brandishing weapons and mowing down bad guys. He takes into account the consequences of his actions and selects his approach to a problem in part based on what lesson it will impart to other malefactors. He seeks justice more than revenge.
Naturally, he's irresistible to beautiful women, which extends the fantasy. This mostly works, especially when he sees through a tyro journalist named Calista Barrows. What didn't work for me was Nick's pining for his lost-love Shana, now married and with a daughter – his, apparently. Her motives in keeping an old lover's flame alive are questionable. Maybe that's her character, but for a person who is so skilled at reading others, Nick has a real blind spot in her case.
The story displays considerable urban expertise as it takes you around Manhattan and the outer boroughs, with a significant chunk taking place in Long Island's Suffolk County Jail. Nick is confined there so that he can get close to the fraudster. Being in prison is not without risks, of course, from both inmates and corrections officers, and he has to plan for them and head them off as best he can. Seeing his various clever plots unfold, and how he has to think on his feet when something goes awry, is one of the story's chief pleasures.
Although the Department arranges for people to help Nick when needed, he has a couple of interesting allies that officialdom is unaware of. One is Lenny Feld, whom Nick saved from a house fire that killed his family. Feld was left with disfiguring facial burns and lives in isolation in the basement of a synagogue, where he's a fake video genius. Nick recognises a fellow clandestine operative in a man called Mack, whose bar is blown up early in the story. Mack is a former British Intelligence agent active in Northern Ireland during the Troubles – not on either side, against both. Speaking of allies, Coleman gives a discreet nod to his fellow NYC crime writers Tom Straw and Charles Salzberg through the names of two walk-on characters.
Crime writing, being a reflection of a breakdown in the social order, ought to pay attention to what makes the social order actually work and that's something Reed Farrel Coleman does here. Nick Ryan may be a fantastical creation in terms of his deeds, but in terms of facing the issues of big-city policing, he's wrestling with modern reality. Sleepless City leaves you wondering, is that what it takes?
Also see Charles Salzberg's Swann's Down. We interviewed Reed Farrel Coleman back in 2016.
Blackstone Publishing
Print/Kindle
£5.99
CFL Rating: 5 Stars