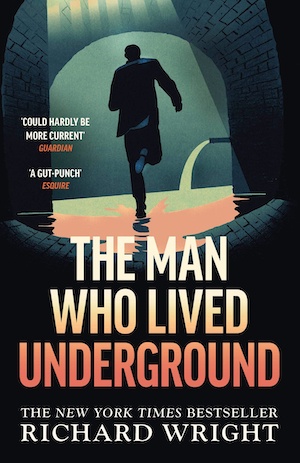 Richard Wright is best known for his literary novel Native Son and the bestselling memoir of his early years, Black Boy. The pioneering African American author, born to Mississippi sharecroppers, addressed race and prejudice in his country head on. And racism is the theme of this 1940s crime story, which was rejected by the establishment in its day and was only published in full by Penguin in the United States in 2021. In this UK printing via Vintage Classics, we find an excoriating portrait of the Chicago police and racially motivated violence that resonates just as much today given what we've seen happening in America in recent years.
It's Saturday night and Fred Daniels, the Wooten's gardener, has just been paid. A happy man, he's heading home to his heavily pregnant wife – they're expecting a baby any day now. Three cops get out of a patrol car and block his path. They're looking for a killer. The Peabodys' up the road have been brutally murdered. They don't like the idea of a black man in a white neighbourhood and Fred is in their firing line.
Not looking for trouble Fred is respectful but it grates that they keep calling him 'boy'. The cops don't hear his answers, they want to fit him up for the crime. Down at the station they start beating Fred, it turns into torture, physical and psychological abuse escalating over time. He fits the suspect profile, the picture of the killer they all have in their heads is that of a black man. Doesn't matter that he's a church goer and he's never been in trouble or that his pastor would vouch for him, if asked and Mrs Wooten could explain where he got the money in his pocket. They just want a confession to murder and to the attempted rape of Mrs Peabody. These cops are prepared to do anything to get it. 
Confused, battered, exhausted and worn down Fred eventually confesses. After that the cops take Fred's silence and demeanor for docility but knowing his life is over Fred takes the one chance that presents itself to escape and the only place to go is into the city sewers. He lives down there while on the surface a manhunt is underway and he'll be taken dead or alive.
Richard Wright's book is a fast-paced thriller about a miscarriage of justice and a man on the run, with devastatingly poignant twists and an ending that is as crushing as it is truthful. This is a gritty noir but there are two distinct parts to the narrative. First, the fit-up, which portrays the plight of an African American man who falls foul of the white legal system through no fault of his own. He was randomly chosen because of the street he walked down and is undisputably innocent. Second, after the escape we have the time spent in the subterranean world. This develops as a metaphor for the position of black communities at the time but at times drifts into reflection on the absurdity and cruelty of Fred persecution – its mindlessness.
The novel is written in fevered fashion. Wright instinctively feeling Fred's experience and getting it down on the page, inspired more by an ingrained sense of injustice rather than specific research. A postscript essay entitled Memories of My Grandmother throws light on Wright's motivation for this story. It's more complex than just racist violence. There are themes of religion and mental health here too. 
Part noir, part fevered dream, this novel may not sit easily with readers who prefer something more linear. However, you can't help but empathise with Fred's plight, not just because of the abuse of power and cruelty but because he's a genuinely decent person. The allegorical element of the underground story requires a little work to properly fathom but it's worth it.
What we will all see in this novel, still powerful and relevant, is the racism at its heart. Richard Wright is channelling the experience of black people in America – the hate, the hurt and the inequality. Wright left America after the war for Paris and remained there until his death in 1960. It's crazy that it took so long for this book to appear in full, in print, but better late than never.
Also see our feature on the great crime author Chester Himes which highlights similar experiences.
Vintage Classics
Print/Kindle/iBook
£4.99
CFL Rating: 4 Stars