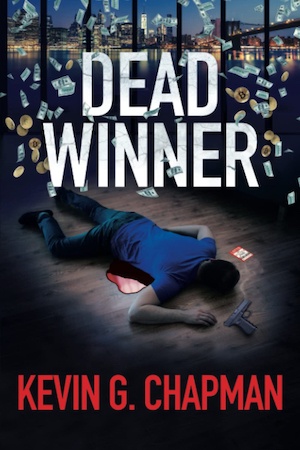 Readers have really taken to Kevin G Chapman's series of books set in New York and featuring NYPD detective Mike Stoneman. They manage to capture a flavour of the city while also offering some pretty tricksy plotting.
Dead Winner is a standalone which features both of those things – and also contains a fleeting glimpse of Stoneman for good measure! Unlike the series though, Dead Winner is somewhat of a slow burn.
What would you do if you won $60m in the lottery? My reply involves gin and the Caribbean but each to their own. Let's examine the case of Monica and Tom Williams, who run straight to their lawyer. They want to set up a trust, and their advocate of choice is Rory McEntyre, an old college friend who hasn't seen or heard from the pair for many years.
From the off, it's clear that Rory is something of a loner. He's the guy who goes home after work and plays online games. Years ago, he held a candle for the lovely Monica. It wasn't to be and she married Tom but he finds it hard to concentrate when the object of his earlier desires is sitting right in front of him.
Paperwork sorted, the happy (and now extremely rich) couple leave, lottery ticket in hand. Tom assures Rory he has a safe place for it to go until they claim the winnings from the lottery company, somewhere no one would ever think of looking. Which is a bit of a nuisance when Tom commits suicide and the ticket appears to have vanished into thin air…
Rory is the main protagonist of this book and he's soon wondering what he's let himself in for. Monica returns home from work to find her husband dead on the floor of their apartment after offing himself with a gun. Completely distraught, she rings Rory to come around. Poor lamb, he's so infatuated with the new widow that he complies. It's the first rather stupid step on a long and winding road to disaster.
Meanwhile, over at the NYPD station, Detectives Steve Berkowitz and George Mason are perfectly happy to sign the sudden death off as a sure-fire suicide… until a few things come to light that have them viewing the freshly bereaved Monica from a different angle. The cops might know nothing about the couple's recent lottery windfall but something is off and they are determined to get to the bottom of it all.
Tom was big in finance, and we soon learn that his bosses are keen to get hold of his personal laptop and anything else that might incriminate them – because Northrup Investments are not as squeaky-clean as their lavish publicity might have us believe. In fact, they're deeply involved in a sneaky financial scam that makes the firm's inner sanctum very rich but breaks myriad laws.
As you can see from the above, there's plenty going on in Dead Winner and there are occasions when it all gets just a tad too complicated. There are police, heavies, financial shenanigans, legal chicanery, judo and even a dash of romance throw into this heady mix, so stay sharp!
Did Tom kill himself or was he murdered? Where is the pesky lottery ticket? How are Monica and Rory going to sort all of this out? And why is Rory such a wet lettuce? These questions and many more will be posed and answered before this caper is over. Dead Winner is an entertaining if a little overblown read, blessed with Chapman's trademark on-point dialogue, well rendered locations and flashes of welcome humour. Worth a look.
You can view the Big Apple from another angle in It's News to Me by RG Belsky.
Self-published
Print/Kindle
£4.07
CFL Rating: 3 Stars