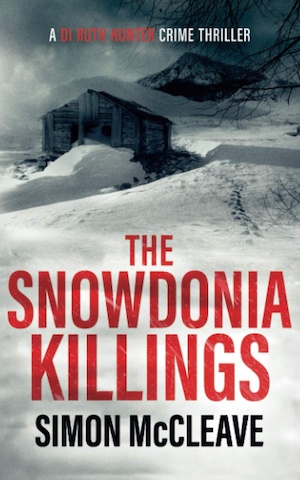 "No, no, don't bother yourself with that independently published nonsense." That's what the big publishers might want you to think. They have experienced editors and publishers, well-oiled and financed marketing machines and big cheque books (or should that be PayPal accounts, these days?) to lure in the most talented writers. Simon McCleave doesn't care. With drive, determination and a small team to help, he went ahead and started publishing his Ruth Hunter police procedurals two years ago, in the middle of the pandemic. And boy/girl/other has it paid off. The Snowdonia Killings is the first in the series and it perfectly demonstrates why indie crime fiction is part of any healthy diet.
Ruth Hunter is a DI who's been ground down working for the Met in London. The gangs, the violence, the senseless killings – not to mention the fact that her lover disappeared out of the blue a few years back. She's transferred to the nick in fictional Llancastell in North West Wales expecting that the criminal activity will be sheep rustling and quad bike theft. The biggest worry is winning over a team of mainly local coppers who live in tight-knit communities that have been circumspect about English incursion for about 750 years. But, you know, when a detective moves somewhere for the quiet life, everyone needs to stay on their toes, because someone is about to die.
In this case it's deputy head teacher Arabella Dixon. Following a parents evening, when nearly everyone else has gone home, she meets her killer in the school carpark and it's lights out. Her body is found with a spiral symbol carved on the back of her hand. An investigation gets underway and even though she's new Ruth Hunter is named SIO, with DS Nick Evans at her side. In his pocket, his drawer, his glove compartment – a bottle of vodka. Always.
Not long afterwards, another teacher is killed and the victim also has a spiral carved on their hand.
Author Simon McCleave works this well. Arabella was an ambitious, manipulative woman who used sex to get what she wanted and conflict surrounded her. This gives Ruth and Nick a whole slew of potential suspects. Her ex-husband Simon Noakes, and her lover and boss Neerav Banerjee head the list. Her son Alex hated her because of her controlling nature. Then there's Bronwyn Wright, the teacher she suspended who's now receiving mental health treatment. Arabella was of mixed race, and it turns out the scout leader in Llancastell is proudly racist. That makes him a strong suspect as well.
It's remarkable how many plot twists and new directions crop up in this novel. The police procedural aspect is strong, but using a huge variety of characters the author manages to drive the story in various directions. It's complex but very believable. There are secrets galore, and often the characters have attitudes and issues that complicate matters for Ruth. As well as hate crimes, mental health problems, suicide and autism play a role – affecting the characters, the investigation and how it's handled.
On the police side, Nick's alcoholism is dealt with in far more depth than is usually the case with cops who suffer from addiction in crime novels. Ruth's personal life is gradually filled in as well, the author building her up to be the lead character across his planned series. She's a lesbian detective who has faced sexism, dealt with a failed marriage and coming out, and has a daughter she doesn't know very well over in Liverpool.
The sheer amount of ground McCleave attempts to cover is astonishing, and we haven't even mentioned the setting. Throughout The Snowdonia Killings, the Welsh countryside, culture and heritage are brought out through a peppering of references. Legends of drowned princes, Owain Glyndwr's war of independence, jokes about English incomers drinking sheep urine – plenty of Welsh flavour here. However, the book's cover is a little deceiving – there's no snow whatsoever.
New clues and new angles keep cropping up and while there are the usual procedural elements of interviewing suspects, tech and forensic analysis, there are also two or three chase scenes – one into an old mine with some shotgun violence, and a high speed chase. I wasn't quite sure how Nick, who is weening himself off booze at about 20 units a day, can be at the wheel of a police car and not checked for alcohol after a major collision, though.
With such a complex case, and all the red herrings the author sends your way, guessing who the killer is turns out to be very difficult. The ending is surprising, moving and hard hitting. However, after the reveal there's a long section of exposition which didn't quite fit the rest of the storytelling. Perhaps Simon McCleave wanted to tie up as many loose ends as possible, but he could easily have left some of them hanging.
The Snowdonia Killings is a thrilling and pacy read, perfect for anyone looking for a unique piece of Welsh crime fiction. Thousands upon thousands of readers in the UK and around the world have downloaded and enjoyed this book a great deal. You can include Crime Fiction Lover among them. It's a wonderful mystery, full of interesting characters and relevant social issues.
Watch Dr Noir interview author Simon McCleave here.
Self-published
Print/Kindle
£1.99
CFL Rating: 4 Stars