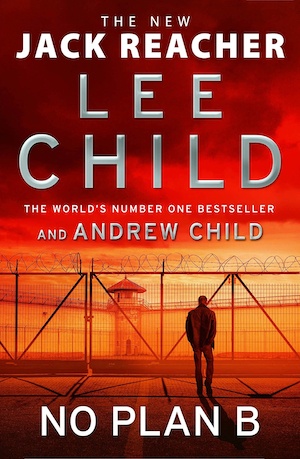 Reacher is back. A few years ago that would have been great news, but now it means the controversy will be reignited. Have you made your mind up yet? Are the brothers' co-authored Reacher novels living up to the high standard Lee Child previously set with this beloved long-running series, or do you struggle with them? The majority of readers seem happy but there's a vocal minority who aren't. Let's take a look at the latest book.
No Plan B is the 27th Reacher novel, released 25 years after The Killing Floor. Reacher's rambling has brought him to Gerrardsville, Colorado. It's a quiet place but as he's about to leave town he witnesses a murder. A man pushes a woman under a bus, then steals her handbag, making his escape in the confusion.
Reacher confronts the killer in a nearby alley, a fight ensues and Reacher knocks the guy out. He opens the stolen handbag, which belongs to Angela St Vrain, an employee of the Minerva Correctional Facility, a privately run prison in Winson, Mississippi. Inside is an envelope containing an inmate's life story. Anton Begovic, petty criminal cum serious gangster, has turned his life around and is due to be released next Friday at 10am.
Then the hitman's friend comes bowling down the alley in a large sedan aiming for Reacher. Reacher grabs for a fire escape staircase, which suddenly collapses and buries him under a broken metal framework. The driver, killer and handbag vanish while he's freeing himself.
Reacher tells his story to the cops but the only other witness says the woman dived or fell in front of the bus, there was no assailant. The local police chief wants an easy life so he isn't interested in Reacher's version of events, case closed.
Naturally, Reacher wont leave it there. It's clear the answers lie in Winson. Now he's a headache for the management of the Minerva Correctional Facility. When they hear about the big guy who interfered in the operation in Gerrardsville they set up a whole team to stop him messing with their plan.
Meanwhile, in California, 15-year-old Jed Starmer, who lives with his foster parents in the LA suburbs, has been sneaking into South Central to see his mother. She's dying from pancreatic cancer and the last thing she tells her son is where to find his father. The man is getting out of prison in Winson on Friday. The boy is desperate to see his dad. Stealing some money, he hops onto a Greyhound headed east.
Once again, Reacher is up against corporate greed and conspiracy, and finds a couple of new friends to help. But he's not the only one looking into what's going on at Minerva. As the next phase of the prison's plan begins, they're not prepared for what's coming their way.
No Plan B is unlikely to appease those readers who have complained about the evolution of the series as brothers Lee and Andrew share the writing. However, it is the closest of the three co-written novels to the style and plotting of the earlier novels. Andrew Child has his own voice, and perhaps there is a little less flair. It will take time to get fully into the groove but the essential ingredients of a Reacher novel are here.
The first couple of chapters build slowly but No Plan B revs up to be pacy and engaging. From the moment of the murder on it's full steam ahead.The denouement is a little too neat but it's nonetheless satisfying. Favourite Reacher tropes abound – innocents in need of help; a friendly and useful cop who doesn't think the dead woman's case should be closed so quickly; other law enforcement a hindrance not a help; and a nasty conspiracy to expose.
This is what fans want and there's clearly voracious demand for more of their outsized hero. It might not be up there with the Die Trying or One Shot, but this is a good read, the new characters are intriguing, the villains suitably bad and the mystery is enjoyably engaging.
Also see our feature on the first season of Reacher on Prime Video, and our review of the last novel, Better Off Dead.
Bantam Press
Print/Kindle/iBook
£9.99
CFL Rating: 3 Stars