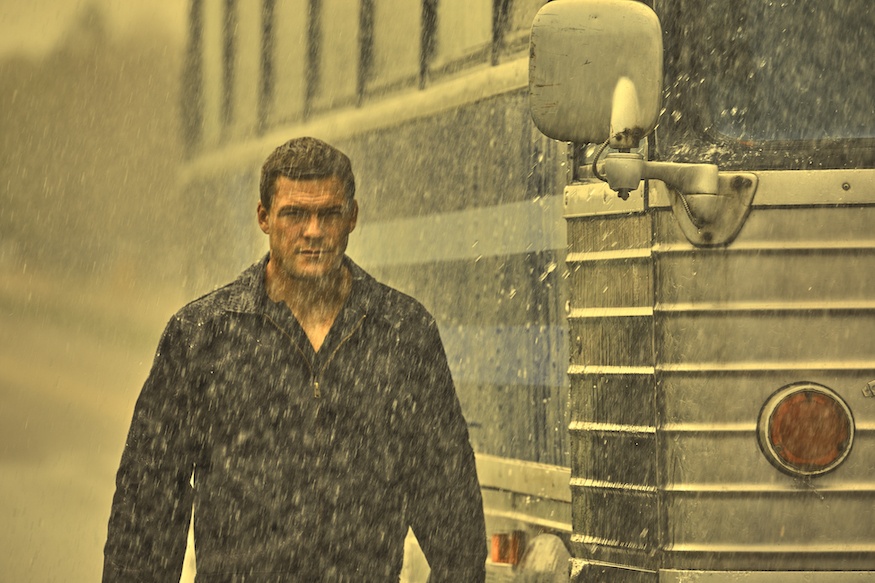 It's fair to say that crime fiction lovers were bemused, if not downright offended, by the casting of Tom Cruise as Jack Reacher in the 2012 film adaptation of Lee Child's iconic character. While he's a giant of the silver screen, Tom Cruise is nowhere near the six-foot-five, 250-pound hulk Reacher is described as being in the books. Well, the good news when it comes to Prime Video's new Reacher series is that the casting director has hit a seam of gold by placing actor Alan Ritchson in the starring role. Here's a guy who looks, moves and sounds like Reacher should.
All eight episodes of season one of Reacher will be available to Amazon Prime subscribers from 4 February, and it seems clear that the producers wanted to get back to basics with the character and the stories. They've started at the beginning, which means that the first series is based on Lee Child's first Reacher novel, Killing Floor, which came out in 1997. They've also got Lee Child on board as one of the executive producers – a winning move that worked so well with Michael Connelly contributing to the Bosch series. And they've paired Child with an experienced action screenwriter in the form of Nick Santora, whose previous credits include Prison Break and Scorpion.
Click here to watch Reacher on Prime Video
The storytelling feels authentic to that first novel as well. You know the drill. Reacher steps off a Greyhound bus and walks into town with $200 in his pocket, a toothbrush and the clothes on his back. Before he's even tasted Georgia's finest peach pie or sipped his black coffee, he's under arrest, accused of something he hasn't done, and chucked into the cells.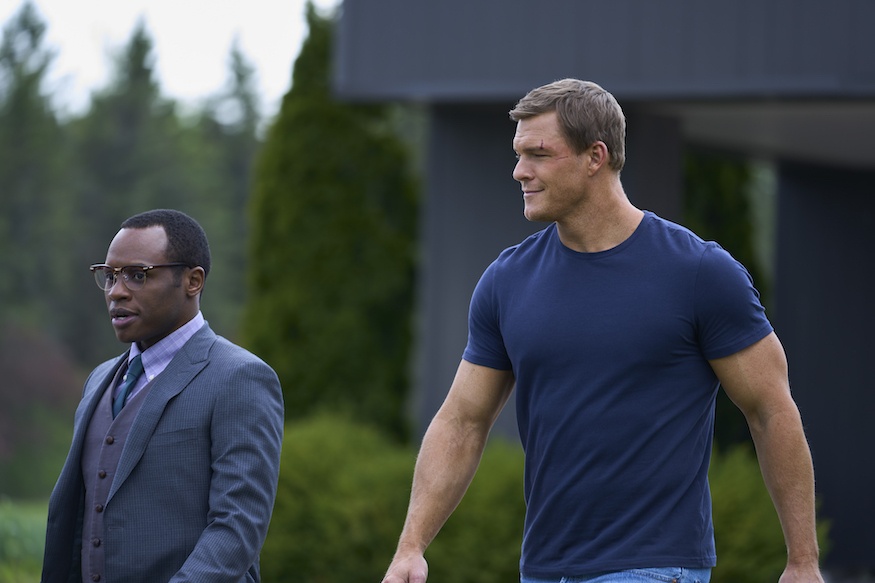 Here, it's the murder of a man about Reacher's size in a field just outside town. The police chief hollers, "What the hell are you doing in my town?" trying to intimidate Reacher but the grunt cops are backed off by Chief Detective Oscar Finlay, played by Malcolm Goodwin. Finlay and young woman officer Roscoe Conklin (Willa Fitzgerald) seem like the only cops in town who aren't corrupt. Straight away they don't think Reacher is responsible for the killing but things get confusing pretty quickly when an accountant called Paul Hubble confesses to the murder. Both he and Reacher are sent to the local prison under detention, where an attempt is made on their lives and we get to see Reacher's hand-to-hand combat skills up close.
Thwack. This is a sign of things to come – the series has some superb set piece action sequences.
It's pretty clear that Hubble is innocent of the murder. He knows something, but he's too scared to talk. It's equally clear that the town of Margrave, Georgia, has some dark secrets. Finlay and Roscoe get footage from Greyhound's security cams that exonerates Reacher meaning he can go free, and soon he forms an unlikely alliance with them. When he finds out whose body is lying in the morgue, he goes on the warpath and it's a ride you're going to want to witness.
Fans will enjoy how tropes and in-jokes from the series are used to lighten things up here and there. "Reacher said nothing," is honoured for a good few minutes into episode one. He doesn't even talk during his arrest. His feet stick out of his prison bunk, and he won't make friends with anyone. After getting bloodied in a fight, he buys second hand clothes from a thrift shop. Deeper parts of his character are explored through flashbacks – Reacher and his brother moving from military base to military base with their parents, being the odd ones out, getting into fights, standing against injustice and prejudice.
In situations where a little emotional intelligence is required, again we see the Reacher we know from the books. Watch as the actor Alan Ritchson freezes Reacher's expression when he's on the cusp of hurting someone's feelings. He goes neutral, his eyes glaze slightly, and we see a hint of understanding before he seeks to exit the situation as quickly as possible. We need Roscoe in this story for the emotional content and Willa Fitzgerald provides that, her character eventually becoming the love interest though she too packs a punch.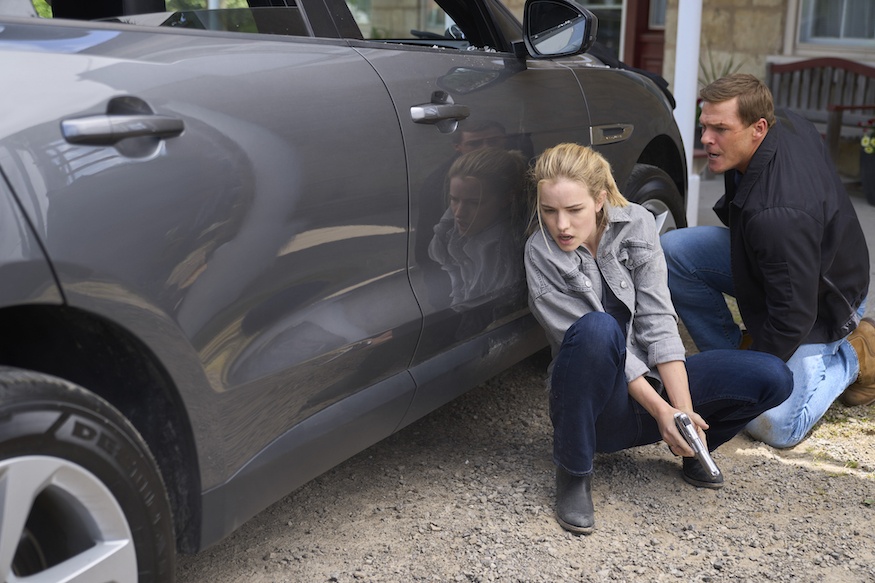 When action is required, Reacher is like a machine, stepping to the fore and eliminating the threat as quickly as possible. Alan Ritchson gives his Reacher confidence and presence – you feel like he can handle pretty much anything, just like in the books. After all, he's meant to be a hero. But everywhere he goes in Margrave, Reacher now has a target on his back. Whoever was behind the killing wants him out of the way so they can get on with their criminal activities, while everyday people associate the town's first murder in 20 years with the incomer. Soon, more bodies are discovered…
What's a little surprising is the amount of dialogue. We always describe the Reacher novels as action thrillers, but here a great deal of the story is told in the conversations Reacher has with the edgy Detective Finlay. At times, it feels like Reacher is channelling Sherlock Holmes. The deductive reasoning delivered in his on-the-page narration becomes dialogue in the show. He reads Goodwin because he was once a military police investigator, and goes through the evidence verbally. A lot is said and a lot is done in each episode – it feels like the makers wanted to include as much plot detail as possible.
Having said that, not everything is exactly like it is in the books. Lots of little things have been changed to make the story flow visually and bring it up to date. His military experience includes the Afghan and Iraq wars, for example. He doesn't start off with a mobile phone but he gets a burner to keep up with the cops. We love it that the makers have preserved Reacher's love of the Blues, and his reason for being in town to find out more about the ragtime guitarist Blind Blake remains. The police don't buy it, but we dig the tunes.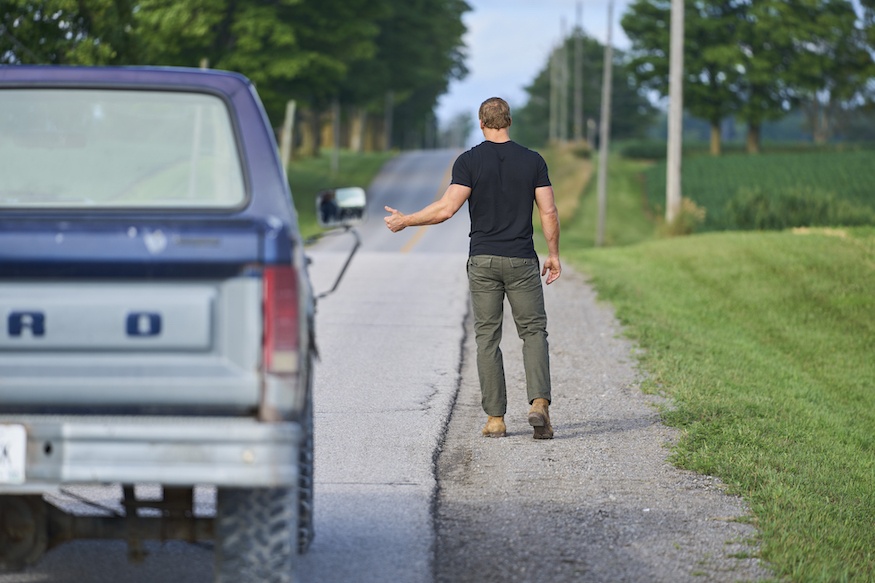 Where you might want more from this series is in the atmosphere department. The setting is rural Georgia, although Reacher was actually shot near Pickering, Ontario in Canada. The town feels a little unremarkable and prefabricated, although the wide shots of farmlands, scrub and woodland make it suitably remote. The overall experience is governed very much by Reacher himself, who seems superhuman at times – just like he does in the books. This isn't a series to come to looking for nuance and texture, and in terms of pace, tone and attention to detail, Reacher is reminiscent of the Marvel TV series Daredevil, The Punisher and Jessica Jones from before the Disney acquisition. Like Reacher himself, this production is powerful, punchy, clever and full of twists – the perfect show to binge when you need an escape.
Click here to watch Reacher on Prime Video
About Killing Floor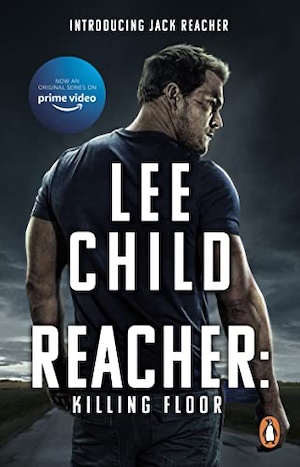 Published in 1997, Killing Floor introduced us to Jack Reacher, as well as Lee Child's sublime, minimalist writing style. Like Hemingway, no word is wasted and Child's sentences are lovely and clipped. You know you're in crime fiction territory within a few paragraphs and soon realise that the writing style itself embodies Reacher and his world.
Killing Floor picked up the 1998 Anthony and Barry Awards – two of the most important gongs in crime fiction. It established a series that now stretches to 26 novels and a plethora of short stories and novellas. Fans can't get enough of Reacher, and the books have sold over 100 million copies with translations in 49 languages. Lee Child has recently started sharing the writing duties with his brother Andrew, and their next planned novel is No Plan B, expected in October 2022. In the meantime, Killing Floor has been given a new cover to chime with the Prime Video adaptation.