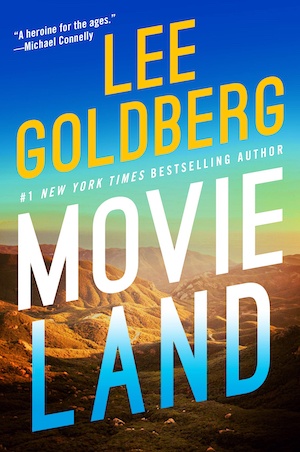 American author Lee Goldberg returns with his fourth Eve Ronin novel, which he loosely bases on chilling series of real-life killings that took place in Malibu, California in 2018. Research scientist Tristan Beaudette was shot dead while camping in Malibu Creek State Park with his two young daughters, the latest in a series of shootings in the preceding year. Someone was arrested, but there are still doubts over who it was that actually terrified residents of the area, with many questions left unanswered.
Goldberg's rendition begins with detectives Eve Ronin and Duncan 'Donuts' Pavone investigating an office break-in when they receive the call that a woman has been shot and seriously injured in the nearby Malibu Creek State Park. Zena Faust, an activist blogger for the Malibu Beat, was swimming at a pond with her girlfriend, Kim Spivey, when they were attacked. Zena survived, Kim didn't.
This isn't the first shooting in the vicinity. Over 18 months, there have been 12 similar incidents. Park police have been concealing reports of gunfire, saying the shots are either fire crackers or cars backfiring. They vehemently deny the possibility of a serial shooter and claim the incidents are unrelated. Over 300,000 tourists visit the park each year, generating substantial business for the area. A gun-happy psychopath would lead to panic and loss of income. The cover-up has resulted in this fatal attack.
Then a burnt-out Mercedes registered to a Calabasas country councilman is found with a body inside. Witnesses reported hearing shots on the road earlier. Has the Malibu Sniper claimed another fatal victim? Eve and Duncan can't find a connection between the targets and they also have to stay one step ahead of Zena, who indiscriminately and irresponsibly divulges critical information about the case online. According to Zena's blog, everyone in the Lost Hills Sheriff's Department is either corrupt or incompetent, an opinion which makes for a long list of enemies.
Lee Goldberg is a scriptwriter too – Monk, Diagnosis Murder, Mystery 101 – and per its title the entertainment industry is part of this story. There is a television show based on protagonist Eve Ronin's career. She detests it because she has to work even harder to prove herself as a competent cop, competing with an idealised version of herself on screen. Furthermore, Eve is ostracised by her colleagues for exposing corrupt officers in her station, which led to a suicide. The man's family sued Eve and to pay her legal bills she had to do the TV series.
Eve is the youngest robbery-homicide detective in the department's history. Despite being inexperienced and making stupid mistakes – Duncan refers to her as someone with the finesse of The Hulk – she has good instincts and tenacity. Duncan, who is on the verge of retiring, makes up for the experience she lacks.
Movieland could be a TV series. Goldberg creates a rich setting and his scriptwriting experience is on display within the dialogue. A good dose of humour is injected to add balance. The verbal sparring between Eve and Nan, the crime scene unit leader, and with Duncan, provide some truly memorable lines.
Goldberg's work conjures up the same authenticity and mood as Michael Connelly's Bosch novels. In a recent interview he mentioned that he chose to use the Lost Hills jurisdiction as setting because Robert Crais, Raymond Chandler, Joseph Wambaugh and Michael Connelly have already said everything there is to be said about the greater Los Angeles area and better than he'll ever be able to. Lost Hills, on the other hand, is its own self-contained world with different environments, people, classes and cultures. It's a rich and less explored territory for crime fiction.
Goldberg attended the community meeting briefing the public during the 2018 incidents and afterwards continued to follow the case and New Yorker journalist Dana Goodyear's reports which led to season one of the Lost Hills podcast. The result is a clever combination of two real-life stories with Goldberg's own spin on it: a corruption and bribery scandal involving city councillors and developers and a tragic, preventable death.
Movieland is a must-read for anyone who enjoys compelling crime fiction with a strong sense of place and Eve Ronin is right up there with Renée Ballard. She just needs her own TV show. In real life, that is.
Thomas & Mecer
Print/Kindle/iBook
£4.99
CFL Rating: 5 Stars