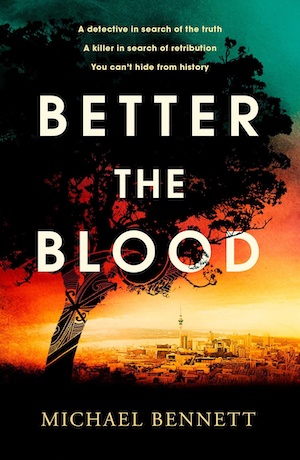 Better the Blood begins with a prologue set 150 years ago depicting a violent act of colonisation. Six soldiers are celebrating the capture and killing of a Maori chief by having their picture taken alongside his hanging corpse. The picture serves as inspiration for the novel's antagonist, and as a reminder to the reader of the casual brutality and disregard upon which all empires are founded.
This is important, because Better The Blood is a debut novel rich in themes – colonisation versus indigenous rights; who bears responsibility for the wrongs of the past; individual autonomy and the right to self expression. It's also a story about competing loyalties, querying whether it's possible to work for the state as an indigenous person when the state doesn't afford you equal rights. All of these ideas are explored and for much of the novel these themes and questions are a strong point, although as you go along they later become something of a weakness.
Auckland detective Hana Westerman is the perfect protagonist through which to explore these themes. Her job makes her complicit in New Zealand's treatment of its Maori population, and her own Maori heritage means she has a foot in both camps. This conflicting loyalty is something she feels acutely. For a long time she has tried to bury her own role as a new recruit in the violent crushing of a tribal demonstration protesting the government theft of sacred Maori land in Auckland.
Furthermore she has a rebellious daughter, Addison, who is making a name for herself on the local scene as a politically charged rapper and who is determined to confront Hana about her divided loyalties. Addison's father, now Hana's ex-husband, is Jaye Hamilton. He's a white man, a senior detective and is Hana's boss, which only adds to the spice. Bennett has obviously put a great deal of thought into Hana and it pays off.
It is Hana's secret shame which makes her the target of the novel's antagonist. When she receives an anonymous video message – a short film of a local derelict block of flats – with no explanation, Hana goes to the location and makes a gruesome discovery. There is a naked corpse hanging from the ceiling, hands and feet bound. The victim was killed prior to being strung up, and outside on a park bench is a complex pattern drawn in the their blood. This is no ordinary killing.
Before the first victim can even be identified there is a second. Originally classified as a suicide, a local property developer is found to have been killed in the same fashion before being pushed from a 20-storey tower block. A second video is received with the tower in the distance, again with no message. It becomes clear that the killer has personal business with Hana.
Better the Blood generated a lot of interest prior to publication. The UK's queen of crime, Val McDermid, was full of praise for the novel at this year's Harrogate crime writing festival – and it's easy to see why. The book has a great start, an excellent and convincing protagonist, and an exciting mystery at its heart. It is also thematically rich and thought-provoking.
However, somewhere in the second half it seems to lose its way. There is a subplot in which a trumped-up complaint threatens to derail Hana's investigation, but this goes nowhere. More difficult for me is the writer's depiction of the killer. Avoiding details for fear of spoilers, it gives nothing away to note that the killer's motivation relates to the poor treatment of New Zealand's indigenous population. What rankles is, however righteous their complaint, the crimes they commit are still monstrous. Bennett loses sight of this and gives the character a rationality which is both undeserved and unrealistic. I found myself increasingly at odds with this depiction and ultimately it threw me out of the story.
Nonetheless, there is still much to enjoy and admire within Better The Blood, and I hope you check it out for yourself.
For more New Zealand crime fiction, click here.
Print/Kindle/iBook
Simon & Schuster
£8.99
CFL Rating: 3 Stars