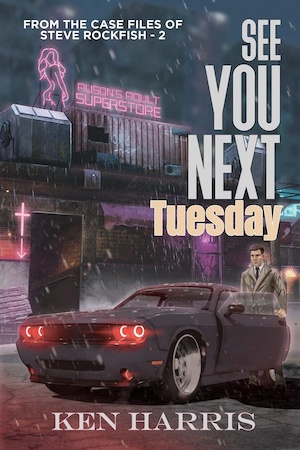 Former US FBI agent Ken Harris has brought back his entertaining private investigator Steve Rockfish with young assistant – now partner –Jawnie McGee in this second of a series, following the author's debut, The Pine Barrens Stratagem, earlier this year. In this novel, Jawnie has passed her PI exam, and the two of them have established a bare-bones office in Linthicum Heights, Maryland, just south of Baltimore.
When this fast-moving story begins, the duo is faced with three separate quandaries. Most puzzling is the yellow Nissan Xterra parked across the street with a woman in it who appears to be spying on the Rockfish-McGee office. Most annoying is their new client, the wealthy Claudia Coyne, who feels convinced her husband Roan is stepping out on her and insists they find out who the floozy is. And, most alarming, Rockfish's father Mack is rushed into hospital with a possible heart attack.
With his father in the hospital, Rockfish bequeaths the Coyne case to Jawnie and spends time with his father, whose heart is fine, it turns out. But something is really stressing him out, and it takes some prying to find out what that is.
Jawnie begins following Roan Coyne on the nights he regularly arrives home late. At first, his actions seem completely above-board, even admirable. On Tuesday evenings, he buys dozens of McDonald's meals and distributes them to the homeless; on Thursdays, he staffs a soup kitchen. Following these charitable endeavours, he attends meetings in the basement of Allison's Adult Super Store. When Jawnie peeks in a window, the gathering looks to her like some kind of self-help or religious session: folding chairs in two concentric circles, coffee and refreshments laid out.
Jawnie doesn't go inside, worried Roan might recognise her, but she trips over a woman camped out in the alley behind a dumpster. Some cash waved around convinces the woman – Lynn – to attend the next meeting and report back. One thing they figure out quickly is the several plays on the phrase 'See You Next Tuesday' – a bit of risqué wordplay by the scammers.
Meanwhile, Rockfish's father finally admits what's caused his anxiety. He's been conned into putting $17,000 into a phony investment scheme, money he can ill afford to lose. The furious Rockfish is determined to identify the swindlers and get his father's money back. Outside the coffee shop where his father met the young women who fleeced him, Rockfish spots the yellow Nissan. When Rockfish and Jawnie both turn up in the parking lot behind Allison's Adult Super Store, the third piece of the puzzle falls in place, and they realise they're working on different permutations of the same case.
They hire Lynn and Rockfish's dodgy friend Raffi to help bring the con artists down, but in Raffi's case, the help may be worse than not having it. Lots of good-natured jibes are exchanged between the old friends and, though they are up against violent and greedy opponents, it's more a matter of wondering how they will succeed, not whether. As in the earlier book, Rockfish and Jawnie's relationship is a work-in-progress. He admires her skills with the computer and with people, and she admires his ability to keep going, in the face of seemingly impossible odds. Watching them work is good entertainment.
You can tell that Lynn definitely adds to the team's strengths and that Raffi will always be a wild card. Although he tries Rockfish's patience, he brings an enlivening element of unpredictability to the story. Thanks to Raffi, Rockfish convinces his Baltimore Police Department contact, Detective Decker, to send a multi-agency team on a wild goose chase, in which everyone ends up embarrassed and angry. Destroy and repair seems to be the pattern of Rockfish's relationships with the authorities, and he's constantly skating somewhere out there on the thin ice. Rockfish's shaky relationship with Decker is another good source of tension: as if chasing violent criminals weren't risky enough, will the cavalry be there when they're needed?
This sequel suggests author Harris has developed a winning formula, elements of which are a cast of interesting characters whose interactions include a big dose of sly humor and a classic car he's dubbed Lola, crimes that are a bit unusual, and investigative methods that, well, don't bear close scrutiny. If it's striving for a blend of the serious crime and lighthearted approach of the popular James Garner 1970s television series, The Rockford Files, he's definitely succeeding. And at least two more books featuring Steve Rockfish are in the works.
If you like your PIs with a dab of humour try Joe Ide's Philip Marlowe pastiche, The Good-Bye Coast.
Black Rose Writing
Print/Kindle
£4.61
CFL Rating: 4 Stars