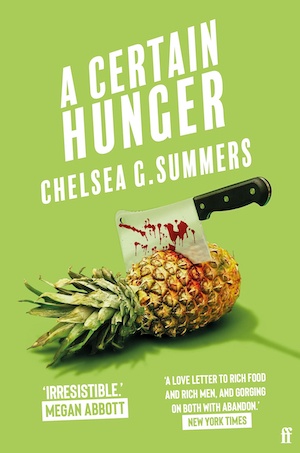 Chick-lit cannibalism is how Chelsea G Summers describes her new dramedy thriller – and that gives you a flavour of it, the novel is a tongue-in-cheek fable. A niche sub-genre maybe, but it's wicked funny if you have the stomach for it. Hell hath no fury like a love-scorned celebrity chef and as you might expect there's a particularly gruesome form of revenge on the menu. By a country mile, this is the most fun we've had in the company of a flesh eating gourmand since Hannibal Lecter got creative in the kitchen. Amarone, liver and fava beans give way to Barolo, truffles and tongue – this is haute cuisine in gloriously bad taste.
You might say chef Dorothy Daniels' ex-partners have never really leave her. To put not too fine a point on it, she keeps them close by devouring them for dinner. If this idea puts you off, and I should add this novel is sexually frank too, this book may not be for you. But if the idea that a boyfriend is dishy, in a literal sense, prepared with love and invention by a true culinary artist, doesn't offend then read this satirical romp. A Certain Hunger feeds on our obsessions with sex, food and death.
Dorothy believes herself to be on a journey of self-actualisation, self discovery and fulfilment as she kills. What she does mitigates the sense of loss she feels after a breakup. New post-mortem partnerships are formed with her ex-lovers, at least in her own mind. Fortunately for the male of the species as the novel opens Dorothy is already behind bars and the story plays out in the present and past.
The press are having a field day with unpleasant but appropriate nicknames: The MILF Killer, The Butcher Food Critic, The Bloody Nympho. Unsurprisingly, Dorothy, who hates prison food, doesn't get a job working in the kitchens. She spends her time teasing the psychologist they sent to determine her competency to stand trial and regretting not resisting her darker urges when she met Casimir, her last boyfriend, the one that got her caught.
That happened a few months earlier. The handsome young man seemed a good choice of lover but Casimir should have been a simple one night stand for Dorothy, followed by a quick parting of ways. He didn't wrong her like the others and yet she was planning his end. In an anonymous hotel bar, he sent over a drink, a fly unaware he was already caught in a spider's web. There was no real emotional connection.
Of course, she wasn't stupid enough to murder him that night. It happened later in a house on Fire Island, New York. An ice-pick to the neck and the creation of a new recipe. Afterwards she realised her heart wasn't in it. It didn't feel the same as killing Giovanni, Andrew, Marco or Gil. The memory, the years of shared feelings with those men could be savoured and recalled in her dishes. She and Casimir had no history, no love, no real flavour.
But Casimir wasn't just a culinary disappointment. It all blew up. There were witnesses who remembered the famous chef with the young man who suddenly went missing. The barman, the taxi driver, the people on the ferry to Fire Island, all recall Casimir and Dorothy together. She wasn't careful enough. They got her.
So how did this woman, a pioneer of the internet celebrity age, lauded for her work as a critic for a hip New York magazine fall so far from grace? From the dizzy heights of chef royalty to being branded a crazed killer? From her tough career beginnings in 1990s to superstardom to prison, we are privy to Dorothy's life story. The jet setting that took her around the world and made her a household name. Luxurious sojourns in the romantic cities of Rome and Paris – who loves food better than the Italians and the French? But the glitz and glamour can't make up for failure in love and a simple, if unpleasant, goodbye simply won't do.
There are sharp observation on food, misogyny, sexism, marriage, relationships, celebrity and dealing with the aftermath of a break up here. Summers builds tension into the story, even though we know where it will all end. Tinged with elements of Brett Easton Ellis and Angela Carter this is nonetheless an original and highly entertaining novel. If you have the fortitude for the bad taste, it's delicious. Dorothy may be a psychopath but she has a lot of charm and intelligence and the way this story is told is never tacky. It's insightful and uncomfortable reading for the cognoscenti of the food world.
A Certain Hunger is seductively written and to assuage our guilt Dorothy gets her comeuppance. This is a beautifully mad flight of fancy. A cathartic redress for all the spurned lovers out there aggrieved at their mistreatment at the hands of another. Fay Weldon on steroids.
Faber & Faber
Print/Kindle/iBook
£5.79
CFL Rating 5 Stars