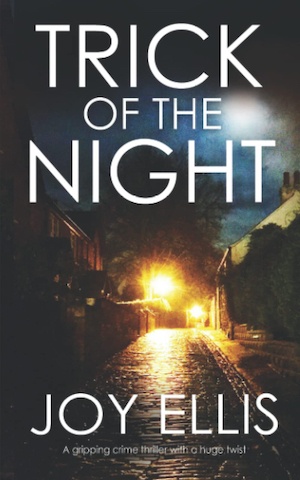 Do former police detectives ever stop, erm, detecting? Not if Matt Ballard and Liz Haynes are anything to go by. With a dining room turned into an incident suite and an unerring nose for a mystery, this pair of sleuths wouldn't dream of putting their feet up.
Trick of the Night is the fifth in the Matt Ballard series by Joy Ellis, which has followed him and his partner Liz from their busy jobs in the Fenlands police force (as a DCI and DS respectively), to a 'quieter' life as private detectives. In fact, as the book opens, they're planning a few days away at a little inn in the Peak District. Then two calls put paid to their mini break.
The first is from Liz's ex-husband, who has worrying news. Her nephew David has just failed his entrance exams for the police force and is very down and depressed – could he come to visit? So far, so straightforward, then another call arrives. This time it is for Matt and is a blast from the past. It's Minty, once Matt's number one snout, and the old lag requests an urgent meeting. What he has to say is about to send the pair of detectives – and their willing helper, young David – into dangerous territory.
But let's go back to the beginning, where promising photography student Toby Unsworth is roaming the streets of old Fenfleet in search of the perfect image for his degree portfolio. After a night spent snapping away he is certain that he's finally got the shot he wants, but when he gets back to his student accommodation and takes a look through all of his photos he spots something strange… Is that a woman peering through the dirty window of a derelict old building?
Within days, Toby and his neighbour and fellow photography student Alex Hallam are dead, apparently the victims of a faulty heater. But Alex's mother is not convinced and she asks Matt and Liz to take on the case. Once they've heard what Minty has to say, the pair is in complete agreement with Mrs Hallam: this was no accident. The sinuous connections between the terrified former informant and the two young men are too tightly woven to be ignored.
Time for Matt and Liz to turn their suspicions over to the local police, and DCI Charley Anders in particular. But she and her team are being tied up in knots by a slew of complex cases. Added to that, there are rumours that someone is trying to muscle in on the local crime barons, who are none too happy about the intrusion. And if that's not enough, suddenly everyone is on high alert when a vulnerable young boy goes missing. Probably best if Matt and Liz keep their suspicions to themselves and quietly carry on working off the books, then?
There are plenty of narrative threads in play here, and Joy Ellis adeptly knits them together into a pleasing pattern that keeps the reader guessing and fully engrossed from start to finish. The characters are likeable and down to earth and even though the protagonists are not strictly coppers these days, there is still a pleasingly authentic air of the police procedural.
Running through it all, like a winding tributary, is the Lincolnshire Fenland. It is an area with a rich history and the author uses the landscapes, both real and fictional, to great effect. Ellis is a prolific writer who has already attracted quite a fan base. You can add my name to that list, because it was a pleasure to finally catch up with her work.
Lincolnshire is also the setting for Scorched Earth by David Mark, featuring DS Aector McAvoy.
Joffe Books
Print/Kindle/iBook
£2.99
CFL Rating: 5 Stars