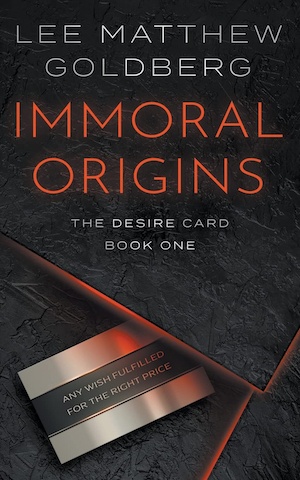 Although the title and cover don't give much away, Immoral Origins by Lee Matthew Goldberg is perfect when you're in the mood for a pulpy crime read that's fast-moving and intense, a little brutal and a little weird. It thrives on a 1970s New York setting, with disco, drugs, sex and violence. This is an electric read, with a dark edge of desperation to it – because no matter how good the party, at some point the lights go out.
Jake Barnum was raised in Hell's Kitchen by his ma and pa, and the story is told from Jake's perspective. He's been in and out of jail, and now lives with them plus his younger brother, Emile, who has cerebral palsy. His father works two jobs to keep up with Emile's medical bills and Jake wants to do his bit. He starts working for a small gang of hustlers – Georgie, Jack with the Nose and Jake's best friend, Maggs. It's 1978.
At a Halloween warehouse party, dressed as Robin Hood, he meets a woman in a Marilyn Monroe mask. There's an instant chemistry between them, helped a little by drugs, alcohol and the Bee Gees, and they end up in an all-night diner down in the Village. What's odd is that Marilyn doesn't take her mask off. But she reels him in and soon Jake is introduced to a new gang called Desire Card. The Card's game is 'Any wish fulfilled for the right price' and they cater to the rich and powerful. Blood diamond? You got it. Rare artwork? You got it. The last bottle of 1938 Chateau von Phaphenfaff. You got it. Bizarre sexual favours… That too.
That's different, but what's really weird about them is that like Marilyn they constantly wear movie star masks. Clark Gable is their leader. Bette Davis types up everything said in their HQ. Gregory Peck is number two. Spencer Tracy. Laurence Olivier. Katharine Hepburn. And so on.
It sounds like Point Break but it feels more like Frank Miller's Gotham – a parallel New York where decadence and decay are dialled up. Behind their masks, every character has a serrated edge to them. Jake is desperate to join – he'll wear the Errol Flynn mask – so he can be with Marilyn. She in turn is desperate to erase her past. Peck is desperate to usurp Gable. And Gable just wants control. It's a highly effective and very scary criminal enterprise and a powder keg ready to blow.
Author Lee Matthew Goldberg is a master at weaving in challenges and moral conundrums for his characters to overcome, and effectively creates an entire ecosystem of crime and corruption. To prove himself a Card, Jake has to sell out his old gang, do some work another mob ally – who happens to have Hell's Kitchen under his thumb – and eliminate a coke supplier so that the Card can introduce their Colombian product. The trouble is that some of those in Gable's firing line are Jake's nearest and dearest.
There's an even bigger problem, though. He has fallen in love with Marilyn and she's unobtainable. She loves him too but standing in their way are the psychopath Peck, and Gable, who has bigger plans for her. She is the femme fatale who draws Jake in, and that's consistent with the genre, but Goldberg makes her more than that – she's a strong character, mysterious, damaged yet resilient, integral to Jake's story and that of the Card.
The pace of the novel is intense, with every victory there's a setback, as both Jake and Gable grow stronger and take greater risks. As the 70s roll into the 80s, times change and Goldberg drops in the music, fashion and news stories of the day. At times the storytelling and atmosphere are on a par with Don Winslow's City on Fire, with drug addled diversions reminiscent of Carnivore by Jonathan Lyon, albeit with a pulpier vibe. It really is a great read.
The only drawback comes towards the end. When the big, final conflict is about to take place there's an overdose of exposition from some key participants. This is understandable as it aims to set up book two, Prey No More, but it is too obvious and probably unnecessary.
Will that stop me recommending Immoral Origins? No. It won't. It's a book that will grab you and take you to a place full of oddball criminals with a likeable young hustler from Hell's Kitchen by your side. A hothead and an optimist who's always hoping for better days but has a shadow over his heart. And, it will make you want to stay there, though you'll want to look away when things get nasty. Which they do.
Rough Edges Press
Print/Kindle
£2.38
CFL Rating: 4 Stars