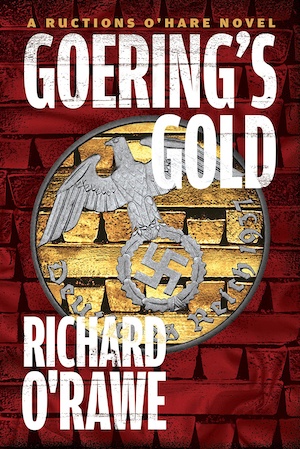 This wry caper from Irish author Richard O'Rawe proves that an old fashioned adventure story, well told, can still grip and thrill us. Göering's Gold is essentially a treasure hunt – funny and dark by turns, its sharp pacing and clever twists are very appealing. The action involves wartime Nazi skulduggery, buried loot, contemporary neo-Nazis and both French and Irish coppers; some honest, some corrupt. There's a disgruntled IRA chief, a dominatrix and a sprinkling of murder for good measure.
These are the further exploits of James 'Ructions' O'Hare first seen in Northern Heist, where he pulled off a bank job netting £36.5m. Since then Ructions has been on the run. Goering's Gold starts, unsurprisingly, in Berlin in September, 1944. Hermann Göering, the Reichsmarschall of Greater Germany, is about to join the Führer in his bunker as the Russians, then the good guys, encircle Berlin.
He has one last appointment with a minion, Hans Winkler, before he leaves the vast ministry building forever. Winkler is loyal, and he has one key qualification for the task he is about to be given – he previously worked at the National Museum of Ireland in Dublin and he knows the country. Winkler confirms Göering's view that many Irish hate the British. Göering wants him to go back there on a secret mission.
In modern day Bordeaux, Robert 'Tiny' Murdoch has two reasons for hunting Ructions O'Hare. There's payback for the time Ructions got him knee capped for threating the head of the IRA army council, Paul O'Flaherty. Tiny had to work hard to get back in the fold after that. Then there's the fact that Ructions and did a runner leaving the IRA with the short end of the money following the robbery on the Bank of Ireland in Belfast. Ructions is in St Émilion.
Unfortunately for Tiny, Ructions is always one step ahead. He's figured out Tiny is on his trail and he knows the IRA want him dead, after they get the money they are owed. While Tiny has men looking for him, Ructions rings him to tell him he's already packing up to leave. Ructions' partner Eleanor is not happy that they are on the run again though. He knows she's in real danger if they get caught.
Meanwhile, Serge Mercier, the man who laundered Ructions money after the robbery, a dealer in memorabilia, has attracted the attention of 4th Reich, a neo-Nazi group nostalgic for the good old days. Their leader, Karl Keller, is in a relationship with the beautiful dominatrix, Prof Gitta Meyer, but now he wants Göering's ceremonial baton, the key to a hidden fortune. Göering is supposed to have surrendered it to Eisenhower in 1945 and it's housed in a museum in New York but Keller thinks Serge has the real one. They raid Serge's house murdering the butler but they can't get into the safe room. They think Ructions might be the man to get to Serge for them.
In Belfast, Chief Superintendent Daniel Clarke meets incognito with Tiny, who wants Clarke's help in fixing Ructions but the policeman is taping their meeting. Ructions is broke since a stock market crash has wiped the value of his shares. He's interested in the rumours of Göering's Gold after Serge asks for his help. With the French and Irish police and the IRA on his tail, Ructions returns to Ireland. Can he find the gold, appease the IRA and keep his girlfriend happy?
While Ructions is fully-rounded and fun to be with, the other characters are colourful but less well drawn. However, it's the plot that carries this novel. After a steady opening the pace gathers, the strands of the story begin to coalesce and it's fun and fast. O'Rawe has an easy style, is good at dialogue and black humour and mashes plot lines very well. There's plenty of corruption and double crosses, and pleasingly you don't always know who's on who's side. A solid, funny and entertaining read.
For a harder edged caper try JJ Connolly's Layer Cake, or for a bit more humour try A Man With One of Those Faces by Caimh McDonnell.
Melville House
Print/Kindle/iBook
£6.79
CFL Rating: 4 Stars