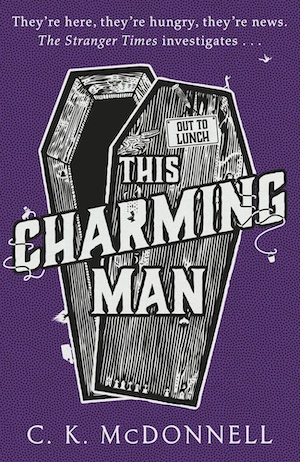 Vampires are a myth, everyone knows that… Or do they? Look at what happened in Manchester last year as chronicled in The Stranger Times. The city was the epicentre of dark and disturbing events which proved the existence of monsters, in various guises including the magical and secretive Folk, as well as Founders – immortal beings seeking world domination. This Charming Man is the follow-up novel penned by Irish stand up comedian, Caimh McDonnell. It's a fantasy-crime crossover with a tinge of horror and a bucket load of humour.
McDonnell has branched out from his earlier comedy thrillers such A Man With One of Those Faces. This series is more plot-driven and the storytelling more considered while retaining the inventiveness. This Charming Man is on the lighter side of the fantasy-crime spectrum, for fans of the late, great Terry Pratchett. I've enjoyed several of McDonnell's PI books for their crazy paving stories, run-away plots and brilliant jokes but Bantam nabbed this series for its commercial appeal. The writing shows the evolution of a comedian into a novelist. This is entertaining and involves complex world building. In the end McDonnell does for Manchester what Malcolm Pryce did for Aberystwyth in his series.
So, to Manchester in the daylight hours, even though the weather is pretty miserable. Phil is hungry, not just 3am kebab hungry, but actually starving, so hungry it hurts. He doesn't feel at all right so thank goodness it's a Saturday, no work. His memory of the night before is hazy but he's grown fangs so he books an appointment to see the emergency dentist. As he steps out of the house into the sunlight he screams. It burns his skin badly and he retreats back inside. He notices his fingernails have grown long too. He shuts himself away eventually venturing to the Royal Infirmary at about 9.30pm when it's dark outside.
Phil never makes it to the hospital. As soon as he sees a couple of girls leaving a student bar he follows them. When he realises he's hunting them he's disgusted at himself and runs away. But eventually he will succumb. When that happens he is so revolted with himself there's only one thing for it – he throws himself in front of a passing HGV.
Hannah Willis has returned from holiday to her job as a journalist at The Stranger Times, housed in the Church of Old Souls. She arrives just in time to stop Grace, the office manager, from throttling Banecroft, the editor, because he sacked the builders who were fixing the toilet. Then their lawyer turns up. Dr Carter is a Founder, so not surprisingly they are all a bit nervous around her. Carter wants the paper to investigate the death of the young man who threw himself in front of a truck. They're in no position to refuse.
Eventually, Banecroft explains to Hannah that the builders were cheap, their work excellent but – and it's a big but – they appear to be building a trap with in the washroom. Banecroft thinks they are after trainee reporter Stella. A gifted young woman. Another mater for investigation.
Then there are the investigators of the story, Dr Charlie Mason and DI Tom Sturgess. They've had a strained relationship ever since the good doctor was caught selling crime scene information about the deaths of John Maguire and would-be journalist Simon Brush. Oddly, it got Sturgess suspended for a time.
Now they have a new case – the man who stepped in front of a truck. Strugess' investigation into the death of Phil Butler takes him to Fuzzy Britches a tech startup that has become very successful. When he asks for Phil's line manager, Sturgess is greeted by celebrity owner Tamsin Baladin and a committee of senior staff. No one wants to say what Phil was working on but they'd really like his phone back – it's proprietary technology. They are hiding something. Then things start getting strange, soon Phil isn't the only death to worry about.
This Charming Man, a reference to 80s Manchester band The Smiths, has a lot of charm. It's full of weird and wonderful happenings and the constant invention is a lot of fun. The build-up is perhaps too lengthy but once it gets going this is a witty, entertaining and engaging read.
Donnell has a keen eye for detail and highlighting the absurd in life and there are underlying references to dating sites and sexism that are right on the zeitgeist. Superbly entertaining read.
For more unusual crime fiction like this, try Christopher Fowler's Oranges and Lemons and also see our Guide to Bryant and May.
Bantam Press
Print/Kindle/iBook
£9.99
CFL Rating: 4 Stars