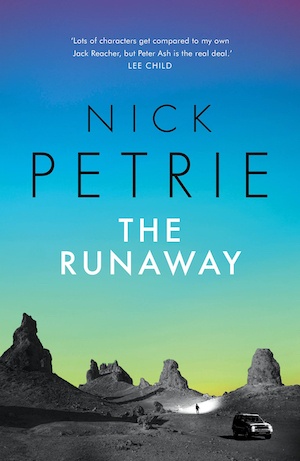 Fans of award-winning author Nick Petrie's high-octane action adventures won't be disappointed in his latest, seventh in the series. The Runaway again features knight-errant Peter Ash, a US Marine no longer serving in the military who, over the course of these thrillers, is gradually learning to manage a debilitating case of PTSD. At the same time, Petrie's writing shows ever-increasing skill and confidence with no sign of flagging.
The sparsely populated countryside of several Great Plains states – Montana, South Dakota and Nebraska – features heavily in The Runaway. The area has its beauties, but it's remote. A stranger sticks out. Mostly, there's not much help around if and when you need it.
The story starts with Helene, in Valley County, Montana. She works in a tiny gas-and-groceries store owned by a creepy local deputy sheriff and lives in a trailer he owns. She's spunky, but vulnerable. Her mom died some months earlier in a car accident, depriving Helene not just of her only parent, but any means of getting away from this desolate place. Worse, the deputy has made it clear he won't let her leave.
Late one night a big pickup truck pulling a cargo trailer stops for gas. For once the man driving doesn't seem interested only in looking down Helene's shirt. In fact, Roy Wiley treats her kindly. On a whim, she asks him to take her away with him, and he agrees. You'll be glad she's getting out, but you'll probably suspect things won't be this easy!
Some months later, Peter Ash is driving across Nebraska, using one of the back roads he prefers. The road traverses a high bluff, with a swift-flowing river at its bottom. Up ahead a small white car has parked by the side of the road. Out of gas? Mechanical problem? It's in Ash's nature to stop and help – part of his atonement for Iraq and Afghanistan – but it seems no one is around. Then a heavily pregnant woman emerges from behind a cottonwood tree.
This is Helene again. She's terrified and trying to escape her husband, but the car broke down. Since she left Montana, she's learned an awful lot for a 19-year-old. Roy and his crew crisscross the West, robbing high-end vacation houses. Then Roy returns to his isolated Nebraska home base and sells the loot.
Roy used to be a Minneapolis police officer and has cultivated connections with cops across multiple states. That, and his crew's caution, have prevented them from attracting the authorities' attention. When a woman in Utah stumbles upon them mid-robbery, Helene watches him break her neck. From that frightening moment, she's determined to get away. Like all women in the thrall of a violent and controlling man, she dares not reveal her true feelings about him. Petrie keeps escalating the tension as Helene's options evaporate. Though a controlling spouse is a familiar plot idea, his skill in developing Helene's character keeps the story engaging throughout.
Peter takes Helene on board and promises to help her get to a town with a bus station. She can only outline her situation because, before they drive very far, Roy finds them. Two massive pickup trucks box him in on a narrow stretch of the road, and four heavily-armed men emerge. Helene may be able to convince them Peter tried to abduct her, but he's a dead man. As she scrambles out of his truck, he promises to find and rescue her and barely escapes by jumping into the river.
It might seem Peter should just call the local sheriff, no need for one-man derring-do, but it isn't that simple. Helene doesn't trust the local cops, and neither does Peter. Very likely, they'd simply turn her over to their pal Roy.
Roy's hunt for Peter, Peter's hunt for Helene, and his strategies to keep them both alive make up the rest of this page-turning, stay-up-late adventure. The writing is clear and compelling, with real-sounding dialog.
The story's not just about the difficulty of escaping a wily and determined spouse. It's about the internal resources you need to actually go through with it. Helene's mother is gone, but she instilled in her daughter some helpful lessons: We can do hard things; fortune favours the bold; the only way out is through. These sayings may be a tad trite, but they give Helene strength. They're a pretty accurate description of Peter's approach to challenges too. He's not only clever about resolving those situations, he displays a strong streak of humanity, as well.
Read our previous reviews of Nick Petrie's Burning Bright and The Wild One or try House of Ashes by Stuart Neville.
Head of Zeus
Print/Kindle/iBook
£2.59
CFL Rating: 5 Stars