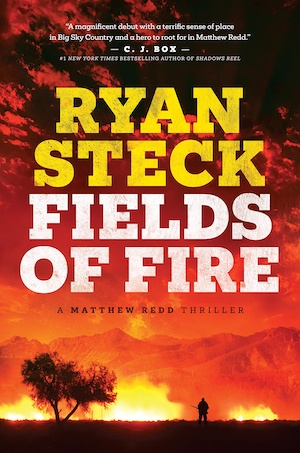 There's a tonne of fireworks in Fields of Fire, making it an apt title from debut author Ryan Steck. This is a cuss-free action thriller set mostly in the wide open spaces of Montana but also flitting between California, Washington and Mexico. There's political intrigue along with a screwed up international covert operation to take down a dangerous terrorist with the main character, Matthew Redd, forced back on his own resourcefulness fighting for survival against all the odds.
There are hints of Jack Reacher at times, but this is the first in a new series with plenty of scope for a new righteous warrior to emerge. The second novel is teed up nicely by the ending of Fields of Fire so we know where we're going next.
There's a theory that trouble searches our Matthew Redd and it's been a helluva couple of weeks but the first we know of it he's cornered on open ground in Montana. His enemies are closing in on him, he's trapped, but he's determined to fight to the very end. They have the numbers, the grenades and the guns but if this is going to be the end for Redd he's going to take a few of them down with him.
Two weeks earlier in Washington, DC, Gavin Kline of the FBI Intelligence Branch has received word on the location of one of their most wanted – codename Willow, sex and identity unknown. Willow is a bioweapons expert with links to some of the world's worst terrorist organisations. Kline wants to run the operation to get Willow but his new boss, Rachel Culp, overrides him. She wants the job handed over to the Marine Raiders, an elite unit based at Camp Pendleton, California.
Willow is believed to be in Yacatan, Mexico. The Raider team lands expecting a fairly simple extraction/execution but they are ambushed. The operation is a complete failure and 28 marines are killed. Someone betrayed the operational details to the enemy, who knew the marines were coming. Only one soldier wasn't there. The night before, just outside Camp Pendleton, Redd stopped at the roadside to help a woman with engine trouble. Then he accepted a drink at her place. The next thing he remembers is waking up in an Airbnb as JAG officers bust in, arrest him and call him a traitor.
There's no solid proof against Redd other than that he was absent at the time of the mission but he knows it doesn't look good. So when he's offered a deal, an Other Than Honourable discharge, the quiet way out, he takes it and returns to his father's ranch in Montana. Only when he arrives does he find out his father, JB, is dead, apparently after a horse riding accident.
Then he discovers that the neighbour, Wyatt Gage, wanted to buy the ranch from JB and is now prepared to offer him twice the market value for it. Unsure what he wants Redd says 'no' and a whole world of trouble opens up from that moment on. While some old friends welcome him back to his childhood home, Redd learns a lot has changed and it's a much more hostile place than when he left for California a few years back.
Meanwhile, the real source of the leak may be in Washington. Kline suspects Culp, Culp has her eye on Kline. One thing's for sure – Kline is not entirely innocent, he's hiding a big secrets.
This story throws up a few decent surprises and the action doesn't always unfold as you might expect. The two stories – discovering the traitor and Redd's battle for his father's farm – slowly coalesce. One unexpected turn of events is that Redd walks away from the Marines. Still under a cloud and contrary to expectation he doesn't look to fight for his reputation or try to find out who really betrayed his unit. He has other problems to deal with that's something addressed later in the novel.
Fields of Fire is well-plotted but the good and bad guys, who do disguise themselves well, are fairly black and white and two-dimensional. This isn't a problem as the action is pulsating and relentless and that's where our focus should be. A solid beach read that you'll fly through.
Also see the Joe Pickett series by CJ Box, set in Wyoming.
Tyndale House Publishers
Print/Kindle
£9.49
CFL Rating: 4 Stars