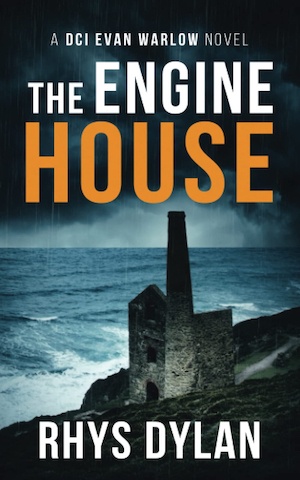 Welsh crime fiction is looking forward to a big boost in 2022 with the Gwyl Crime Cymru Festival in Aberystwyth at the end of April, and The Engine House by Rhys Dylan is a good choice if you want to be transported to the wet, windswept and moody climate of rural West Wales. The setting is often like an extra character in Nordic and Tartan noir, and Rhys Dylan uses the wild Pembrokeshire landscape to maximum effect as he begins a new police procedural series featuring Evan Warlow, a former detective chief inspector of the Dyfed-Powys force.
Divorced, cynical and a bit edgy, Warlow is in his early 50s and lives with his dog Cadi in a cottage he's renovating. He retired young because of a medical infirmity he doesn't talk about – even we readers are in the dark – but it's something that eats away at him from early in the book. Something else he thinks about daily is a missing persons case he failed to solve. The Pickerings – a man and wife who lived on the coast – suddenly disappeared one day seven years ago and they haven't been heard from since. When two bodies are discovered following a landslide on the coastal path, Warlow is called in to help with the investigation.
He's reluctant at first, but it's a case he regrets not solving – especially as he'd told the Pickerings' daughter that he'd do everything he could. The new faces on the investigative team can use his knowledge and experience, and he slots in on a consultancy basis, working with DI Jess Allanby and DS Catrin Richards who are using the police station in Haverfordwest as their HQ. We quickly see how stretched policing resources in Wales are and they have to drive miles to get anything done. The pathologist working on the Pickerings' remains is in Cardiff, the Crown Court and main prison are in Swansea, there are suspects in Pembroke Dock and it's a bit of a run up the coast to the crime scene and the Pickerings' cottage.
The first half of the novel covers the early investigation, with Warlow integrating with the team, a reassessment of the case files and some retracing of steps. The Pickerings' home has been purchased by a couple called Izzy and Marcus who have given up the rat race in London to reset in Wales. The property is sandwiched between a cattle farm run by father and son Raylan and Ben Gower, and an old lime kiln perched on the cliffside called the Engine House. With its chimney, the crumbling structure is an imposing landmark and it fascinates Izzy. Sometimes, she thinks she can see someone – or something – moving about near the structure. Meanwhile, Warlow has always wondered whether or not he missed a clue in or around the Pickerings' house.
Through the set-up, you get to see how life in West Wales is changing, with the traditional agricultural population being joined by incomers who appreciate Wales for its beauty and sense of mystery, as opposed to the cow pats and gruff manners of the neighbouring farms.
Then Allanby and Warlow get a break. Despite seven years wedged in a cliffside crevice, a DNA trace is found on one of the bodies that points to a pair of petty criminals with a history of drug dealing. One's in prison and the other's still out selling, and at last the police have someone to question.
The trouble is, someone is one step ahead of them and soon there are more bodies to contend with. This puts Warlow into a new spin as it leads to clashes with DCI Caldwell, a former colleague he never liked and who knows exactly how to press his buttons. Now Warlow is struggling with his need to solve the case versus his inner doubts about his health and ability to perform as a detective. But he can't really stop to think, because the reheating of this cold case has set off a chain of events that Warlow and Allanby must rush to keep up with and the novel crescendoes with a perilous clash in the deadly and decaying Engine House.
There are times when an author must hold information back from the readers, but at points in The Engine House this feels a bit obvious. In addition, it's fairly easy to guess in advance who's behind the killings. These reservations aside, this is a very enjoyable and enticing read, an excellent way to experience West Wales in the 21st century from your armchair and it has great little mystery to boot.
The author perfectly captures the landscape, climate and changing culture of Welsh coast, throwing in a bit of history and folklore to add texture and character to what is a well-informed police procedural. There's a great cast of characters to meet as well – cops, criminals, artists, mystics, business owners, farmers and more… It's dark but not too melancholic and although Warlow is a cynical veteran investigator, there's room for the characters to grow in their next outing.
For another authentic crime story set in south west Wales try Dead White by Gwen Parrott, which was published in Welsh and English in 2015.
Wyrmwood Books
Print/Kindle
£0.99
CFL Rating: 4 Stars