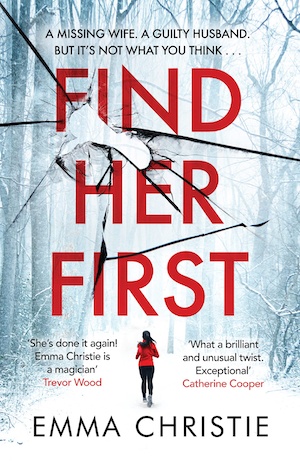 Former newspaper journalist Emma Christie is a crime author whose reputation is growing. Her first novel, The Silent Daughter, was close to winning a number of awards in 2021 and her second, Find Her First, is another wonderful read. It can be described as a crime thriller, which it is, or a murder mystery, which it also is. Trying to figure out what is really going on in a sea of red herrings is a big part of the pleasure in reading this Scottish crime novel.
The story takes place in Edinburgh and the surrounding countryside, where Andy Campbell and his wife Stef are dedicated hikers. Scotland's forests and cliffs and vistas form an important backdrop to their lives and their story.
The book opens with Andy, apparently on trial for murder, awaiting the verdict. He's an experienced paramedic, but has he taken a life? He's a keen observer, and though the contours of his crime are not yet defined, his sadness that events have reached this point is clear.
You're left waiting for the court's judgment, which won't come for many pages. Instead, the narrative goes back six months to the previous summer. Chapters taking Andy's point of view alternate with those written by Betty Stevenson, the housecleaner for Andy and his wife Stef, also a paramedic and a painter, but on leave.
Betty is fond of Stef and desperately eager for closeness with someone. She believes in luck – the luck of a shiny penny found on the street – and in fate. Being a friend to Stef, she thinks, is her fate. Fate, and whether it's possible to escape it or to take it into your own hands, is a major theme of the book.
Betty and Andy both had traumatic childhoods, and Christie smoothly slips in these histories. A moment of inattention on seven-year-old Andy's part led to the death of his younger sister and, whether the words were actually spoken, his parents blamed him – always. Betty, for her part, was taught that the bad things that happened to her were her own fault, that she was cursed, and her younger brother gleefully agreed. They used to play with pennies when they were children, until a brutal episode, for which Betty blamed herself, shattered their relationship. Obviously these experiences shaped their current lives, with Andy determined to save people and Betty trying to redeem herself and, in her own way, recapture the innocence of those much younger days.
A smaller number of chapters are told from Stef's point of view, from six months earlier – that is, a year before the trial. This is the previous winter, around the time Stef began showing the lapses at work that led to suspicions she was drinking on the job (which she vehemently denies) and her mandatory leave. All these time shifts can be a mite confusing, but in the end make sense.
They all have regrets. Fractured family relationships. A romantic indiscretion. Lies they've told. A series of miscarriages. Author Christie spins out a complicated, entangling web and keeps you guessing about where its strands will lead. Are their current challenges related to the past, the present, or the future?
One day, when Betty shows up to clean the Campbell home, Stef isn't there. Andy explains she's at an artists' retreat up north and suggests Betty come back another time. But Betty barges past him to clean anyway. When he goes to work, she discovers a small spray of blood in the bathroom, which reeks of bleach. Stef's car is in the garage, her sack of art supplies is on its usual shelf. Troubled, Betty calls Stef, only to hear her phone ringing elsewhere in the house. Though Betty may not be the brightest, her suspicions are up.
Andy, in conversations with Stef's sister Alyson, insists she go through with her part of the plan they've worked on for months. Whatever they've cooked up is about to happen, and Alyson has developed cold feet. If pressure on Andy from the intrusive cleaner and the reluctant sister were all, that would be bad enough, but it isn't.
The police also want to talk to Stef. Not knowing why, Andy fears the worst. But he gives Detective Inspector McPherson the same story about the artists' retreat he told Betty, a story that only raises more questions from McPherson.
Christie writes with a close-in psychological perspective, and you come to have a rather deep understanding of the principal characters, all three of whom are interesting and quite different from each other. You know why they act as they do, even when another course might be objectively better. There's enough going on that they have a great deal to mull over and try to interpret. In a sense, it's an object lesson in the perils of partial information. You have only partial information too, and not until the end do you learn what the story is really about. An excellent read.
Delve into more Scottish crime fiction with The Dark Remains by William McIlvanney and Ian Rankin or this short film about Tartan Noir.
Welbeck
Print/Kindle
£3.99
CFL Rating: 5 Stars