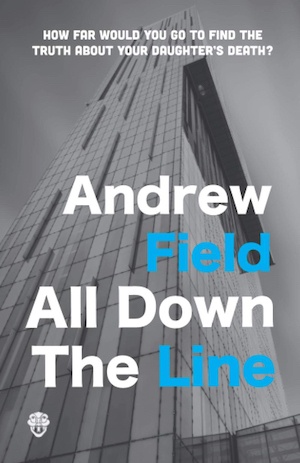 We're in Manchester, the mad-fer-it capital of Britain, where Cain Bell is living it large. He's co owner of the Red Manifesto, the best restaurant in Manchester, a place so classy it's aiming for a Michelin star next year. Life is good.
His partner in every way is April Sands, chef and inspiration behind the restaurant. Cain knows she is "the most wonderful woman in the world" and never tires of telling her so. And now he has a Big Question to ask – here, in the midst of the celebrations for Red Manifesto's latest award.
In the corner stands Little Miss Red Dress, cheering her Daddy on as he plucks up the courage for what's about to happen. But what actually happens is as far from a romantic highlight as you can get. Although April says yes to Cain's proposal, she whispers in his ear. There's something she needs to tell him before he commits to her completely – and she'll spill the beans when they get home.
Although he doesn't yet know it, Cain's world is about to crumble. And it won't be for the first time either. That little girl in the red dress, standing in the corner of the restaurant and spurring on her father? She's a figment of his imagination. Little Miss Red Dress is Cain's 10-year-old daughter Hannah, who was killed by a hit and run driver on the same day that Princess Diana died in Paris.
In later years, Ted Blake, a man dying of cancer, admitted to the crime. Now, as Cain and April walk home from the restaurant, strolling along the canal bank, she tells him Blake didn't do it. A split-second later, April is lying unconscious, victim of a vicious assault that leaves her in a coma. A concussed and totally confused Cain is desperate to know the truth – but who is in a position to tell him?
Cain's search for justice for Hannah takes him to some very dark places, and author Andrew Field works hard to ensure his readers are right there on the shoulder of his protagonist. It's a dark and at times visceral experience, deftly drawn by a writer who certainly knows how to set a scene. Dialogue too is snappy and realistic, with Cain in particular demonstrating a quick wit and sharp tongue.
As April lies comatose, wrangles begin over whether she should live or die. Her religious fanatic daughter Summer and film producer ex-husband Bob (an odious and yet strangely compelling creation) hold all the power, adding to Cain's stress levels as he strives to uncover what the love of his life was hiding. All signs seems to point to local crime kingpin Billy McGinty, a man you really need to steer clear of if you value your life. But Cain is beginning to think that his life isn't worth living, so maybe he could have a chat with Billy — clear up a few things? Be careful what you wish for.
All Down the Line is a cleverly constructed tale, boasting an intricate interweave of plot strands and a cast of off-beat, unpredictable and jump-off-the-page realistic characters. Looming over it all is Manchester itself, and the setting is so well realised you can almost smell the dank canal-side air. Cain is about to go on a rollercoaster ride of a journey and as you tag along you'll be both shocked and thoroughly entertained. If you like your crime fiction with an aura of urban edginess, then All Down the Line is going to be an excellent fit.
You'll find more of Manchester's dark underbelly in True Crime Story by Joseph Knox.
Boomslang Books
Print/Kindle/iBook
£2.99
CFL Rating: 4 Stars