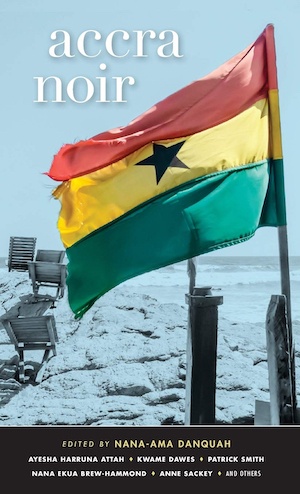 Accra, Ghana is the setting for the latest short story anthology in Cassava Republic's collection of noir tales from Africa, following Nairobi Noir and Lagos Noir. It aims to feature the best writing by people who know the dark side of the city, be they ex-pats or life-long inhabitants. We have new voices and established writers who deserve to be better known here. Edited by Nana-Ama Danquah, these 13 tales are rich in local culture, myth and language, creating a distinctive Ghanian feel.
The stories wear their history and political background lightly, but there's an undercurrent of past and present tensions to several of them. Most prominent is the sense that Accra, despite the crime, is a city moving on from Ghana's complex colonial past, and subsequent totalitarian period, toward a brighter future.
For the most part these are very personal stories of greed, revenge, jealousy, lust, tragic misunderstanding and murder. They are very different in style but share a common storytelling approach of building tension and cultivating the sense of mounting dread toward an incident or revelation. We know a terrible thing is about to happen in each of these tales, but rather than starting with the body and working backwards most of these stories keep you guessing about the crime to come. The anticipation and guessing game adds to the enjoyment for lovers of traditional mysteries. The setting, Accra, is a vibrant city, teeming with life as well as pitfalls and danger, and has a dark story on every street corner.
The collection opens with Chop Money by Nana Ekua Brew-Hammond. Limah sub-lets a stall overnight at the local market but she sneaks off sometimes to meet her lover, Charles, who pays more than she can earn otherwise. He is a policeman who has recently caught a rapist, but there are always predators out there. As Limah returns to her stall one night there's a man lurking, she is nervous but has a knife and acts before there is time to think. A tragic tale that sets the tone by demonstrating that the city can be an empty, lonely place and survival is a daily struggle.
Some survive on the city dumps, scavenging the landfill. In The Labadi Sunshine Bar by Billie McTernan people risk disease and danger for a meagre living. Sometimes a body turns up and they bury it not wanting to be accused of murder by the police. This is the fate of some who come from the provinces to Accra. Could that be what happened to the girl who disappeared from madam Joanna's? Priscilla has arrived in Accra and stays at Madam Joanna's 'boarding house' where they split the money she makes from the male clients. Priscilla is curious but no one will talk about the girl who had her room before her. Forming an attachment to a client is dangerous and bad for business but Priscilla won't be told. How she acts when confronted by madam Joanna will determine her fate. This poignant tales that reminds us big cities are a magnet for the hopeful and a deadly trap for some when their dreams fall.
The Driver by Ernest Kwame Nkrumah Addo also reflects on the fate of those driven to Accra by circumstance, this time a brother and sister. When their father dies the two are disinherited by the family. Ama and Susu move to the capital and soon Susu disappears. Some say he's dead, others that he made his fortune abroad. Ama is married and has a new life but then 10 years later Susu returns. Brother and sister are destined for a tragic reunion. It's a story that echoes Greek tragedy but is rich in local cultural myths and beliefs.
Intensional Consequences by Anne Sackey is a very personal story of jealousy and desire. Serena knew that her husband Alan had lost interest in her. But her old friend Dr Mawuli was the one to confirm the full ugly truth. Alan has a child by another woman, he has another family. Serena seems to be taking it all very well, but is revenge a dish best served cold? Why is Dr Muwuli so keen to tell his friend about her husbands infidelity? A twisty psychological tale.
When a Man Loves a Woman by Nana-Ama Danquah is another take on unhappy marriage, this time not through lack of love, or at least that's how it first appears. Kwame wakes next to his wife, Adwoa, but he knows soon she will be dead, this is certain. Yet he is the one who is ill, the one who finds the intimacy painful after 25 years. His mind plays tricks on him, motives blur, intensions are misconstrued. It's a deeply poignant tale.
In Kweku's House by Ayesha Harruna Attah our sympathy for the victim is put to the test. A man is dying but his wife doesn't think it's happening quickly enough. Larabah still feels young and yet she is chained to this old man and feels like a possession, a glorified housekeeper. Kweku's death would be a mercy in so many ways, surely people will see that? A darkly comic tale.
There are eight more stories here and they run the gamut of crime fiction sub-genres. They are enjoyable and, for the most part, original, stylish and well written. They offer a fascinating glimpse of the dark side of Accra and an introduction to some new Ghanaian crime writers. Editor Nana-Ama Danquah was born in the city and raised in the US. This is her fourth anthology of stories and it's well curated. These tales of Accra cross the landscape of the city, unified by its colour and culture but also the dark side of human nature.
You may be familiar with the Akashic Books noir series published in the US and covering cities around the world. African publisher Cassava Republic is now taking on the African cities.
For more crime fiction from Ghana try Sleep Well, My Lady by Kwei Quartey.
Cassava Republic
Print/Kindle
£8.54
CFL Rating: 4 Stars