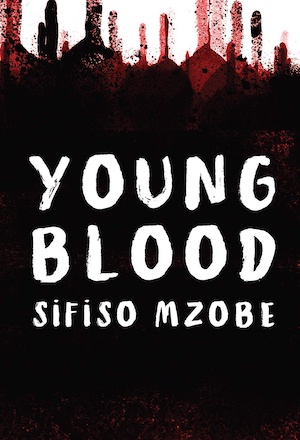 Although South African crime writing has mostly been dominated by white writers, a new generation of black writers is emerging and they're changing the landscape of South African crime fiction with their fresh perspective. One of them is Sifiso Mzobe, a journalist from Umlazi whose debut novel, Young Blood, won numerous awards when it was originally published in South Africa in 2010. Now the US publisher has republished Young Blood as part of its mission to bring a wider audience to writers in South Africa and elsewhere.
Young Blood is set in Umlazi. Just southwest of Durban it is the fourth largest township in South Africa and home to more than 400,000 people. Umlazi is a bustling hub where life is tough and crime seems like a lucrative alternative for many ambitious young men. At 17, Sipho is ripe for the picking and when his old school friend, Musa, returns after a few years in Johannesburg with a flashy new car and the wardrobe to match, it doesn't take much to convince Sipho to join him in the high-risk business of car theft.
We are introduced to Musa when the two friends pick up two girls while township night driving and end up at an illegal street car event. These events are an opportunity for young men to prove themselves and Sipho successfully impresses the wrong people with his spinning skills. The atmosphere is charged with burnt rubber and screeching tyres, music is thumping, the air is thick with weed and the alcohol flows freely. Mzobe transports us effortlessly to the scene and brings the township culture to life – a culture few of us will ever be able to experience first-hand. The pages seep with oil and diesel. We can smell the burning rubber and hear the crowd cheering.
"The smell of petrol, coupled with the sound of high-revving engines, was heavy in the cool wind. In the township, they say the streets talk; a few handbrake turns will turn the streets to pages, with tires as black-inked pens."
After Sipho's impressive performance drifting and spinning, two members of the unscrupulous and violent Cold Hearts gang show up at his parents' house. The gang have stolen a car with an anti-theft device during a cash-in-transit heist. They need Sipho to bypass the security system. For Sipho the world of money, power and the accompanying perks is more alluring than barely getting by helping his father fix cars in their backyard. Despite the Cold Hearts' reputation for killing anyone who stands in their way, Sipho is blind to the danger and only sees a chance to earn easy money. There's only one problem. Musa's time in Jo'burg included a stint in jail where he joined the ranks of the notorious 26 gang, enemies of the Cold Hearts. Because of Musa's existing allegiance, Sipho turns down the Cold Hearts.
Instead, he joins Musa working for gang boss Sibani, who runs a carjacking syndicate. Each township has its own crime speciality. In Umlazi, ironically the only township with its own car registration plate, they steal cars. Musa's plan is to steal cars to order for Sibani, changing their tags, engine numbers and colours so they can be sold on. For Sipho this is his opportunity to escape poverty. Soon he is a Young Blood – a young man of the school-going generation caught up in a world of money, alcohol and greed, a world where neither the lives of the victims nor the criminals are worth anything. Only the cars seem to hold value.
Over just 220 pages Sifiso Mzobe takes us on a joyride with Sipho and Musa. Just like the cars they steal and love their story is fast, dangerous and full of risks. Petrol heads will love the comprehensive descriptions of the cars, in particular the BMW 325i, the preferred model for township spinning. These sections read like a love letter to automobiles and the characters' enthusiasm and pure passion for them are a diversion from their crimes. Who would've thought car engines could be poetic?
"In the townships, the BMW 325is was – and still is – loved with the same passion by doctors and crooks alike. The sound in idle was a daring rumble."
I don't need to tell you that things do not end well for some of the criminal characters we encounter on Young Blood's pages. There are hijackings gone wrong and people killed – victims and perpetrators alike. The chilling part of this life is the ease with which Sipho and others slip into the criminal brotherhood with its own code of conduct, traditions and rules. Equally unsettling is the normalisation of violence and the lifestyle, and the permeating disillusionment. It comes as no surprise that in the township Sipho grew up around killers, he's seen murders and before his car stealing career took off he's taken a life himself. This is purely about money, power and greed exacerbated and fuelled by a range of problems beginning with poverty and broken families.
We're used to crime novels focusing on the detectives solving the crime, or the victim. Here, the perspective shifts. Characters are both victims and criminals depending on the situation and against our will they elicit sympathy. The police are the bad guys and with enough money your freedom can be bought.
Sipho as narrator adds a layer of intimacy as does a cast of well-rounded characters who include Sipho's innocent young girlfriend, Nana, and the enticing Mama Mkhize, the owner of the neighbourhood tavern. Mzobe reveals the workings of this unfamiliar world. This is where he was born and raised and where he still lives. He uncovers it without judging or moralising. It's merely a neutral rendition of circumstances in many poor communities.
Young Blood is equal parts coming-of-age story, crime novel and gripping anthropological study. It doesn't pull punches or distract with verbosity. It's unapologetic and honest, but gives access to a world mostly kept under covers. It's this authentic glimpse into a dangerous and unfamiliar world which makes Young Blood an unsettling and eye-opening read.
Also see SA Cosby's equally revved up contemporary noir novel Blacktop Wasteland, set in Virginia.
Catalyst Press
Print/Kindle/iBook
£11.11
CFL Rating: 4 Stars