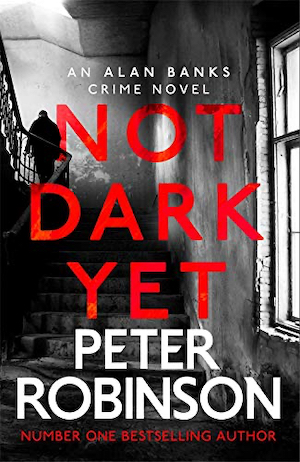 DCI Alan Banks may have been off the telly for five years, but the books that spawned the police procedural series about the Yorkshire-based detective keep coming. Not Dark Yet is the 27th novel Peter Robinson has written for fans of this stubborn officer.
Banks, now a detective superintendent, is jaded and admits he is feeling a bit sad and old when he slips away for a pint with his son Brian after walking his daughter Tracy down the aisle at her wedding. The copper's life is rarely exciting, he says, but what else would he do?
The case of the murder of a bent property developer and his factotum a week earlier is proving frustrating, although he has a chief suspect in his sights. The victim's business partner appears to be a member of the Albanian mafia and fled the UK straight after the vicious killing. DI Annie Cabot and DC Gerry Masterson, on Banks' team, discover a video recording of a suspected rape while searching the murder scene. It was seemingly filmed at a booze and cocaine-fuelled party attended by hordes of young women a few weeks earlier.
Banks perks up a bit when his friend Burgess at the National Crime Agency calls him with a lead. This relates to Phil Keene who had tried to burn down Banks' house to kill him – a man with links to a sex trafficker. However, the NCA's enquiries put Zelda, a woman who Banks 'lusts' after and the partner of Annie Cabot's father, under suspicion of involvement. She hates traffickers and had been asking questions.
Meanwhile, Zelda is already uncertain of her future in the UK, as immigration want to see her documents, and she's having trouble proving her right to remain. What with that, the authorities circling and the fear of arrest, she decides to go to Moldova to hunt the men who abducted, raped and enslaved her after she grew up in an orphanage there. She's unclear what she will do if she finds them. She's playing with fire and placing herself in greater peril, of course.
The violence in this episode escalates – perhaps it is the international cast of villains, rather than homegrown Yorkshire suspects in the fictional town of Eastvale. There's a touch of old-style DCI Banks too – for example Banks is not allowed to use a mobile phone in hospital and is told it is forbidden, even though the NHS actively encourages this. A Brexit rant makes an appearance. Perhaps the issue is that the author Peter Robinson mainly lives in Canada now.
While the paranoid, vulnerable and somewhat dangerous to know Zelda is in jeopardy, Banks has a short term memory loss after a trauma and is forced to take sick leave. Annie and Gerry the female duo get to solve the case officially and tie up the multiple links, while Banks listens to classical and jazz music and we are told the details of the recordings and even the name of the conductor.
This is the final book of a trilogy involving European gangsters. If you haven't read the first two, some of the references and the huge cast of characters to get to know throughout may confuse you. There are sometimes several points of view in each chapter too. Banks fans familiar with the characters may find this easier to read.
You may also consider that Banks's habit of 'ogling' younger women and being jokey blokey about it, and phrases like being 'pussy-whipped' strike an uneasy chord in a story in which young girls are sexually abused and raped. Or you may decide that these are justified, to underline the point that misogyny and abuse are alive and well in 2021.
We reviewed earlier Banks novel When the Music's Over. For more Yorkshire crime you could try the rather more spooky I am Dust by Louise Beech.
Hodder & Stoughton
Print/Kindle/iBook
£9.99
CFL Rating: 3 Stars