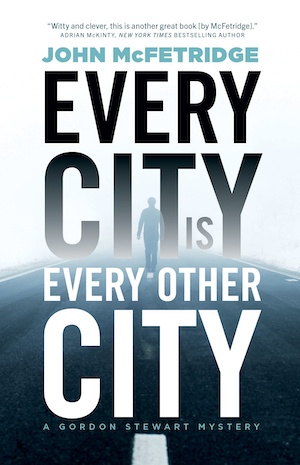 Ontario screenwriter and novelist John McFetridge is best known for the well-crafted, classic, hardboiled fiction which makes up his Toronto and Eddie Dougherty series. In his latest novel, billed as the first Gordon Stewart Mystery, he has tried something different. Every City is Every Other City a private eye mystery with strong buddy and romance elements. Although it's far from a cosy – the #metoo movement is a central plot driver – it's a book that will leave jaded crime fiction lovers feeling good about themselves. It could be the perfect pandemic read.
Gordon Stewart makes his living in Toronto's thriving film industry. As a location scout, Gordon's job is to find the correct parks, buildings, etc, which can substitute convincingly for the places films are meant to be set – whether that is London, New York or somewhere else. In short, he makes Toronto into every other city as needed.
Gordon is in his late 30s and has returned home to live with his father after his mother's death. He's not a slacker by any means and even holds down an occasional second job working as a licensed private detective for OBC Security Inc. However, he isn't ambitious either, content to coast along in a job he's comfortable with, avoiding any extra responsibility. It's a side of himself he's cognisant of, and has accepted. His relaxed, peaceable and self-aware nature makes him a very likeable companion during the story.
When he's approached by his production manager, Lana, to find her missing uncle, he's inclined to decline the commission. Kevin Mercer went missing six weeks ago and his truck has been found abandoned by the roadside in hunting country up north. There are no signs of foul play and the police think he went into the woods to kill himself and that his body might be discovered in the spring. Gordon thinks so too but Kevin's wife, Barb, believes her husband is alive. Touched by her hope, Gordon agrees to investigate.
A contact at the OBC is able to check Kevin's credit card records and finds that he made several large cash withdrawals prior to his disappearance. It seems likely this was runaway money, a slush fund for him to start a new life somewhere else. Maybe he faked his own death. Gordon's investigation begins at the site of Kevin's truck then expands across the region as he learns about the epidemic of suicide and mental crisis in middle-aged men, leading to many abandoning their families to start again under assumed identities in undocumented labour, living beneath the scrutiny of society.
Meanwhile, there are two other big developments that shake up Gordon's life, which develop separately but which will come together in surprising ways. The first is a random encounter on set with one of the extras called Ethel. Slowly, and with a few false starts, this develops into a touching, convincing romance. Ethel is confident, vivacious and funny, and as their relationship develops she becomes crucial in helping Gordon navigate a second investigation which provides a a moral dilemma. Gordon has accepted a job for OBC tailing a young woman, and providing a report on her activities. The dilemma arises as Gordon and Ethel gradually come to realise they are helping to discredit (or worse) a victim of sexual assault. Going against his employers, who are well-connected ex-police officers, is going to put both of them in danger.
Every City is Every Other City is a real achievement. McFetridge has managed to write an exciting mystery, which explores serious topics, but which still manages to feel light and fun to read. The trick, I think, was in creating two such likeable protagonists. Here's to more Gordon Stewart mysteries.
Take a look at our selection of the best Canadian crime fiction, which includes John McFetridge's Black Rock, and our review of his 2012 novel Tumblin' Dice.
ECW Press
Print/Kindle/iTunes
£9.96
CFL Rating: 5 Stars