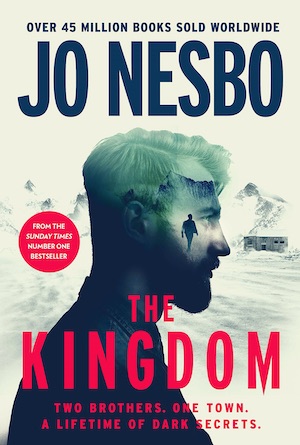 Translated by Robert Ferguson — Though Jo Nesbo is famous for his Harry Hole series, which details the trials and tribulations of an Oslo police detective, some of his finest writing is found in his standalone novels. They're where he explores ideas, characters and atmospheres that would be out of place in Harry Hole's world. Sometimes they work beautifully – Blood on Snow, Midnight Sun and The Son, for example. Sometimes they don't quite click – Macbeth.
The Kingdom is a masterpiece that will hit the mark for crime fiction lovers, and also for readers who don't swear by any genre.
From its early pages and throughout, you get the sense that pain inevitably begets pain in a cycle that is almost impossible to break. While the phrase is used for just about any crime novel emanating from Scandinavia, here is a novel that puts the noir back into Nordic noir.
Beginning, middle and end, The Kingdom is a dark family epic centring on The Kingdom – the barren mountain farmland bequeathed to Roy and Carl Opgard after their parents went off a cliff in the family's vintage Cadillac. How that happened, exactly, is a mystery that The Kingdom will look back on, because now Roy and Carl are in their 30s and have been living to forget the past. Good luck, boys… Good luck.
Carl has been away to America and Canada, training in business and becoming a wheeler-dealer property developer. While cashing in on Toronto's property boom, he married the exotic architect Shannon Alleyne, who is from Barbados and is descended from Irish slaves on the island. Carl and Shannon have arrived back at the Opgard farm near the village of Os with big plans. Roy, now a mechanic running the local service station, is part of those plans. After all, he's family – plus, he owns half the land where the proposed Os Spa and Mountain Hotel will be constructed.
The Cadillac is a motif in the story and Carl now drives one, just like his father, a man who was obsessed with the American dream, even though he lived in southern Norway. All the little hints of Americana, from the Cadillacs to chewing tobacco and on to the musical references, give the book an unusual Western vibe early on – a counterpoint perhaps to the Norwegian culture, language, landscape and climate which also infuse the novel.
The town even has a sheriff. While Carl smooth talks everyone in the village into borrowing money to invest in the Spa scheme, Kurt Olsen is stalking around investigating what happened to his father, the previous sheriff, who disappeared shortly after the Opgards' parents drove off the cliff. Watching on is Roy, our narrator. Introverted, perceptive and physically strong, he has stepped in to protect his brother before. As a reader, Roy will draw you in and make you an accomplice as he traverses the rocks and crevices constituting their relationship.
There is intrigue in every direction, as Nesbo recreates each facet of life in a small Norwegian village. Carl's ex-lovers are still jealous, even more so now he has a new wife. Other men in Os are jealous of Carl too. There's the politics of getting the hotel plans approved by the council, and there are old scores between the Opgards and Willumsen, the local loan shark who reputedly employs a Danish hitman. There is hidden abuse in the village as well, which drives Roy crazy. Then there's Shannon, Carl's wife, who is family now but whom Roy finds beguiling. It seems everything in his world has been put there to test him.
While you read The Kingdom, you'll sense a deeper current carrying you, Carl and Roy to a dark conclusion – thy kingdom come, as it were. Yet at the same time, Nesbo's storytelling keeps a whole series of events and characters frothing at the surface, dipping into humour one page and tragedy the next. It all feels immediate and real, so when Roy's logic gets a little twisted you'll roll with it because you'll buy into him, and the rest of the people in Os for that matter.
The deeply engaging, skilful storytelling of The Kingdom reminded me of The Little Friend by Donna Tartt.
Harvill Secker
Print/Kindle/iBook
£7.99
CFL Rating: 5 Stars