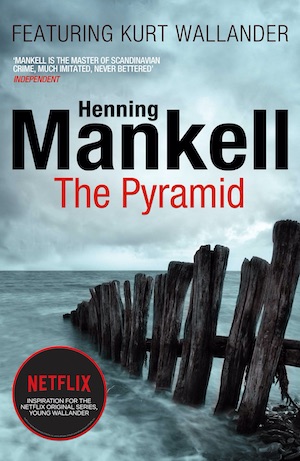 Translated by Ebba Segerberg and Laurie Thompson — The Pyramid is Henning Mankell revisiting Wallander's flawed past. In this collection of short stories, written over several years in the 1990s, Mankell fills in Wallander's past, explains how he became the meticulous and dedicated detective we know from the other Wallander novels. It's quite a different take on the character to that of the new Netflix series Young Wallander, but if that has caught your eye this book is also worth a visit. Mankell revisits Wallander's difficult relationship with his father, and the strain his work puts on his marriage with Mona, which is on the rocks before it even gets going. Each of the five stories is in chronological order, starting in June 1969 and ending in 1989.
There's a reason why police thrillers usually feature detectives and are less often about the exploits of uniform officers walking the beat. This isn't always the case, of course, but a detective solving big cases often makes for more interesting reading than the adventures of a beat cop giving tickets. As a result, when we meet police officers in books they are often burnt out, cynical characters with failed marriages and flawed pasts.
Wallander's First Case
In the opening story, Wallander is a uniformed officer living in a bachelors' rooming house in Malmo, policing the anti-Vietnam War protests and taking part in midnight raids on drug houses. Wallander knows this isn't what he joined the job for, and is excited to start in the local criminal investigations unit as a detective. When he hears a gunshot in the room next door to his and finds his reclusive neighbour shot dead, Wallander is quick to suspect suicide. Too many things don't add up. Despite still officially being a uniformed officer, Wallander starts playing detective. It's a decision which tests his relationships with his superiors and also with his girlfriend Mona, the moody hairdresser who he is intent on marrying.
The Man With The Mask
It's Christmas Eve 1975 and Wallander's hopes for a White Christmas shared with his wife Mona and their new daughter Linda have been dashed, first by the incessant rain sweeping in from the Baltic, and then by his boss' request that he stop off on his way home to perform a welfare check on a store owner who has called about a man loitering outside her shop. Wallander arrives just before closing time, and what he finds is something that will certainly ruin his family Christmas. One of the shortest and most insular stories of the collection, it nonetheless details the difficult relationship between Wallander and his family, and the feeling that Sweden is going through a period of radical social upheaval.
The Man on the Beach
Fast forward to April 1987, and Wallander is more like the character we know from Mankell's debut, Faceless Killers. In the opening scene he is sitting at his desk in Ystad police station, clipping his nostril hair and struggling over a smuggling case that has been on the go for years. Just before leaving he receives a call from a colleague to come to the hospital. A taxi driver picked up a healthy customer in Svarte, a 15-minute drive from Ystad. When they arrived in Ystad the passenger was dead. No signs of struggle means the death needs to be investigated, and when the autopsy results reveal a concoction of chemicals that could only be created and administered by a skilled doctor, Wallander is on the case. Why was this man from Stockholm in Ystad? What was he doing on the beach each day? And why was he killed? Wallander employs the methodical police work and keen intuition that he has become known for in order to arrive at the truth.
The Death of the Photographer
Spring of 1988 finds Wallander investigating the death of a reclusive and erratic photographer. Simon Lamberg is the man who photographed Wallander's wedding to Mona, and also photographed his daughter Linda at several milestones in her life. Lamberg was murdered in his studio in the middle of the night. Prior to this, his business had been declining and he has been spending a great deal of time on a strange hobby. Lamberg took photographs of prominent figures from newspapers and edited them to appear as grotesque caricatures. Surely that alone couldn't be a motive for murder, so Wallander sets out to find the truth and how this reclusive man's past could have led to his murder.
The Pyramid
The longest story in this collection is also the most like the other Wallander novels. Set in December 1989, The Pyramid is more complex than the other short stories in this collection. Here Wallander is investigating two cases. The first is a light plane crash, where an aircraft flying low to avoid detection crashes in thick fog. Police are quick to suspect a smuggling operation, but the wreckage of the plane is so great that even identifying the occupants is a challenge. While Wallander is immersed in this case, another emerges, with two sisters killed in a fire at their home/sewing shop. Meanwhile, Wallander receives a call out of the blue from the police in Cairo, where his father has traveled, fulfilling a lifelong dream to see the pyramids. Unfortunately, Wallander's father has been arrested for climbing the pyramids, and it's up to Wallander to travel to Egypt in order to rescue him. The Pyramid is probably the most accomplished story in the collection, but it is strengthened by the preceding stories, which outline the strained relationship between Wallander and his father.

This collection is different from Young Wallander, the series which now available on Netflix. Young Wallander transports the detective into modern-day Malmö, while the Wallander novels take place in the idyllic seaside town of Ystad, an hour away from Malmö on the southern coast of Skåne. Young Wallander reimagines the character of Kurt Wallander for a different age, while the stories in The Pyramid give depth of character to a detective who we first met as a divorced, heavy drinking detective in his 40s in Faceless Killers. With a short foreword from the author, The Pyramid is essential reading for anyone who wants to get to know this character a little more.
Explore our complete guide to Wallander here.
Vintage
Print/Kindle/iBook
£3.99
CFL Rating: 4 Stars