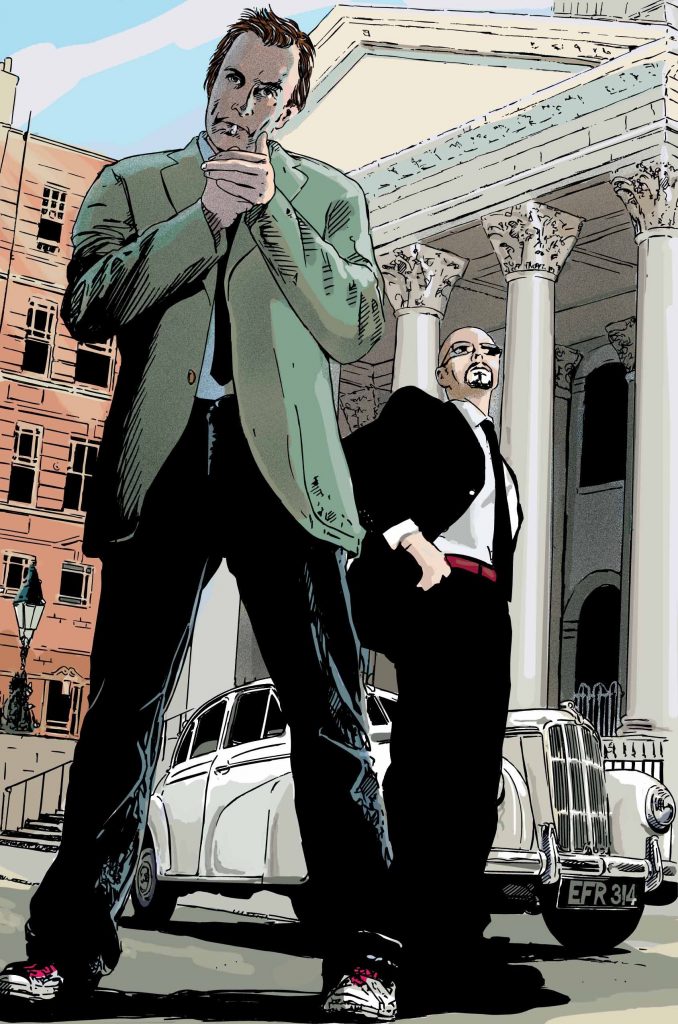 If you haven't come across Harker – the detective created by comic book duo Roger Gibson and Vince Danks – now is a good time to discover him. Although his adventures first appeared 10 years ago in indie comics, Time Bomb Comics is collecting the issues together in graphic novel format and republishing them in colour starting this autumn.
First up will be Harker: The Book of Solomon – Part One, which will be available to pre-order on Kickstarter from 1 August. If it meets its funding goal, which seems likely, it will be printed and shipped on 31 October. It's a publishing model Time Bomb uses to keep print runs efficient, cover costs and ensure the creators get their due.
Harker is a grumpy old police detective. In his mid-50s, he's too gruff and cynical for modern day policing, but when bodies start appearing near the British Museum he's called in to investigate. Be prepared for some pretty gruesome scenes of eviscerated corpses, which will now appear in colour for the first time.
Drawn as something of a love letter to classic crime shows, the story features middle-class satanists, dusty bookshops, grimy old pubs, a museum labyrinth and touches of dry humour. To lighten Harker's thunderous brow, his foil is DS Critchley – younger and better looking but equally eccentric. You might detect hints of everything from Sherlock Holmes to Inspector Morse and on to Ashes to Ashes.
Plans are in place to publish The Book of Solomon – Part Two, and then Harker: The Black Hound, also in two editions. After that, Gibson and Danks have plans for new Harker adventures across at least two volumes.
Click here to visit Harker's Kickstarter page. Pledge extra to the project and you'll be able to get limited edition Harker artwork and other goodies, which will be announced on the page. In the meantime, check out some of the artwork below, or read our interview with Roger Gibson from 2012.