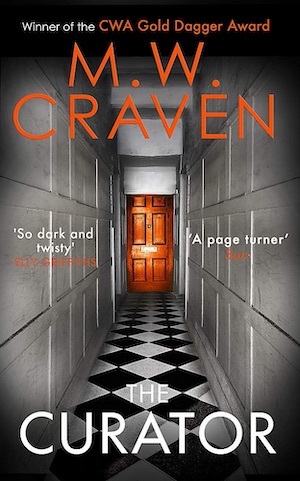 Whether you're a member of #TeamPoe or #TeamTilly, the arrival of a new book featuring this most offbeat of crimefighting double acts is a reason for celebration. We first met Sergeant Washington Poe of the National Crime Agency and NCA analyst Tilly Bradshaw in the five-star The Puppet Show in 2018, followed by last year's CWA award-winning follow up, Black Summer.
No pressure, then, for book number three – but Tilly and Poe are back and it's the depths of winter, where a cold-hearted killer is plying his deadly trade in Cumbria. The Curator opens with a chillingly disturbing prologue which ends with the clinical garrotting of a mystery female. Move to Christmas Eve and in typically twisted Craven fashion, a Secret Santa unwrapping at a small haulage company reveals a macabre gift. Instead of a mug containing an engagement ring, there's a cup bearing letters spelling out #BSC6 with two severed fingers inside it.
Soon three pairs of severed fingers have been unearthed, and the hunt is on to match them to their owners. This is not quite the party game usually associated with the festive season. When it becomes clear that each victim had one finger removed while alive and the other post-mortem, the search expands to include the bodies too. And as the trio of victims is identified, the case gets even more puzzling. There is nothing at all to link them – so why were they targeted?
Prepare for a dance of the seven veils in book form, as layer by layer, the real purpose of the crimes is revealed. And the person behind them is unlike anyone you've met before. The enigmatic Curator of the book's title leads Poe, Tilly and the rest of the team on a merry dance…
MW Craven has really hit his stride with this series. The lead characters are well fleshed out and the interchanges between phlegmatic, hardbitten Poe and oh-so-literal Tilly are an absolute joy. Add their boss into the mix, a heavily pregnant, wildly hormonal DI Flynn, and everything's set for some hugely entertaining scenarios. Craven has a lightness of touch worthy of a Mary Berry pastry recipe, and writes with a wry sense of humour that has you laughing out loud – sometimes in the most inappropriate moments.
Because, let me be clear here, this is in no way a cosy read. The humour is spliced between some edge of the seat scenes and this author isn't afraid to throw in details that set the stomach roiling. The fact that you eagerly keep on going, desperate to discover that happens next, is testament to Craven's skill as a master plotter.
Three books in, he's also given the two leads more free rein, and Poe in particular rises to the occasion. Who knew there was an actual action hero inside him, just waiting for a chance to show his mettle? Tilly isn't just sat behind her computers either and I particularly enjoyed the scenes involving the pair of them, set on the fictional Montague Island off the Cumbrian coast.
Don't take your eyes away from the print for a second or you're bound to miss something, because The Curator is one of those slippery eels of a book where, just when you think you've grasped the thread of the plot, it slides through your fingers and swims away with nary a backward glance. In short, MW Craven has come up with another mighty fine read that's both engaging and entertaining and ready to wrong-foot you when you least expect it. Do we really have to wait another 12 months before book four is published?
You'll find more Cumbrian-based crime in Sarah Stovell's Exquisite. Another mismatched pair of crime solvers feature in The Tattoo Thief by Alison Belsham.
Constable
Print/Kindle/iBook
£9.99
CFL Rating: 5 Stars