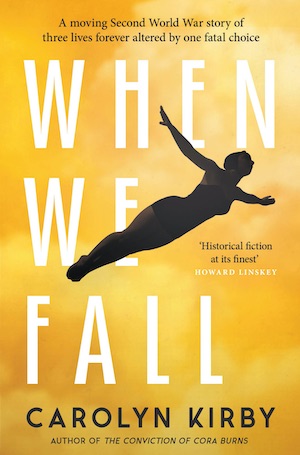 From the moment you are captive in the cockpit with pilot Vee Katchatourian as she makes an emergency landing in fog in 1943, you will be pulled in to the drama of this World War II thriller. Within seconds she meets Polish-born RAF flier Stefan Bergel. It's chocks away for a tale of love, loyalty, betrayal and a quest to expose one of the war's worst atrocities and biggest secrets.
There are two women and the airman with ice blue eyes whom they both love at the heart of this smart and compelling novel, which pivots around an impossible choice Stefan had been forced to make. Stefan carries a lot of baggage in his flight bag. Soviet forces captured him and during his captivity he made a catastrophic decision. His guilt drives him to ask two women to help him expose the truth behind the Katyn massacre in 1940, when more than 20,000 Polish officers and intelligentsia, including just one woman, were put to death.
Vee (Valerie), is British-born of Armenian descent. She's very young and is gaining her wings, as she ferries aircraft between English airfields for the Air Transport Auxiliary. We fly with her on missions as she tows a fine line between courage and recklessness in the air. It's not helping that she's so smitten by the pilot that her stomach does more somersaults than an acrobatic aeroplane. On the ground she's an insecure young woman. It's when she is flying in her cockpit, smelling of greasy metal and engine oil, that we see her true mettle.
Meanwhile in Posen (Poznań) in German-occupied Poland, Ewa Hartmann, a German-speaking Pole and member of the Polish resistance, is rattled by a surveillance car as she delivers secret messages that will get her killed if she is discovered. She cuts a stylish figure in heels, a double-breasted jacket and a feathered Homburg hat. In truth, she joined the resistance as a distraction as she mourned the loss of her lover Stefan. There has been no word of the Polish airman's fate for years and it's driving her insane.
Ewa is playing a dangerous game, as German officers are billeted in the guesthouse she runs with her father Oskar. Among them is Obersturmfuhrer Heinrich Beck, on the surface, a sympathetic character, who is easy on the eye and good company. It is while they are on a date at the cinema that a German newsreel reports the discovery of the mass graves in Katyn 'the work of the Bolshevik monster in all its inhuman savagery'. When Ewa reacts to the horror in Polish, not German, she and her family are put in danger. What's more – she fears Stefan is among the Katyn dead.
Ewa is shocked when days later she meets Stefan in the street. He has returned to Poland on a mission to prove the identity of the culprits responsible for the genocide. His search for justice puts both Ewa and Vee's lives at risk, as he persuades them to help him.
Rooting her story in real events, Kirby has skilfully created complex and authentic fictional characters, with conflicted cultural identities. Stefan is Polish and flying for the Brits, Ewa is a Polish citizen of the Greater German Reich and Vee's 'funny' surname often puts her under suspicion. Even Heinrich hides his origins. There is no doubt that Stefan is manipulating the two women in his single-minded quest and we wonder how he survived and made his escape. Kirby's skill of drawing multi-faceted and flawed personalities makes the tale more compelling and believable.
The research for When We Fall seems to have been meticulous and the plot is gripping, but the stories of the characters and the tests of loyalty and bravery they are faced with, are what will engage you in this tragedy. It's a riveting and well-written read, which thrusts you into the dark drama of places ruled by brutal regimes, where loyalties are tested.
It may prompt you to discover what really happened in the forest and other locations in Soviet-annexed Poland when over 22,000 captive Polish officers and Polish, Belarusian and Ukranian intelligentsia, priests and landowners were slaughtered. The Nazis blamed the Soviets and vice-versa.
The book is published to mark the 75th anniversary of VE Day, the 80th of the Katyn massacre and ten years since an airline crash killed high-profile Polish nationals travelling to commemorate the atrocity. If you are keen for another superb thriller that visits the Katyn forest, try Philip Kerr's A Man Without Breath. German cop Bernie Gunther is ordered by Joseph Goebbels to prove the victims were murdered by the Russian NKVD and were not Jews murdered by the SS.
Also see Carolyn Kirby's debut, the gothic crime novel The Conviction of Cora Burns.
No Exit Press
Print/Kindle/iBook
£1.66
CFL Rating: 5 Stars