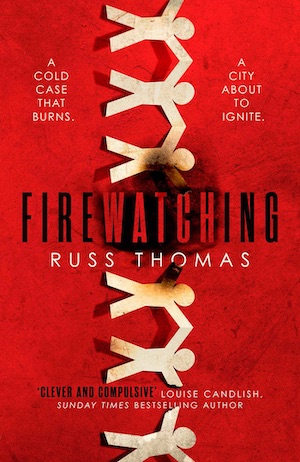 Written by Russ Thomas — Meet DS Adam Tyler. He is the sole member of South Yorkshire Police's cold case team, sidelined after an 'incident' which put paid to any chances of rising through the ranks. He's the central character in this debut novel by bookseller-turner-author Russ Thomas, and mark my words, you're going to see a lot more of him.
As we first meet him, Tyler is looking around a flat in the heart of Sheffield. It has plenty going for it, including a great location and a reasonable asking price but, like the man himself, there's something a bit off about the place. Tyler knows the property was once the scene of a gruesome murder. It says plenty about him that he isn't put off by this thought.
So right from the off it's clear Tyler has hidden layers. And when the body of a man is found bricked up inside the walls of a house in the countryside a that's being renovated, those layers begin to unpeel, one by one. The property was once the home of Gerald Cartwright – a local businessman who went missing six years ago. Looks like he's finally been found, and at first glance it also appears he was alive when was imprisoned inside the walls of his basement.
This cold case has suddenly become mighty hot and Tyler is keen to be a part of the investigation. But first he has to get past DI Jim Doggett, who is nicknamed The Yorkshire Terrier and doesn't appear to want to let this juicy bone go. Sparks are about to fly…
In these days of diversity, Firewatching ticks a lot of boxes. Tyler is young and gay, while Doggett is bordering on cliché, with his offhanded misogynistic, racist, sexist and homophobic comments (there's still something likeable about him though!). Throw in a young PC who is both female and Asian and a black firefighter who is also gay and you get the carefully constructed picture. Thankfully, the casting doesn't seem forced, and as the book progresses they are fleshed out well and each have a vital role to play.
Tyler gets his wish, but a one night stand with a guy he meets in a bar threatens to scupper any chances of getting his career back on track. He decides to keep quiet about it and that decision is about to lead him into all kinds of trouble. Meanwhile, the story arc is interrupted by blog posts penned by an unknown writer who hides behind the pseudonym of 'the firewatcher'. They're obsessed with fire and begin to garner a following online. Meanwhile, as Tyler and Doggett inch ever closer to the truth, a mystery arsonist is engaging in a campaign of their own.
Firewatching has a plot with enough strands to make a tapestry. In addition to the murder investigation and growing number of arson attacks, there are also two old dears who live next door to the house which Gerald Cartwright and his wife once inhabited. Edna and Lily turned a blind eye to the wild, debauched parties back then – just what are they hiding now? One is in failing health, the other on the fringes of dementia, so can either of them be trusted to tell the truth?
Russ Thomas's characters are realistic and prone to a quirk or two – my favourites are Tyler, Doggett, Lily and PC Mina Rabbani – and he has a good ear for sharp dialogue. Sheffield and its surrounding areas also make a great backdrop here – a bit of Yorkshire grit never did any crime novel any harm! Central to it all is Adam Tyler, and he certainly grows on you as the pages turn. I get the feeling we've only just scratched the surface on this character. What's next, I wonder?
For the ultimate in cold case departments, try the Department Q series by Jussi Adler-Olsen.
Simon & Schuster
Print/Kindle/iBook
£4.99
CFL Rating: 4 Stars