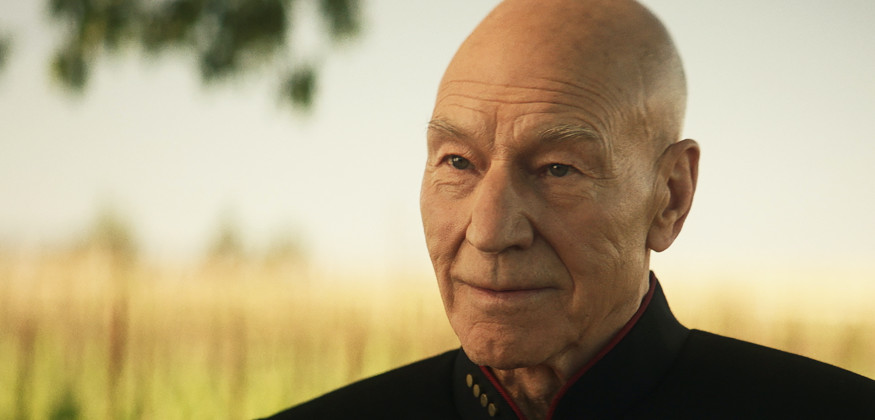 Crime Fiction Lover recommending that you watch a programme from the Star Trek franchise is probably the last thing you'd expect, but what is life without surprises? As we write this article, Star Trek: Picard is only three episodes in, with new ones available to stream on Fridays via Amazon Prime, and from the very outset this show has the feel of a crime thriller… with two spoons of noir for added zing. Even if you're not a Trekkie, you'll enjoy the mystery Picard sets out to unravel.
Jean-Luc Picard (Patrick Stewart), once a Starfleet admiral, has retired to a vineyard in France, where he's producing craft wine with two Romulan housekeepers. Something isn't sitting well with Picard, his dreams are troubling and soon he receives a strange visitor. A young woman called Dahj (Isa Briones), studying AI and robotics in Boston, has sought him out. A team of assassins has just tried to kill her, but she's managed to dispatch all of them using deadly skills she didn't know she had.
The girl looks familiar to Picard – she was in a painting entitled Daughter, given to him by Lieutenant Data (Brent Spinner), the iconic android who served Picard on the Enterprise in Star Trek: The Next Generation. Just as troubling for Picard is a media interview he takes part in, which focuses on the end of his career at Starfleet. With the Romulan sun about to supernova, Picard led an operation to evacuate 900 million Romulans to other parts of the galaxy, even though their empire was an enemy of the Federation.
The mission was scuppered when all the androids on a Starfleet base mutinied, and the political fallout was nearly as deadly as the supernova itself. The Romulans now hate the Federation even more, synthetic life forms have been banned, and Picard is out in the long grass telling himself that he is relaxing in his retirement. But really, he needs some form of redemption.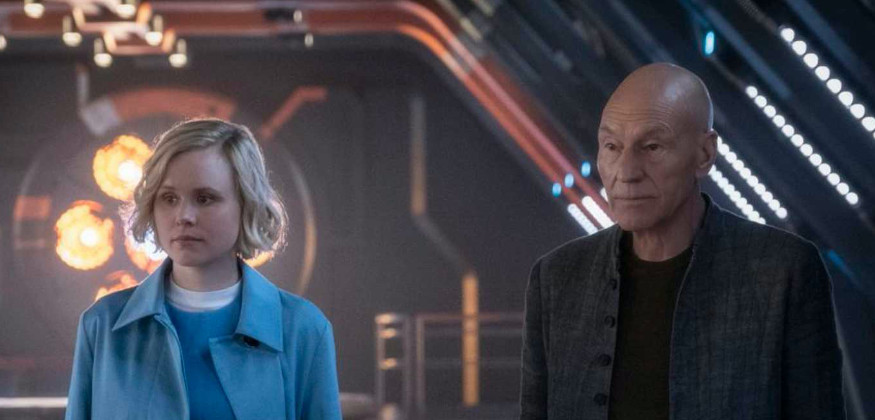 So the mystery of Data's supposed daughter really tweaks his interest. Just like private detectives across our beloved genre, Picard becomes like a dog with a bone when Dahj disappears again and he learns that she may have a twin sister. This is a mystery with politics, corruption and murder at its core, the vibe shifting away from the Gulliver's Travels feel of classic Star Trek storylines. His tenacity ramps up even further when Starfleet Command rebuffs his request for a ship and a small crew, with which he hoped to track down Dr Bruce Maddox, the foremost expert in synthetic life who just might have used Data's neurones to create the daughters Dahj and Soji.
Like Jake Gittes cruising around LA in Chinatown, Picard sets off on a rogue space mission to find out about these secret, high functioning androids, and about who is trying to destroy them. At his side stand synth researcher Dr Agnes Jurati (Allison Pill) and former Starfleet pilot Cristobal Rios (Santiago Cabrera). But there's not just Starfleet to worry about as he contemplates warp speed. Romulan hitmen know he's on the case, and the Vulcan who heads up Starfleet's internal security appears to be a double agent and already knows where Soji is, putting the young woman in grave danger.
Revenge, redemption, corruption, double-crosses, cold-blooded murder… Star Trek: Picard has everything crime fiction lovers need. The series is 10 episodes long and a second season has been commissioned, so, yeah, set your phaser to stun. Or something.
Picard is available on Amazon Prime in the UK and on Prime in the US with a CBS subscription.