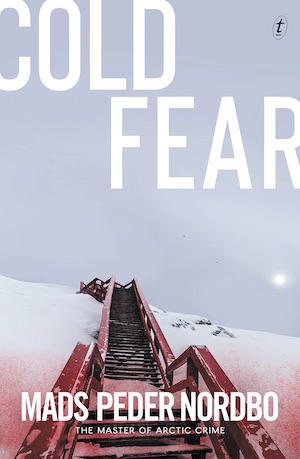 Written by Mads Peder Norbo, translated by Charlotte Barlsund — Matthew Cave is a journalist who returned to the small town of Nuuk, West Greenland, after the death of his wife and young daughter in a car accident. The Girl Without Skin was a fine, if graphic, debut from Norbo. Cold Fear picks up where it left off. It is similarly violent and is an intricately plotted thriller with an atmospheric, almost alien, setting in Greenland.
Matthew Cave's father, Tom, was involved in a secret experiment in 1990 on USAF Thule Base in Greenland involving a drug that could help humans withstand the cold. Yet the side effects led to terrifying consequences with increased aggression. The experiment unravels and it all culminates in a psychotic double shooting and suicide, with three flag-draped coffins heading back to the USA. It is all blamed on Tom Cave but we know he isn't dead, indeed he had a daughter, Arnaq, eight years later and he's on Greenland somewhere. The narrative alternates between the aftermath of the breakdown of the secret project with Tom in 1990 and Matthew's investigation in 2014 as he scrambles to find his father.
There is a lot of baggage from the first book in Cold Fear. In the opening pages there are long paragraphs detailing the murders, rapes, and convoluted relationships of the characters. Cold Fear simply does not function well as a standalone and after thrashing around in the first 50 pages I had to go back and read The Girl Without Skin first.
Greenland is a wonderful setting. It has an otherworldliness, small community claustrophobia and remoteness that works well in crime fiction. The place names are both evocative and can, at times, be a barrier in their unfamiliarity. They are utterly foreign: Lyngby-Tårbæksvej, Ittoqqortoormiit, and Kiasssaateqarfik. They are also undeniably exotic. Greenland is an icy, enigmatic paradox and the geo-political machinations of the great powers are essential features of the underlying plot on this far flung inhospitable island.
Matthew Cave is an endearing character, at least in the first book, but is a rather more limp, tepid protagonist in Cold Fear. Tupaarnaq Siegstand, the young Inuit woman, is a determined seal hunter, with her shaved head, full body tattoos, dressed in black combats and boots, who continues to channel her inner Lisbeth Salander from the Millennium series. Yet, she gets little space to develop in this book and there are few females who are not the object of violence, frequently raped, often murdered. There is also a glut of minor characters and the parade is dizzying.
Matthew Cave's half-sister, Arnaq, goes camping near Færingehaven and soon the groups of friends are in trouble. Cave and Tupaarnaq rush to their aid. There is an element of Hollywood-style violence in Cold Fear, where the protagonists are subjected to serious injuries but plough on heroically. That's how some novels play but there are shortcuts and flaws: people being knocked unconscious recurrently with no apparent adverse effects, being knocked out with a single punch, or improbably surviving grenade explosions.
Cold Fear is bafflingly complex and in the second half we slide from one grim tableau to the next. It's certainly breathless and fast-paced but it's also brutal. Norbo even adds a soupçon of cannibalism to the brew. However, the story is resolved satisfactorily and some untied threads leave scope (and hope) for the ongoing series. The translation, by Charlotte Barslund, is impeccable and it needs almost no comment with smooth prose throughout. Cold Fear has an original setting and if you enjoy complex stories with multiple strands this savage Arctic noir from Mads Peder Norbo has death and drama in sweeping drifts.
To discover more cold climate crime fiction, click here.
Text Publishing
Print/Kindle/iBook
£7.91
CFL Rating: 3 Stars