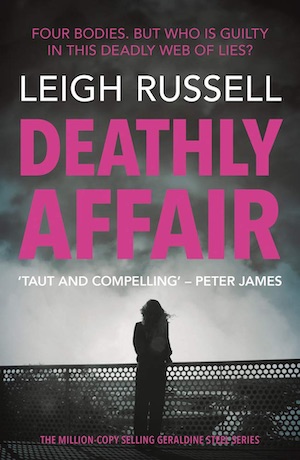 Written by Leigh Russell — The series featuring DS Geraldine Steel has reached book 13, which is anything but unlucky for Leigh Russell fans. This British author has sold more than a million copies of her books and shows no sign of letting up – in fact, in a recent interview with Crime Fiction Lover she revealed that she's almost finished work on book 15.
A killer is roaming the streets of York, targeting homeless rough sleepers and strangling them in their sleep. It's a cold-blooded crime, but the attitude of some of her colleagues takes Steel by surprise. She's determined to do right by the victims, but with little to go on and no obvious motive, it's tough going.
Meanwhile, meet Ann. She's a woman with time on her hands, trapped in a marriage to David, who is 20 years her senior. In short, she's bored, so when she meets Mark, a music teacher much nearer her own age, she begins an affair. Mark is handsome, he pays her attention and the sex is outstanding. David never needs to know, does he?
Then Mark is himself the victim of crime and Ann has her suspicions about the culprit. Hell hath no fury like a woman scorned and we're about to learn just how far this particular woman is prepared to go…
The dual storylines work in tandem here, until things suddenly connect in surprising fashion, giving Leigh Russell free rein and keeping her readers on our toes. This author is adept at creating living, breathing characters and fans of this series will be delighted with the latest developments.
Steel is now based in York and the city is beautifully rendered, with the myriad nooks and alleyways of the old city making an ideal hunting ground for our killer. There's a satisfying attention to detail in the police procedural aspects of this book, as to be expected from an author who has hit her stride with this series. The love triangle featuring Ann, David and Mark creates a neat counterpoint and when the two worlds collide the effect is explosive.
In addition to the viewpoints of Steel and Ann, there's added input from Molly, a runaway teenager who witnesses the killer at work but is afraid to come forward. The three-way narrative gets a little confusing at times although things calm down a little later in the book.
Homelessness is headline news these days so this aspect of the book is prescient. It's a little worrying though, that so many of Steel's colleagues seem prepared to dismiss the crimes and take short cuts in a bid to get the cases tied up quickly and this jarred with me. Steel is a sharp and astute officer but surely she isn't the only one in York who wants to do her job properly? C'mon people, take a leaf out of Harry Bosch's book – everybody counts or nobody counts!
There's also the added distraction of her secret hankering after fellow officer DI Ian Peterson. The pair have a history which followers of the series will know well, but anyone reading this as a standalone might find it a little hard to unravel.
In an investigation plagued with dead ends and wrong turns the pace can lag a bit, but things really pick up in the final 100 pages or so and the denouement will leave you craving more. Deadly Affair is a solid addition to the Geraldine Steel canon and will be lapped up by Leigh Russell fans and by lovers of police procedurals.
York is also the setting for Helen Cox's Murder by the Minster. Fans of the police procedural should check out Carol Wyer's DI Natalie Ward series, which starts with The Birthday, reviewed here.
No Exit Press
Print/Kindle/iBook
£0.99
CFL Rating: 3 Stars