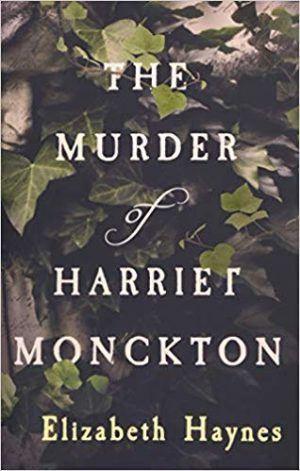 Written by Elizabeth Haynes — Seeds for this compelling historical crime mystery by Elizabeth Haynes were planted when the author stumbled across documents in the National Archives in Kew relating to an obscure mid-1840s murder. These documents include an 1843 inquest report and, some three years later, correspondences between a member of the local coroner's jury, the Kent County coroner and various high-ranking officials. The jury member pleads for a verdict in the death of Harriet Moncton, which occurred some three years earlier in the (then) small town of Bromley, a few miles southeast of London.
The verdict has been so long-delayed because of the case's numerous uncertainties and plethora of suspects. Haynes uses those uncertainties to create a fictional story that begins from the knowledge that on 6 November 1843 Harriet Monckton took or was administered poison, died, and her body stowed in the privy behind the Congregational Chapel. When she's noted as missing the next day, a search ensues. Even before the body is found, multiple efforts are launched with the intent to mislead, mischaracterise and otherwise frustrate any inquiries.
Much of the story is imagined from the points of view of several real-life people: chief among them is Harriet's friend, the schoolteacher Frances Williams, with whom she might have had a lesbian affair; Reverend George Verrall, her confidant, clergyman at a Congregational Chapel that Harriet attended; Thomas Churcher, a shoemaker in town, in love with Harriet; and Richard Field, Harriet's former mentor and lover, now married to another woman and living in London. Verrall and Churcher are prime suspects in the case, though, if a wider net were cast, Williams and Field or even Field's wife might be suspected as well.
Each of these characters provides an account of their history of association with Harriet, both in response to questioning at the coroner's inquest and in their private thoughts. It's a Rashomon-like treatment, with each not only seeing the sketchy facts in different ways, but recounting them to their best advantage. Haynes gives her characters distinct voices and points of view, not all admirable, by any means. She adopts a slightly old-fashioned writing style that isn't at all labored, but also serves to transport you to the era.
One section of the book consists of George Verrall's 'confession', written for his lawyer, in the event he is arrested for Harriet's murder. Otherwise it is to remain sealed. The confession recounts Verrall's long history of sexual licentiousness, and Harriet was one of his victims.
All these pieces of information and insights, however revelatory, are one step removed from Harriet herself, but you finally do hear from her directly when her diary is found. It gives not only her version of events, but her perspective on Verrall, Churcher, Williams, Field and others. Neither the confession or Harriet's diary finds its way into the coroner's proceedings.
The coroner, hoping the police could clarify motives, delays putting the case to the local jurors for a verdict and what they make of the tangled, partial and self-serving evidence the witnesses presented can only be guessed. The first question the coroner must unravel is whether Harriet's death was murder or suicide. Three-quarters of a grain of cyanide is enough to kill a person; Harriet swallowed 35 grains of it. Someone wasn't taking any chances.
Haynes creates an immersive story through her careful recreation of small-town life 180 years ago and the realistic behaviour of the inhabitants. Her Bromley is completely convincing, as are the reactions of the residents as one secret after another is revealed and as some secrets manage to remain hidden. As the author says, "The impact on my life has been profound, to the extent that I feel as if I have inhabited Bromley in 1843 myself." I feels like it too. Even though the book's events took place a long time ago, the tension is freshly apparent thanks to the author.
Harriet is a character who isn't so much described as assembled. Like the build-up of daubs of paint that produce a portrait, Haynes's text-clues allow you, eventually, to picture the dead woman, with all her flaws and vibrancy, as she was in life.
If you like this, you might also like Graeme Macrae Burnet's award-winning His Bloody Project. In 2013, we recommended Elizabeth Haynes' contemporary novel Behind Closed Doors.
Myriad Editions
Print/Kindle/iBook
£6.47
CFL Rating: 5 Stars