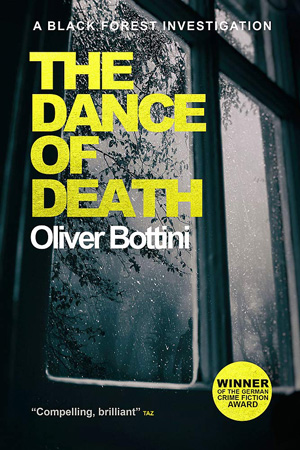 Written by Oliver Bottini, translated by Jamie Bulloch — On a foggy Saturday afternoon an armed man appears in the garden of the Niemann family in Freiburg, Germany and sets off a series of events which unexpectedly alter their lives.
The Dance of Death is the third in Oliver Bottini's Black Forest Investigations series, and follows on from Zen and the Art of Murder, which we have reviewed. Although it can be described as a crime novel, the book goes deep into the issue of immigration and the plight of refugees. Yes, we are dealing with a family who suddenly face a terrible life-threatening situation, but it why this is the case becomes clearer as Detective Louise Bonì unravels the threads.
It turns out the appearance of the man Niemann's garden is their first warning. He later returns to the house at 4AM with a menacing ultimatum, quoting Psalm 9. They have seven days to leave their house.
Louise Bonì, who herself is seen as a lone wolf and a stubborn detective, sets out to find out who the man is and why he's threatening the Neimanns before the seven days are up. Her only clue is a cigarette case with the name Walpowo inscribed, which has a possible connection to Paul Niemann. Neimann is a nervous man and seems unwilling to talk. As the investigation progresses, she finds his family is on the brink of collapse. Henriette Niemann is planning to leave her husband, while their introverted son Philip prefers to read in the dark, listening to classical music. The daughter, Carola, a girl with wild, red hair, seeks parental affection, something Louise recognises in herself.
Side-tracked by unsuccessful and confusing leads, Louise and her team run out of time. Seven days later the man, who they now believe is a refugee called Anton Loncar, douses the house in petrol and sets it alight. The family escape but their security literally goes up in flames when their home is burnt to the ground. Loncar has started a war, but they don't know why or against whom. There is no indication when his war will end or to what extremes he will go to.
Meanwhile, Louise struggles to keep her own life together. She fails to commit to serious relationships, has no social life outside work and is a recovering alcoholic. Much like the homeless arsonist, in a way she has also been displaced. Well, at least while a team of Polish builders renovate her apartment.
As Louise gets closer to catching the culprit, his tragic history becomes clearer. His connection to the family goes back to 1990 when Paul Niemann worked in the foreigner's registration office in Munich. During this time the city began sending more than 20,000 Croatian and Bosnian refugees back to their war-ravaged homelands. Niemann avoided facing those he helped to deport, but decades later Loncar is back to take revenge on the man who decided his fate and cost him his home.
Bottini highlights the importance of homeland and belonging and how easy it is to destroy one's sense of 'home'. These are challenges migrants across the world have to deal with, even more so refugees fleeing from war-stricken countries, uprooted and forced to live in places where they don't speak the language and aren't accepted. They are perceived and labelled as lazy, uneducated drug dealers due to the social challenges they face and are subsequently not integrated into communities.
The Dance of Death follows a trail to Zagreb, Bosnia and Lódz in Poland and Anton Loncar's story could apply to all immigrants, refugees and displaced people – a fiercely debated topic worldwide over the past few years. This is the core of the book, even though it's a crime novel. Its strength lies in its characters, their backgrounds, their challenges and most importantly their untold stories, however horrible or traumatic they might be.
Bottini has an amusing and interesting way of describing situations either through astute observation or strengthening the visual impact through repetition. But above all he manages to write a crime novel where the crime takes a backseat to a larger, more important issue which he addresses subtly and effectively. This is not only the story of a family who fall victim to a crime or of the connection between them and a homeless, displaced man. This is a story which spans across decades, countries, wars and the past and present of thousands of displaced people.
Also see Dan Fesperman's excellent Lie in the Dark.
Quercus Publishing
Print/Kindle
£8.99
CFL Rating: 5 Stars