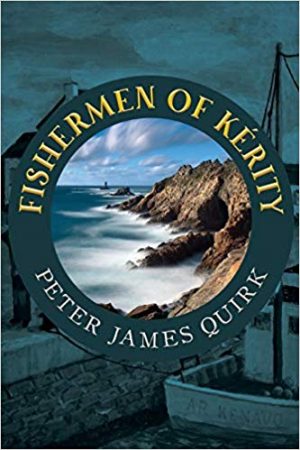 Written by Peter James Quirk — In 1959, when Peter James Quirk's protagonist Tommy Kiernan goes in search of his past, he finds a more complicated and thrilling story than he'd ever imagined. Only 19 and an American college student in New England, he knew he had a multinational past, having been born in the English fishing village of Brixham to a French mother and Irish father. Now the family lives in upstate New York, where his elegant mother, separated from his father, has been spending her time in her painting studio.
Two events start his quest. In the middle of the night, someone set a fire that destroyed Tommy and his mother's home. Not long after, his mother was killed when her car plunged from the mountain highway into a ravine. When suspicion arises that these two events are not unrelated and Jackie Kiernan may have been murdered, Tommy decides he must try to find out why. She had no enemies as far as he knows. If someone were trying to kill her, it must be someone from her past. As Tommy was almost a victim of the fire himself he might be a target too.
Tommy's mother never revealed much about her life in France or her escape after the Nazis took over, dismissing his curiosity with a "that was a long time ago." While Jacqueline de Bavière had lived a mysterious life, clues to her past might lie in her beautiful paintings and in the studio where she spent so much time. There, Tommy finds her journal and sketchbook, which reveals a bit about her time in Brittany and the people she met. But he's in for a shock. When Breton fishermen helped Jackie escape in 1940, she was already pregnant, which means Francis Thomas Kiernan isn't his father after all.
His mother's painting, Fishermen of Kérity, suggests where to start in trying to fill in the details of her life. The journal and the finished painting, which includes likenesses of people she knew at the time, are testimony to how much that scene meant to her. Tommy puts school aside and travels to Kérity on the Breton coast, hoping to meet some of Jackie's long-ago friends. Whether any of them survived the War, whether they know who his birth father was, and whether they will talk to him about any of this, he doesn't know. But if the key to her mysterious death and his own continued safety lies in the past, he has to try.
Author Quirk does an excellent job evoking the Breton community as the threat of war materialises into invasion, occupation, and retribution. Tommy does gradually learns about Jacqueline's adventures during this time; her romance with the Parisian journalist Jean-Pierre Goldfeldt, a Jew, which she had to keep hidden; and her efforts to protect Jean-Pierre's adolescent son, a dangerously naïve and hostile teenager. Unfortunately, helping her preserve her secrets exposes other friends to SS death threats.
Could any of these bits of her past be responsible for the fire and her death? Do they reveal the identity of his father?
While I enjoyed the historical content that makes up most of the book, Quirk gives Tommy a romance in 1959 Vermont that is less believable, and Tommy's methods for uncovering the identities and whereabouts of his mother's possible antagonist are rather clumsy. Of course, he is a young lad, not a skilled investigator.
Quirk, born and educated in England, now lives in the United States. The knowledge of the sea he gained as a fisherman and with the British Merchant Marine gives the book's scenes – in 1940 and 1959 – on the Breton docks and sailing the French coastline a nice realism.
This is a short novel (169 pages), quickly read, and while I had the aforementioned quibble with the 1959 story, on the whole the writing style is clear and enjoyable. The author has created a memorable tale in a colourful setting. Read it at the beach and you'll have the sound of the waves as the perfect background.
If you like World War II tales, you can't go wrong with Philip Kerr's Bernie Gunther series or the books by Alan Furst.
Wildside
Print, Kindle
£10.99
CFL Rating: 4 Stars