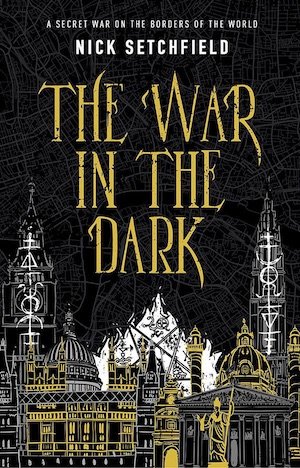 Written by Nick Setchfield — Christopher Winter works for British Intelligence, and although he's a spy, his talents lie more in removing threats to the state than tradecraft or espionage; he is somewhat of a blunt instrument.
It is London, in the autumn of 1963 and Winter's job is to kill a priest suspected of leaking secrets to the Russians. The hit takes place, but Winter is left shaken. Upon his death, the priest seems to dissolve into a flood of insects, and later Winter discovers his spotter dead in the back of his car. All around him, people's faces seem to be changing, and some have no face at all. Could the strain of his job be getting to him, or is Winter going to be forced to question everything he's ever believed in?
At an evening debrief in a derelict building by his superior, Malcolm Hands, Winter learns the truth. Communism, he is told, doesn't represent the greatest peril to the United Kingdom. There exists a second cold war, in which men and women of all nationalities are united against an otherworldly, or supernatural, threat and this cold war is getting hotter.
It's a cracking start, and before I knew it I was 50 pages in to the book. A lot of writers who attempt to blend fantasy or horror elements with crime don't hit the right mix. Either the crime elements seem hackneyed or the fantasy elements don't convince, but debut author Nick Setchfield seems equally at home with either. The sense of Winter as a spy who is deprived of crucial knowledge – either by accident or design – and always a step behind events, had me purring, and the atmosphere of dread played perfectly to the horror fan in me.
Hand's murder, which Winter is just too late to prevent, marks the end of the introductory part of the novel and the main narrative begins. Winter's first stop is Vienna. Information from a dead drop possibly implicates Emil Harzner, a German with a sordid history in the Nazi party who currently runs a plastics factory. When he arrives in town Winter discovers another British agent, Griggs, already has the target under surveillance. Comparing notes, the pair guess that Harzner is a trader of political information, and as more agents from foreign powers arrive in the city, Winter and Griggs feel compelled to take a deadly gamble. Harzner must possess vital information that other countries are going to bid for. Britain must have a seat at the table, and without an invitation, Winter and Griggs will have to bluff their way in.
From here on in, the fantasy elements dominate as Winter, with the aid of Harzner's beautiful Russian assistant, chases across the continent in search of a key (in the form of a book of magic) which will allow beings from another dimension to enter our world. There is still a strong element of crime fiction, but this feels less a spy novel that, say, LeCarre or Charles Cummings would write, and more of a thriller. John Buchan's classic The Thirty-Nine Steps comes repeatedly to mind, and while The War in the Dark might not be affectionately 100 years from now, it is a very enjoyable diversion.
It is the nature of the occult that things are not as they seem, and the author has a sting in the tail for his put-upon protagonist. If there is a sequel, it will be interesting to see how it plays out.
Titan Books
Print/Kindle
£4.31
CFL Rating: 3 Stars