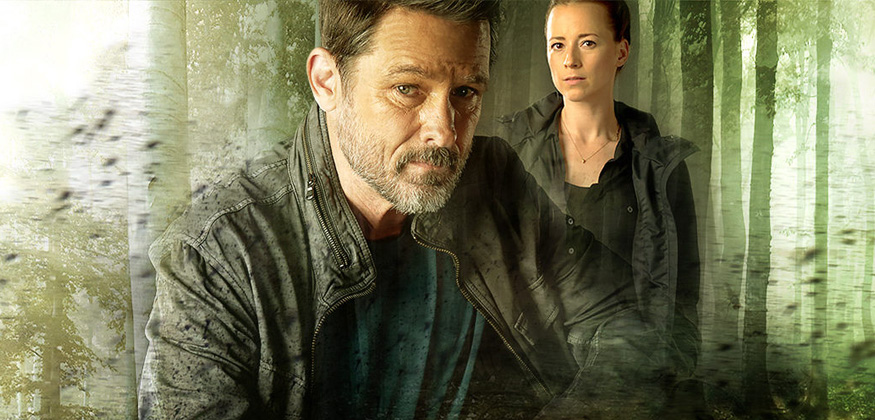 The Canadian crime fiction detective John Cardinal returns to UK screens on Saturday 4 August for a new case. But if you were hoping to cool off with long shots of frozen lakes during this heatwave of a summer, you might be disappointed. Cardinal series 2 – Black Fly Season is set during the high summer in Northern Ontario. It's hot, humid, sticky and there are parasites on the wind, voracious for your blood – and that's before the killing's even begun.
Airing on BBC Four, the series opens with a young woman with long red hair running through the woods. She's shot, a bullet lodges in her head, but it doesn't bring her down. Later she's found wandering the streets and bars of Algonquin Bay – a fictional approximation of North Bay, Ontario – with no idea what's happened to her. Detectives John Cardinal (Billly Campbell) and Lise Delorme (Karine Vanessa) are on the case, trying to find out who the girl is and who it was that shot her.
The Black Fly Season, based on Giles Blunt's third Cardinal novel, promises more action and a little less focus on the complex characters of Cardinal and Delorme. It brings in a turf war that involves biker gangs and narcotics, but there's a brutal occult aspect to it as well. A mysterious, scarred character out there in the woods, perhaps inspired by indigenous beliefs, and he's calling for blood and killing by ritual. 'Red' (Alex Paxton-Beesley) as the young woman is dubbed in episode one isn't safe, even after she's been taken to hospital and interviewed by the police.
What might also draw you in is the verdant woods of the Canadian north in the summertime, with vistas of shimmering lakes. While it hasn't got the midnight sun and the insomnia of northern Scandinavia, but it does deliver rich greens and all the texture and menace of the dark forest to ramp up the atmosphere.
The first season of Cardinal, set mid-winter, was one of our favourite crime shows of 2017 and Forty Words for Sorrow, the book it was based on, is our top Canadian crime novel of all time. Season 1 is available to view on the iPlayer in the UK at the moment, or to stream on Amazon. It won a slew of Canadian TV awards. The Black Fly season aired in Canada in January, drawing over a million viewers per episode.
Cardinal: Black Fly Season airs at 9pm on Saturday 4 August on BBC Four for a six episode run.