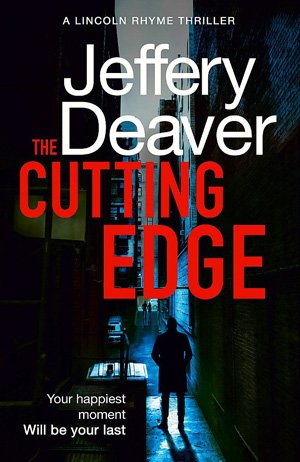 Written by Jeffery Deaver — Can you imagine the reaction when Jeffery Deaver pitched his first Lincoln Rhyme novel. 'Oh yes, and my protagonist is quadriplegic, solving everything from the confines of his apartment…' What's the betting that they said it'd never catch on?
How wrong could those people be? We're now 15 books down the line and freelance consultant Rhyme and his new wife Amelia Sachs of the NYPD are about to face a particularly tricky customer. He's dubbed himself The Promisor and is targeting newly engaged couples. The first murders occur in New York's Diamond District, where William and Anna are visiting the workshop of one of the city's most talented diamond cutters, Jatin Patel, to collect their engagement ring. Minutes later they are all dead, at the hands of a man wearing a ski mask. The Promisor has claimed the first of many victims…
Who was that masked man? We're let into that secret pretty early. He's a mad Russian with a pocketful of fake passports and some kind of demented notion that taking gems from the ground and turning them into bits of jewellery is tantamount to raping the earth of its beauty. The villain is referred to as a 'nutter' by senior insurance claims examiner Edward Ackroyd, an ex-Met Police officer who is keen to help the investigation along, but this serial killer is also mighty clever, slyly getting to his targets when no one else is looking.
As fans know, the great thing about Lincoln Rhyme is that he doesn't let his bodily restrictions stop his brain from taking flight and the old grey cells get a proper workout in a book that is as multi-faceted as the gems at heart of this story. Deaver's novels are always impeccably researched. Whether it be the magic-making of The Vanished Man, or the implications of letting technology take over in The Steel Kiss, you're dragged into the subject hook, line and sinker.
So be prepared for a bombardment of information and new words and phrases to learn in this latest release. How about diamantaire? It's the name given to people who excel at diamond cutting, like the now deceased Jatin Patel. Or kimberlite, or the initials FD? By the time you're through, you'll know all of these – and more – intimately. And you'll never look at a diamond ring in the same way again.
About halfway through this book it does dip a little. Somehow, Deaver puts all his cards on the table way too early. Plus, there are so many diversions from the main story strand that you might start thinking that the master has lost his touch. But don't fall into his trap, for while that opening 50 per cent can appear a little too transparent, the latter part of The Cutting Edge will lead you on unexpected, devilishly devious paths.
Deaver's love of a detour or two gives some added spice. Rhyme may be confined to quarters, but it doesn't stop him taking an interest in matters outside his remit – and that could be about to put him (and another member of his team) into a whole lot of trouble. Oh, and New York is suffering from strange earth tremors, which may or may not be connected to a geothermal site in Brooklyn. All the usual gang is along for the ride, with Amelia Sachs beginning to feel her age, even though her penchant for derring do remains undiminished, the there's Lon Sellito, Mel Cooper, 'Rookie' Ron Pulaski and the rest, with the decidedly British Ackroyd along for the ride, offering plenty of sound advice and even a new pastime for Rhyme – cryptic crosswords, no less – quite apt as it goes…
So, don't be put off by the early part of this book, stick with it and you'll be in for a few surprises. Hats off to Jeffery Deaver for coming up with the goods once again.
For more thrills in the Big Apple, may we suggest Hangman by Daniel Cole, or David Mark's Cruel Mercy.
Hodder and Stoughton
Print/Kindle/iBook
£1.99
CFL Rating: 4 Stars