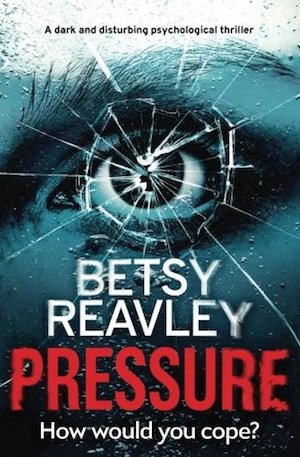 Written by Betsy Reavley — The North Sea is almost empty of oil and gas, they say, but Betsy Reavley's latest novel takes place in waters somewhere between the Shetlands and Norway and it's pretty volatile stuff. If you like a fast-moving and troubling thriller, with lots of friction and quite a bit of violence in a claustrophobic environment, this could be the book for you.
The Pica Explorer is a research submarine with 10 people on board which has come to rest on the seabed. The engines have packed in, but thankfully the backup electricity and oxygen are working and main character Zara can at least see what's going on. And it ain't pretty. Zara isn't on the vessel to do any research. The Pica has been chartered by Frank Holden, who is directing and producing a low-budget adaptation of the graphic novel Water Warriors, which takes place underwater.
While the submarine's captain tries to get the vessel working again, panic begins to set in among the actors and film crew. The book's title tells you everything you need to know – the pressure is on to get the engines going and then hopefully head back to the surface. Then it happens. Ray, an older actor who leches after the young men on board, is found dead. He's been stabbed in the neck.
And already, Betsy Reavley has been spinning you this way and that. As quickly as the story is developing on board the submarine, alternating chapters take you out of the pressure as each character explains who they are and exactly why they're on the vessel. Some of them seem to have more than enough motive to want to kill each other, but there's no clear way of knowing who killed Ray.
A lot, but not all, of the animosity circles around director and producer Frank Holden. He's a wild boar of a man whose approach to filmmaking is akin to that of Harvey Weinstein. Perhaps that's why his latest picture has such a low budget – nobody wants to work with him anymore. Some of those on board are there to try and launch their careers and Frank is exploiting them. One or two of the others are looking to take him down. And, he's not the only one whose temper and insecurities help to amp up the pressure in the sub. With a love triangle, two potential revenge plots and two characters on board who clearly have mental health problems… well, let's just say a logical process involving fixing the engine and escaping just isn't going to be possible. Soon, there are more bodies being dragged over to the refrigeration unit.
Reavley's characters seem real and their interactions and dialogue feel completely natural from the off. This is an author who's not fussy about getting down to the business of storytelling and the way the action on the Pica Explorer drives ahead is refreshing and intense. The interludes with the characters themselves work well – it's almost like a documentary, with frank inputs adding to the story every few chapters.
Then there are the chapters labeled 'child' which appear every so often. Presumably we are being taken back to the childhood of one of the characters – a very unhappy childhood with beatings and bedwetting, anger and neglect, sexual abuse… and worse. Some of these passages are too heavy handed, and they're so extreme they lose their credibility, which is a shame for the rest of the book.
A quick read at just over 200 pages, Pressure is punchy, worrying, gripping and wild. It's pulp fiction for the Kindle era. You'll race through it, it'll make your jaw drop, and it'll certainly keep you entertained. Just when you think you have it figured out, some new revelation or conflict will knock you sideways and all the while the situation down there at the bottom of the North Sea gets more and more desperate.
We've previously reviewed Betsy Reavley's Frailty and The Optician's Wife.
Bloodhound Books
Print/Kindle
£0.99
CFL Rating: 3 Stars