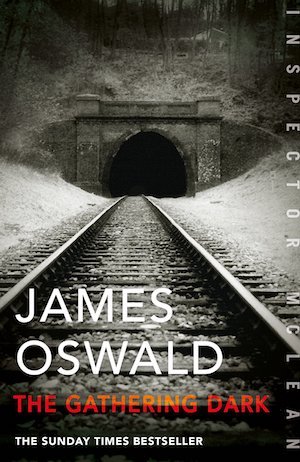 Written by James Oswald — Ever since James Oswald published his first Tony McLean novel in 2013 he has been admired for his skill in capturing loyal readers with his police procedurals that have a sprinkle of the supernatural. Less adept writers would alienate those who dislike ghosts appearing at their gritty crime scenes. But Oswald's shadowy spook adds substance to the plot while suspending disbelief and the story remains credible.
DI Tony McLean is a horrified witness to carnage on the Lothian Road in Edinburgh when a truck ploughs into a crowded bus stop, an incident possibly inspired by a similar real-life event involving a bin lorry in Glasgow in 2014. There are multiple deaths and the victims are grotesquely melted by toxic chemicals that the truck's tanker should not have been carrying. McLean takes charge of the investigation despite suffering from post-traumatic stress from witnessing the carnage.
Terrorism is ruled out as the accident was caused by the driver's heart attack and he only left Edinburgh's city bypass and diverted into town to avoid traffic congestion. McLean and his team focus their investigation on why the lorry was carrying deadly toxic chemicals rather than inert farm waste. Soon afterwards they track down the owner of the truck company and the suspected source of the cargo, men at both companies die in suspicious circumstances.
As the police identify all but two of the lorry crash victims, the new chief superintendent Forrester puts McLean under even more pressure by ordering him to secretly investigate what has happened to his missing and drug-taking son Eric, who was last seen near the crash site.
Meanwhile a first person narrative reveals the vengeful thoughts of a young man who was sexually abused by evil men as a young child in a brothel full of other children. Only he and one young girl survived a fire when he burned the place down and now he appears intent on exacting more revenge through the internet. As the three strands of the story evolve there are tantalising links that threaten to tie them together and then snap them apart.
McLean is stricken with stinging headaches by the stench of the harsh chemicals at the scene of the tragedy, but this stands him in good stead for following his nose to get to the heart of the crimes. Just a whiff of chemicals and all his heightened senses are alerted.
The now Chief Inspector McLean is a man of substantial means. Much is made of his new luxury Alfa Romeo, his big mansion and his private income, but he's down-to-earth enough to avoid irking his colleagues down at the nick. He's a gentleman detective and even though he is debilitated by trauma he is dependable and brilliant, and there's nothing wrong with his instincts. He leads his team mainly down the right paths, putting himself and others in harm's way in the process, and they gladly follow.
He's open to the unearthly, unexplained world too and listens to the doom-laden warnings of transvestite medium Madame Rose who appears with a crowd of cats every now and again.
McLean's main flaw relates to his private life. His pregnant girlfriend Emma is stood up time and time again, most notably when McLean misses her scan, but she stands by her driven and exhausted man with care and understanding when he does make it home.
He's a good man and just what is needed as true evil is at work here in this classy Scottish crime thriller. Oswald excels too throughout this journey into the gathering dark and out the other side.
Check out our review of the most recent previous book featuring Tony McLean, Written in Bones or see the article James Oswald wrote for us in 2012, about how not to self-publish your crime novel.
Michael Joseph
Print/Kindle/iBook
£9.09
CFL Rating: 5 Stars