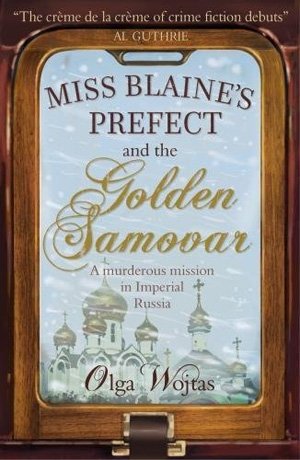 Written by Olga Wojtas — This time slip romp through imperial Russia has been published to coincide with the centenary of The Pride of Miss Jean Brodie author Muriel Spark's birth. Spark's bestselling book mined her own schooldays at James Gillespie's High School in Edinburgh, which debut author Olga Wojtas also attended, the model for Spark's Miss Blaine's School for Girls.
Although Spark's most famous novel is much loved by her fans, Wojtas's protagonist, the middle-aged Shona McMonagle loathes the book, which she thinks exposes her old school to public ridicule. The Morningside librarian hides copies featuring the crème de la crème schoolgirls in the cupboard to prevent them being borrowed. It is while she is at work that the 200-year-old school founder Miss Blaine herself appears and congratulates Shona on her loyalty to the institution. She reveals she has established a time-travelling school to enable her girls to extend their brilliant efforts across the centuries.
Shona is recruited and given one week to complete what turns out to be a murderous mission to 19th century Russia with all accommodation and expenses paid. Despite the 'slight discomfort' of time travel she accepts and Her Excellency Shona Fergusovna is thrust into the upper echelons of imperial Russian society. Before her feet – she wears Dr Martens boots below her crinoline – have touched the ground she is teaching the aristocracy how to Strip the Willow and dance the Gay Gordons.
It is quickly established that having received the finest education in the world means Shona is an expert in just about everything from knife-throwing to quantum physics, and Scottish dancing to Russian law. And being a class prefect and a girly swot taught her how to wield authority. Shona may be in her prime but has a lot to learn: for example, she had no idea that the word emancipation fills the hearts of serfs with horror and human rights can be so complex. Her feminist views and 21st century attitude however are much admired by a Russian princess and she soon leads a privileged existence and has access to society.
There's a major snag as Miss Blaine has failed to explain exactly what Shona's mission is. The clues convince her that she must pair the beautiful heiress Lidia Ivanova with the impossibly gorgeous young man Sasha. With only seven days to marry them off, Shona moves heaven and earth to get the two together.
Despite several attempts on her own life and unexplained murders occurring every day, Shona is convinced she is on the right track. Her wonderful young serf Old Vertrushkin, a talented artist, philosopher and jack of all servant trades, is far more clued up as his previous masters gave him a brilliant education.
One of the delights of this comedy crime caper is that we think we are always a step ahead of the talented and accomplished Shona, giving a warm glow of achievement that we too are the cream of the crop. We spot the villain long before our heroine and that doesn't spoil our enjoyment one jot. And this debut is littered with clues as to which year we are in, a mystery that Shona fails to solve.
You may find there are a few too many quips and Scottish references and too much time is spent knitting and on carriage rides, but these slower and repetitive moments are overshadowed by Wojtas's wit and intelligence and flashes of comedy gold. In spite of her sometimes-blinkered cleverness and her blind spots, the murderous mission is completed after a fashion and Shona holds on to her crème de la crème credentials.
For contemporary comedy crime with Russian connections try Stanley Jackson's Kompromat and for some darker Scottish humour you might enjoy The Dead Don't Boogie by Douglas Skelton.
Contraband
Print/Kindle
£6.75
CFL Rating: 4 Stars