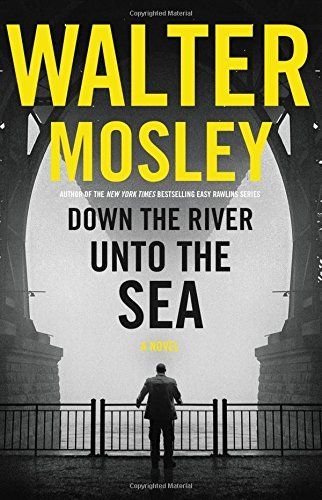 Written by Walter Mosley — A case from over a decade ago got Detective Joe Oliver kicked off the Brooklyn police force and it still plagues him. Back then, he was asked by a friend on the force to look into a grand theft auto case. Nathalia Malcolm from the affluent Park Slope neighbourhood was said to have stolen a car, but when Oliver got to the suspect's house he quickly discovered Thalia was not necessarily to blame.
The instant chemistry between them resulted in a steamy afternoon of consensual romance – but it didn't end there. Instead, Nathalia falsely accused Oliver of forcing her to trade sex for immunity. The court case that resulted ended with him being found guilty and losing everything including his wife, six-year-old daughter and his job. He also ended up in Rikers Island, New York's most notorious lockup. That was when Oliver lost it. After only a few days in jail he flipped, siding with the criminals and rejecting everything he knew and previously believed in. Oliver spent 83 days in solitary confinement before being released with the conviction mysteriously dropped. A decade on, he still dreams about his time in jail and the case that changed his life…
Walter Mosley is one of America's great crime fiction authors, and his latest is the start of what may be a new series for the writer. The book takes the author into new territory, Brooklyn, with a new central protagonist. It is grounded in strong detail and has the compelling and conversational first-person tone we have come to expect from Walter Mosley.
Since his fall from grace, Joe Oliver has become a private eye and his office is on Montague Street in downtown Brooklyn Heights, once a civic centre for the municipality with the court buildings and central police station. Today, like much of Brooklyn, it has become gentrified.
Oliver is hired to investigate corrupt cops when a journalist named A Free Man – Manny for short – is charged with killing two police officers. Manny says he did it in self-defence. Oliver is put on the case by lawyer Willa Portman who wants to get to the bottom of the police corruption that she argues is framing Manny, the man she loves. She is willing to pay Oliver upwards of $19,000 to prove Manny's innocence. Could this be the case to free him from the shadow of the false accusation that led to his time in Rikers?
Down the River Unto the Sea takes a long time to get itself together and take off. Gradually, all paths converge in the second half of this novel. As the Free Man case picks up, Oliver gets a letter from a woman who claims she can clear his name on the Thalia fiasco from all those years ago. Once Mosley gets all the cogs in motion the book works well. He runs the parallel plotlines to a head and the second half of the book finds a surer footing. But a certain suspension of disbelief is required to imagine that this would all magically fall into place simultaneously and well. Fans might also feel that there is something missing from the author's latest attempt to break away from his well-loved Easy Rawlins series.
Innovation is important in the genre, and Mosley must be commended for moving away from his iconic character, but the Brooklyn of this novel is not as vibrant as the LA depicted in his Easy series or the New York of the author's McGill books. As a native of New York and as someone who went to college a block from where Oliver's office is located in Brooklyn, I am not sure the soul of the outer borough was captured enough in the writing. Recommended for fans of the writer and for fans of Brooklyn-based crime fiction.
Enjoy Walter Mosley at his five-star best in Little Green, featuring Easy Rawlins. Or if you like your crime with a New York setting, try Alafair Burke's The Ex.
Mulholland Books
Print/Kindle/iBook
£9.99

CFL Rating: 3 Stars