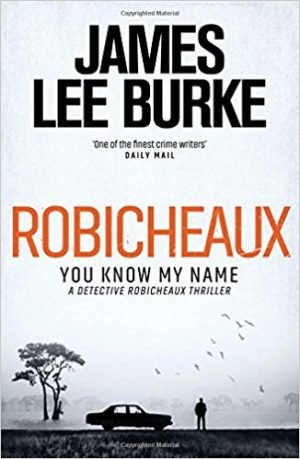 Written by James Lee Burke — For a story setting that immediately and richly evokes a colourful geographic, cultural, moral, and culinary milieu, it's hard to beat the hot, humid Cajun country of southern Louisiana. James Lee Burke has made Iberia Parish the primary home for his crime fiction, and it continues to serve him well here in his 21st novel featuring now semi-retired but perpetually on-call sheriff's detective Dave Robicheaux. If you're a fan, you will expect Burke's newest book to serve up a rich gumbo of oddball characters, history, philosophy, current crises, people trying to do right, and others not caring to. You won't be disappointed. From corruption to an unhinged serial killer, this book has it all.
At the outset of the novel, most of which is told by Robicheaux in first person, he sees the ghosts of Confederate soldiers marching through the swamp. The past hangs heavy on him, and on many of Burke's characters. Robicheaux and his best friend Clete Purcel, a New Orleans private investigator, still have not exorcised all the demons pursuing them since Vietnam.
Such scenes evoke Dave Robicheaux's meditations on mortality, bring him to consider his grief over the death of his wife Molly in an automobile crash, and are a way to get at the truths that history sometimes illuminates. Heavy stuff for a man soon to be facing some flesh-and-blood characters who seem spawned by the devil's own imagination. Burke's Acadiana is a place where you can believe in such things.
About the plot, suffice it to say that it is complex, with at least four main threads that Robicheaux must tease apart and reweave into a coherent set of motives and opportunities. Uppermost in his mind is the situation exploiting his own vulnerability. Robicheaux has tried to keep his personal ghosts at bay with a different kind of spirits. Though he's a sometime attendee at Alcoholics Anonymous meetings, he falls off the wagon disastrously, leaving behind the body of TJ Dartez, the man who hit Molly's car and killed her. But Robicheaux can't remember. He might have murdered the man. Even if he didn't, plenty of people want to frame him for it. Finding out what really happened is a must.
The second plot thread involves the torture-murder of a really wrong number, Kevin Penny. Multiple people are suspected, but one bit of good that comes out of it is that Robicheaux's friend Purcel rescues Penny's son Homer, showing an unexpected paternal side. Then there's the alleged rape involving two fine old southern families. Sorting this out through the murk of the principals' alcohol-soaked memories is a diplomatic challenge Robicheaux tries hard to meet. Finally, a serial killer is on the loose. Some scenes written from his point of view suggest he thinks he's doing society a favour by murdering his victims. Not everyone feels that way.
The characters involved in these four plotlines cross and recross, an example of small-town life or excessive inbreeding, it's hard to say which. Two quintessential Louisiana families are deeply involved in most of them: Jimmy Nightingale and his sister Emmeline and Levon Broussard and his wife Rowena. Despite the families' similarly deep roots, explains Robicheaux, they had an existential difference. "For the Nightingales, manners and morality were interchangeable. For Levon Broussard and his ancestors, honour was a religion."
Nightingale is an up-and-coming politician with a dangerous populist streak who summons to mind another ghost, that of assassinated Louisiana Governor and US Senator Huey P Long. If you are unfamiliar with the elastic morals of Louisiana's political class, Nightingale says, "Half the state is underwater, the other half under indictment."
Levon Broussard is the author of a Civil War-era story a prominent local gangster wants Hollywood to film. A subplot involves Robicheaux's daughter Alafair, which is also the name of the author's real-life daughter who is also a crime writer. She's called upon to turn Broussard's book into a script.
Although the narrative follows Dave Robicheaux through the steps of his investigations, to call this a police procedural would shortchange the essence of the book. It more resembles a philosophical probe of the circumstances in which crimes can occur. The characterisations are further deepened by personal relationships with people who are not violent or depraved – Robicheaux with Alafair and Purcel with Homer.
Of course, they can't escape such people. Near the end of the mayhem, Purcel tells his old friend, "There're no safe places anymore. Everyone knows that except you."
If you're already a fan of James Lee Burke, you can look forward to this one! If you've not read him before, this complex tale with well-realised characters and strong atmospherics may be a good place to start.
We've previously reviewed a couple of Dave Robicheaux books. Also try the excellent book by the same author, The Jealous Kind, set in Houston, Texas. For something equally philosophical but a lot colder try Arnaldur Indridason's Strange Shores.
Orion
Print/Kindle/iTunes
£9.99
CFL Rating: 5 Stars