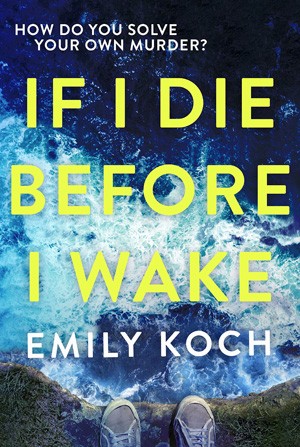 Written by Emily Koch — There are some bold claims on the back cover of this debut thriller by former local newspaper journalist Emily Koch. Penguin Random House's publicity machine compares If I Die Before I Wake with two phenomenally successful bestsellers. It is said to be perfect for fans of the much-garlanded SJ Watson's debut Before I Go to Sleep, which was snapped up by director Roland Joffé and enjoyed box office success for the film starring Nicole Kidman, Colin Firth and Mark Strong. Likewise the blurb cites Elizabeth is Missing by Emma Healey. Both of the aforementioned books are quirky English cross-genre masterpieces.
The main similarity between the two bestselling debuts and Emily Koch's book are that they are all told by unreliable narrators, desperate to unravel mysteries but struggling to do so through faulty and unwired memories. In Alex's case he is thought to be in a coma and unlikely to ever wake up. He can't move, speak or stop anyone else's actions; he can only listen.
However, Alex tells us right from the start that he is conscious and needs to find out what happens to him next – will he wake up and enjoy an emotional reunion with his family or will his loved ones decide it is in everyone's best interests to turn off his life support system?
Alex attempts to convince us that he has locked-in syndrome, described as a condition in which a patient is aware but cannot move or speak because of complete paralysis of voluntary muscles except blinking and vertical eye movements. However, Alex can't even control his eyes or give any indication that he is aware. And boy does he try, all the way through the book. Even brain scans show no activity and the doctors are convinced he is in a permanent, vegetative state.
As he lies in bed, sometimes in severe pain as his body is left in uncomfortable positions, he listens to confidences from his family, friends and girlfriend Bea. They tell him things they wouldn't normally tell anyone. There is a doctor who doesn't act like one but fiddles around with his equipment, good and bad nurses and friends who subject him to the agonising aroma of food he will not get to taste, when they selfishly devour meals next to his bed. He begins to suspect that the rock climbing accident that left him in this state may not have been accidentental. This means someone may still want him dead and others may be in danger too.
Alex goes over the past, the days and minutes before the accident, to solve the mystery of who tried to kill him. He knows he won't have long.
Perhaps a closer comparison to If I Die Before I Wake is BE Jones's Where She Went, also written by a former journalist and with a journalist narrator. In this arguably more compelling book Melanie wakes up in a strange bed and realises she is dead. To investigate her own murder she can follow the suspects and attempt to bring her killer to justice. There are enough scenes to keep the pages turning as Melanie keeps her enemies close, whereas you may find Alex's confinement in bed, listening to tittle tattle, delving deeply into the minutiae of people's lives and weighing up the clues, doesn't have quite enough action.
There are moments when Alex just spells everything out and explains what is happening in too much detail, rather than showing. For example, "Connie was being useful – asking the questions I wanted answered."
This book might have sucked me in if I had been allowed to solve the mystery along with Alex. We empathise more with him when he realises Bea could be in danger and feel his frustration as he is powerless to protect her. You may grow to like him and enjoy his dry humour – I did. Somehow, though, I fear you may not care enough about this slow tale and its people.
Harvill Secker
Print/Kindle/iBook
£4.99
CFL Rating: 2 Stars