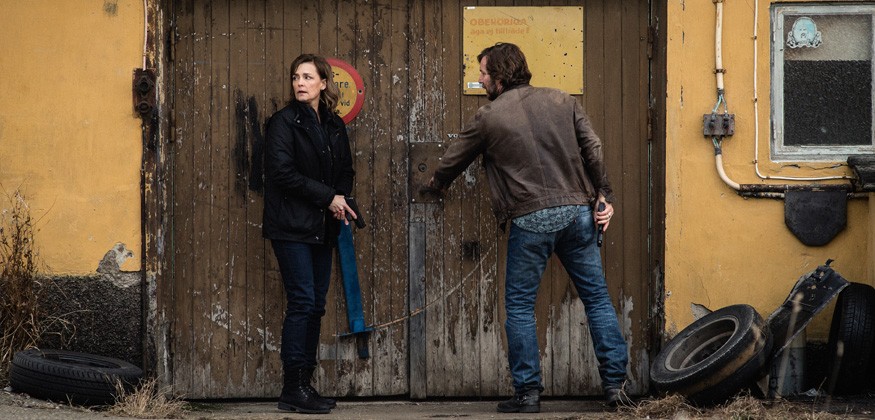 On 16 January Scandinavian crime fiction will return to Channel 4 with Before We Die. Set in Stockholm and starring Marie Richardson and Adam Pålsson, the show is about an uncompromising woman cop who is being lined up for early retirement when her colleague and lover is kidnapped. She joins the investigation to find him.
Sweeping landscapes and a garrulous climate aren't really the backdrop here – Before We Die is more of an urban police procedural. Hanna Svensson, played by Marie Richardson, is a strong female lead but takes a more realistic line when compared to the past heroines of Nordic noir like Salander, Smilla, Lund and Noren. Although she's enough of a stickler to have her son Chippen (Adam Pålsson) arrested for drug dealing, she's lax enough on norms to be having an affair married cop Sven (Johan Hedenberg). The morning after such a liaison, he is bundled into a van, and driven away for a bit of torture.
Hanna's boss is trying to get rid of her to cut costs, and has already banged her down to financial crimes, but allows her to work the case with Sven's partner Bjorn (Magnus Krepper). Sven was working on a gang-related murder, so their first line of enquiry points towards the blood feud that is breaking out between two motorcycle clubs – it's the not-so-subtly named Mobsters versus the Delincuentos. Finding Sven's phone, Hanna is able to text his informant, the mysterious Inez, though little does she know it her son is somehow connected to the same source. Eventually, the investigation leads deeper into the Swedish underworld, Balkan organised crime, and an atrocity in Croatia.
With a fast-moving plot line, lots of tight camera work on the actors, as well as fights and car chases, Before We Die pulls you in with plenty of pace and tension. Lives are on the line, and bodies are discovered from the very first episode as Hanna and Bjorn start making breakthroughs. This is a show more for fans of Wallander and Beck than The Killing or The Bridge, and brings with it some strong performances. Marie Richardson has previously appeared in Stanley Kubrick's Eyes Wide Shut, and played the long-suffering girlfriend Maja in the Wallander films starring Rolf Lassgard. Magnus Krepper and Adam Pålsson have both appeared in The Bridge. The latter won the Sweden's Kristallen Best Actor Award earlier this year for his role as Chippen in Before We Die. The show first aired as Innan vi dör in January and was one of Sweden's leading TV dramas in 2017, averaging 1.3 million viewers a week.
As well as airing on Channel 4, the entire series will be available as a box set to stream via Walter Presents. Australian viewers can already stream it via SBS On Demand.