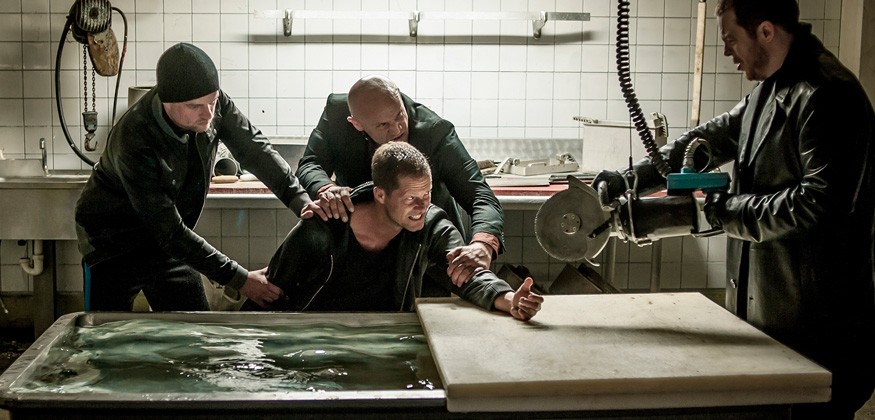 'Tatort' sounds like it might be some sort of rare Viennese cake to be consumed with cottage cheese and only in the month of April. In fact, it is the title of a German crime series – Crime Scene – that includes well over 1000 episodes, with dozens of different story lines, detectives and settings. The latest set to hit our screens, with subtitles courtesy of the Channel 4 online service Walter Presents, has been given the English title Nick's Law. Set in Hamburg, and with German actor and Hollywood star Til Schweiger front and centre, it's a bit like the Lethal Weapon of German crime shows.
Schweiger plays ex-SWAT team commando Niklas Tschiller who's just started a new role with the Hamburg office of the German state police, and he dives straight in with an all guns blazing style that rubs his colleagues the wrong way… not to mention the criminals. Working with Yalcin Gümer (played by Fahri Yardim) he's always ready to use unorthodox methods to take down the biggest targets in the German underworld, starting with the Astan clan who are trafficking young girls in from Easter Europe so that rich German business men can do disgusting things to them. With a 15-year-old daughter of his own, whom he has just relocated to Hamburg from Frankfurt, this touches a nerve with Tschiller and it's no wonder that the first 90-minute episode opens with him killing three of the scumbags.
It's just like the 70s, almost
Soon he finds it's not just a Turkish gang he's up against, but a former partner – though it's not clear whether Max Brenner is undercover and trying to bust the gang, or indeed its leader. But what is clear is that the action is raw and more or less unrelenting. There are jaw-dropping moments of bravery, stupidity, gunfire and gore, but even so the tone is lighter than the more psychological approach you'll get with The Killing or The Bridge. It's also unlike the vast majority of other Tatort stories, which are mainly procedural investigations. Tschiller is not down with procedure.
The camera work is excellent, with the action scenes going off-kilter and handheld. At times they look a bit like the computer game Medal of Honour, and there's a fog of war feel to them. But it's not all like that, thankfully, there are tender and funny moments too, and Hamburg's impressive modern architecture is captured both in the storyline and by the cinematographers.
Despite its up-to-date stylings, ultimately it has a 1970s, maverick cop feel to it. Tschiller even has a flashing light he can pop on the roof of his Mercedes when in pursuit, just like Kojak's Buick.
Welcome to Hamburg was made in 2013 and is the first of four episodes available on All4/Walter Presents from 3 March. The others have titles which translate as Bounty (2014), The Great Pain (2016) and Purgatory (2016). Discover our seven favourite crime shows on Walter Presents here.
The trailer below has Dutch subtitles but you'll get the idea…