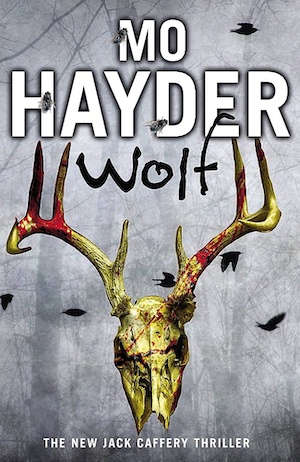 The queen of nail-shredding tension returns with Wolf, the seventh novel to feature DI Jack Caffery and the fifth in the Walking Man series. We have a convoluted plot that uses as its backdrop the visceral – in all senses of the word – murder of two teenagers 14 years previously, where a killer was brought to justice. Cut to a wealthy family in the present day, living in the vicinity of said murder, held hostage and terrorised by two intruders, but able to send an SOS message out secreted in their dog's collar.
The dog is found by the Walking Man – a traveling man searching for the remains of his murdered daughter – who contacts Jack Caffery. The two men are linked by the disappearance of Jack's brother years ago, and the Walking Man is a motif in the series bringing new information now and again. As a pay off for further information Caffery agrees to track down the dog's owners, and solve the mystery of the ominous message that simply says, 'Help us.' Caffery has no idea who or what he is searching for, but is certain that it is a race against time.
We all know what to expect from Edgar award-winning Mo Hayder in terms of violence, brutality and graphic death, and Wolf will not disappoint. Not only is there an inordinate amount of tension throughout, but you can rest assured that if someone is to be tortured or murdered, the author will always pay the greatest attention to shock value, including the most artistic use of intestines you will surely encounter. The majority of the book is played out with Oliver and Matilda Anchor-Ferrers' incarceration in their own home, and their emotionally damaged daughter Lucia. They're held by for by two unknown individuals who are in no way, shape, or form who they appear to be.
Not wanting to reveal any more about the plot than necessary, all I can say is that Oliver Anchor-Ferrers has been involved in a top secret arms project involving a missile called the Wolf, and that Lucia had a personal attachment to one of the teenagers murdered so brutally all those years ago. That's all you're getting, because with the gasp-inducing and clever twists, turns and reveals of the plot, I will not spoil the fun! The sheer claustrophobia and terror aroused in the lives of this family by this intrusion is devilishly well played out, and enough to send a chill down the spine of even the most hardened of crime readers. I particularly enjoyed the knowing nature of an account of the hostage situation written in secret by Oliver to a detective of his own imagination. You'll see why, and how, but when you think you have it all sussed, prepare to be wrong-footed. Possibly more than once.
DI Jack Caffery is once again the maudlin, self-doubting and emotionally intense character we know so well. He's still on the hunt for clues relating to his brother's disappearance, still totally incapable of connecting with women except in a brief physical way, and yet still mooning about his unresolved feelings for 'Flea' Marley. If you were getting slightly weary of the whole Jack/Flea storyline, never fear, she's not in this one, but still in Jack's thoughts. However, the heightened interaction between Caffery and series stalwart, The Walking Man, added an enjoyable distraction to the lack of Flea, and the intensity of the overall plot.
With sublime pacing and plotting once again from Mo Hayder, there is little to disappoint here. I can safely say that Wolf will keep you reading until the wee small hours. If you're brave enough…
Wolf is released 24 April. You can read a review of the previous book, Poppet, here.
Bantam Press
Print/Kindle/iBook
£4.35
CFL Rating: 5 Stars